30 Days in Afghanistan: Part One 'The box of death'
In the dust-filled landscape of southern Afghanistan, the 22nd Engineer Clearance Company searches for a dangerous and elusive enemy — Improvised Explosive Devices, IEDs.

"There is two ways to find the bombs — is you find it or it finds you," Sgt. Timothy Hallberg said.

The troops mission is simple, but dangerous — they are tasked with clearing out explosives planted by the Taliban on vital supply routes.

"I think you have to be a little bit crazy to do our job," Sgt. Jerrell Briscoe said.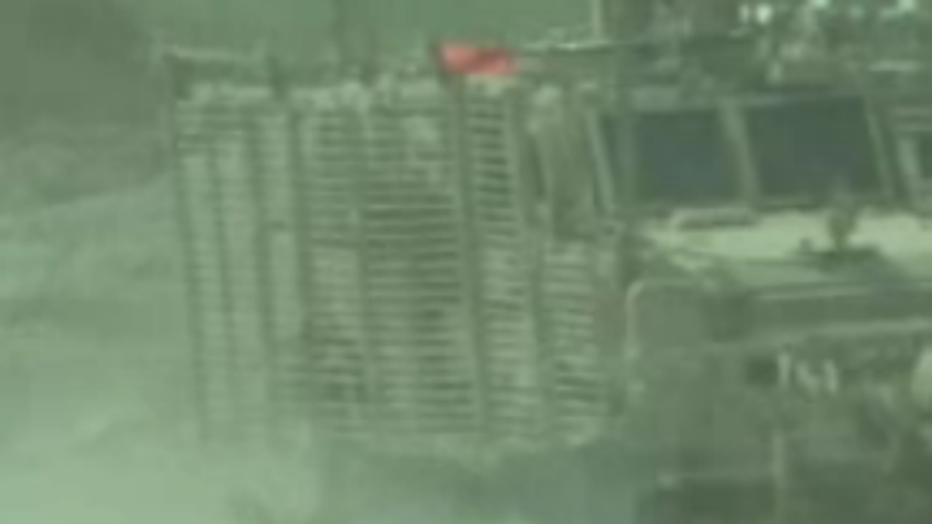 Their jobs are a bit like a life-or-death game of chess — the stakes are high and there's no room for mistakes.

"It's like a board game," Sgt. Edwin Roman said. "They throw this stuff in the route, we go and try to find it. If we don't find it, we get hit — game over."

The troops' job is the most dangerous duty in Afghanistan. This year 201 Americans have been killed by IEDs which represent nearly two-thirds of all U.S. deaths in Afghanistan.

"You can get hit at any time," Roman said. "You can get ambushed on some of these routes."

"You have multiple attacks from arms fire to RPGs , recoiless rifles, IEDS — you know you gotta be ready at anytime," Briscoe said.

The 22nd Engineers have are based out of Washington at Joint Base Lewis-McChord.

Nearly all the soldiers trained at the massive 327,000 acre Yakima Training Center. They're now putting that training to good use: These engineers have been in Afghanistan since July, patrolling at the point of the spear.

" an old saying: You know when we fight we're in the enemies' backyard," Sgt. 1st class Kelly Simco said. "Well, we are definitely here in Afghanistan in the enemies kitchen."

Like many of the soldiers, this is also my first time ever in combat and the stakes don't get higher than this.

"If you don't find something and somebody else gets hit, you know that will take a toll on you. It's a lot pressure sometimes," Briscoe said.

The engineers' vehicles are state-of-the-art MRAPs, mine-resistant, ambush-protected tanks.

"Getting blown up is in the back of your mind, but it's what we do," Briscoe said.

The MRAPs are designed to survive powerful IEDs and some of the soldiers have experienced explosions firsthand.

"Twice it happened," Roman said. "I just looked at my arms, I'm OK. Look at my legs. Then I think about my family."

"When you see a vehicle get blown up in front of you, you think that they are all dead," Hallberg said. "That's the first instinct when they don't talk, but in reality everyone is just trying to get their ears."

It's a grueling job. Missions often begin before dawn and last until the next morning.

We're at a combat outpost and we're basically in the middle of enemy territory. We've been on the road for 13 hours we still have a lot more work to do. On one of the roadways we need to travel on, IEDs have been reported, which means we have to check them out.

It's a treacherous and claustrophobic life – there's little to no escape from your vehicle.

"If you have to go to the bathroom you are kind of out of luck," Pvt. 1st class Justin Manchester said. "You gotta pee in bottles, you are pretty much in everybody's personal space."

"The creaking and crackling — the suspension is rough so it beats you up all day," Hallberg said. "The seats are made for you to survive an explosion so they are not comfortable."

I'm not allowed to say exactly where we are, except that it's the birthplace of the Taliban. The soldiers call it "the box of death."

"There is always stuff going on," Hallberg said. "Always getting shot at, there is always a bomb."

And the enemy could be anywhere.

"They'll engage you, then run away and they all look the same," Hallberg said.

"They don't wear a uniform," Roman added. "Those farmers that farm the land during the day be the same guys that place IEDs at night."

It's a battle that never ends in a country where there is no place that can be called safe.

"All in all I'm doing my job, nothing else i can do," Briscoe said. "If I'm not doing that, I'm doing something else and something just as dangerous."