2 California teachers plead not guilty to drug, sex charges stemming from camping trip with male students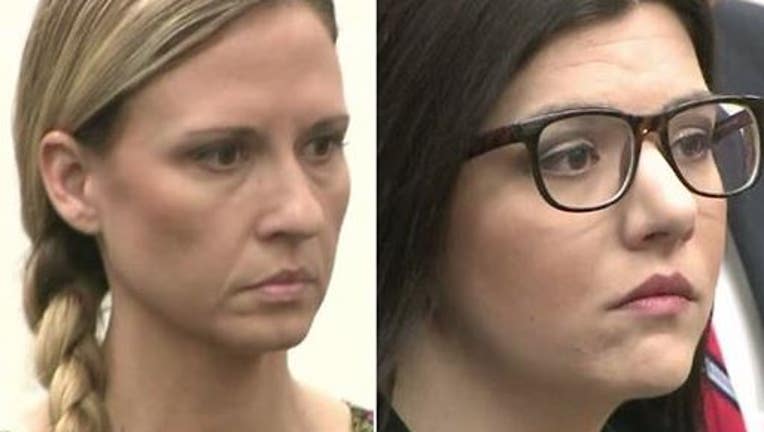 NEWPORT BEACH, Calif. (KTLA) -- Two Covina Valley Unified high school teachers pleaded not guilty Wednesday to charges they fave alcohol and cocaine to five male students during an unauthorized camping trip that prosecutors say involved sex.

Melody Suzanne Lippert, 38, of Covina, and Michelle Louise Ghirelli, 30, of West Covina, entered the pleas in court in Newport Beach to charges filed in connection with a camping trip at San Clemente State Beach, KTLA reported.

The pair were arrested in January on suspicion of having sexual relations with students during the trip. At the time of the trip, Lippert was a teacher at South Hills High School in West Covina and Ghirelli was teacher for the Covina-Valley Unified School District, which reported the allegations to the Orange County Sheriff's Department.

The women were initially charged Feb. 4 with contributing to the delinquency of a minor by illegally providing alcohol to a group of underage students.

But on Monday, the Orange County District Attorney's Office announced much more severe felony charges.  Investigators had initially struggled to prove the teachers knew one of the boys involved was 17, according to the San Gabriel Valley Tribune.

Lippert organized the trip in a group text message sent to Ghirelli and five unidentified male high school students, according to the DA's office.

At some point during the trip, which the criminal complaint states occurred between Nov. 23 and Dec. 29, Lippert allegedly facilitated Ghirelli's sexual relationship with a 17-year-old male student.

Lippert, who declined to answer questions as she left the courthouse in Newport Beach, was charged under the theory of aiding and abetting, prosecutor Kristin Bracic said Wednesday. She also allegedly had sex with an 18-year-old student, which is not illegal, Bracic said.

"The bottom line for teachers out there is: keep your hands off your students," Bracic said.

Attorneys for both women said there were two sides to every story.

"There were drugs and then marijuana and alcohol heavily involved in everybody's adventure on this beach," said Ghirelli's attorney, Stephan DeSales. "It was a lot of confusion about who was who."

If convicted, Lippert faces up to 10 years and six months in state prison; Ghirelli faces up to 11 years and eight months in state prison.

Ghirelli cried during the hearing, where she sat with her parents. Her bail was set at $50,000.

Lippert's bail was set at $20,000.