Wind advisories issued for parts of Washington; South Sound could see gusty afternoon


SEATTLE - Wind advisories have been issued for Kittitas Valley and the Columbia Basin, and the South Sound could see strong gusts Tuesday afternoon.

There are no wind advisories for the Puget Sound region, but as winds shift from the south to the north this afternoon some localized gusts up to 30-40 mph are possible for the South Sound.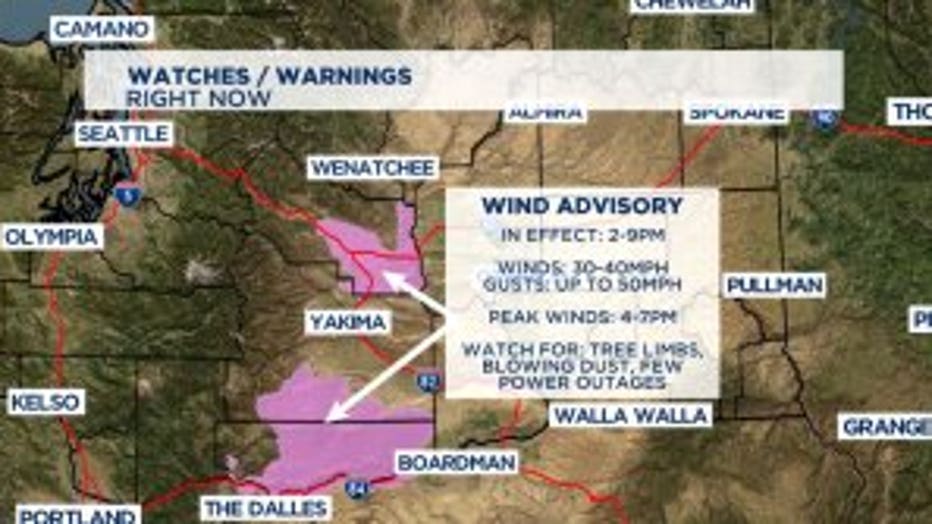 The National Weather Service Seattle said the breezy conditions could cause tree branches to break and weak trees to fall.

There's also a chance for isolated power outages.

Q13 Meteorologist Katie Boer said peak winds will happen later Tuesday afternoon, but as of 6 a.m. Tuesday, there were gusts between 15 and 25 mph around I-90, SeaTac, Vashon Island, Newcastle, Bellevue, Paine Field and the South Sound.

Today may be the day to bring in unsecured objects and lawn furniture or inflatable Halloween lawn decorations. The South Sound could see a few power outages along with a few broken tree limbs or downed weak trees.

Isolated thunderstorms are also possible Tuesday afternoon in Snohomish County and areas north of Snohomish. Showers are mainly possibly around the Puget Sound Convergence Zone today from Snohomish to Whatcom County.

These isolated storms could include small hail, gusty winds and heavy downpours. Thunderstorms could also produce some gustier winds into the afternoon. The chance for some of these thunderstorms is between 4 p.m. and 7 p.m.