Heavy rain and gusty winds continue in western Washington
SEATTLE - Warming above average is becoming the new norm these days. The high temperature at Sea-Tac hit 53 as rain and wind slammed the region.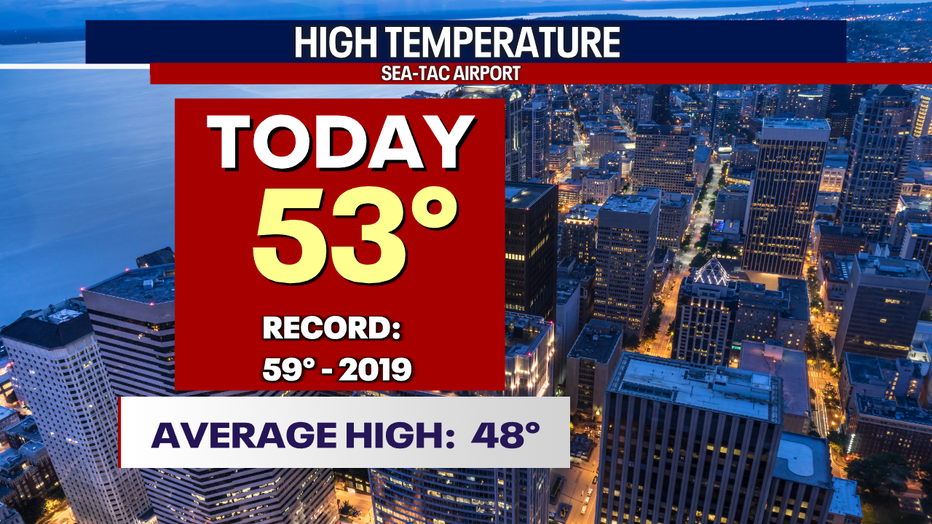 Here are some of the important "Weather Headlines:" 
Tonight: Heavy downpours and gusty winds continue into early Friday.
Friday: Rain starts to let up some, turning to showers by midday with warmer than average temps.  
Weekend: Fewer showers, calmer winds, and a nice mix of sunshine and clouds at times.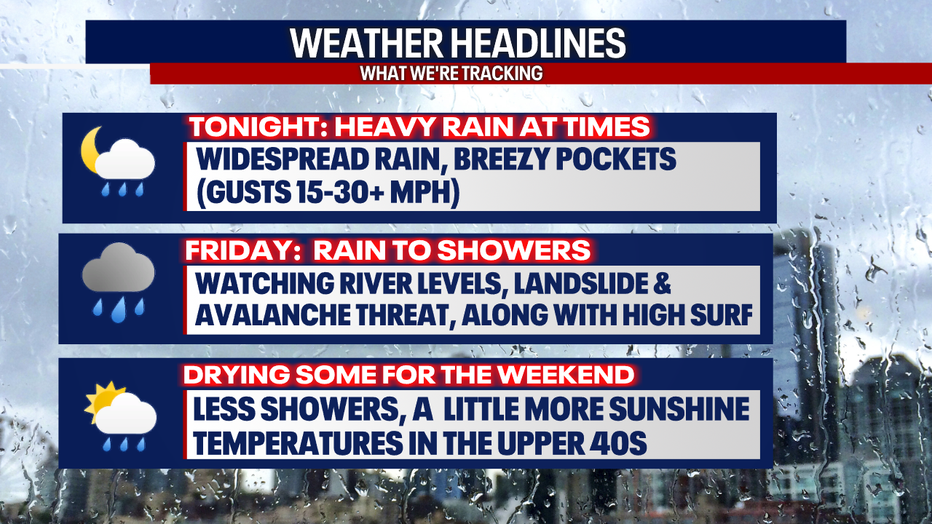 Temperatures stay warm into the overnight hours. Seattle only cools to 49 while rain falls over the region.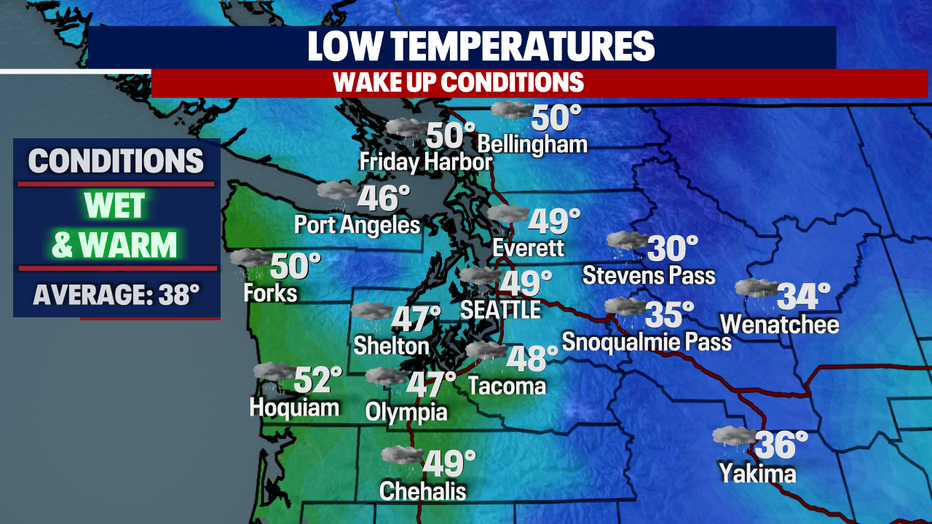 The area of strong low pressure in the Pacific will keep making its way northeast and send waves of rain, heavy at times, through Friday.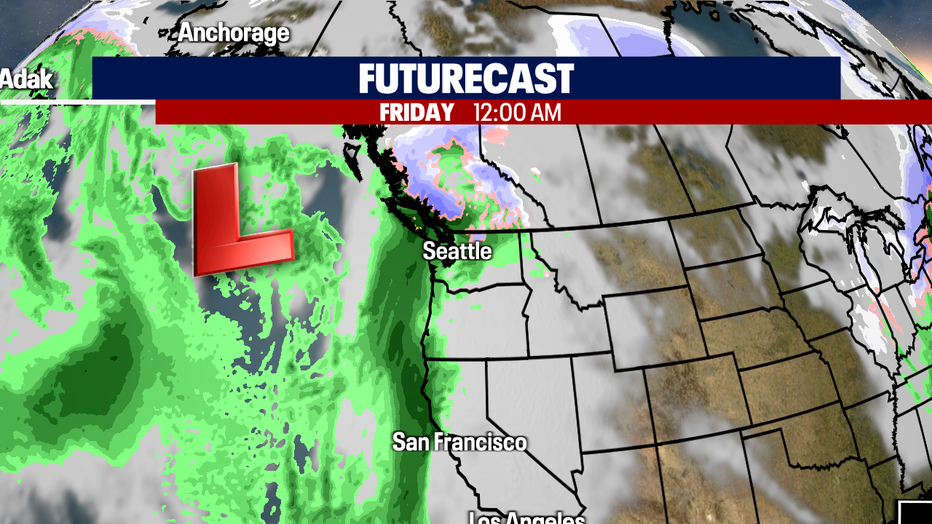 The Friday morning commute looks pretty sloppy.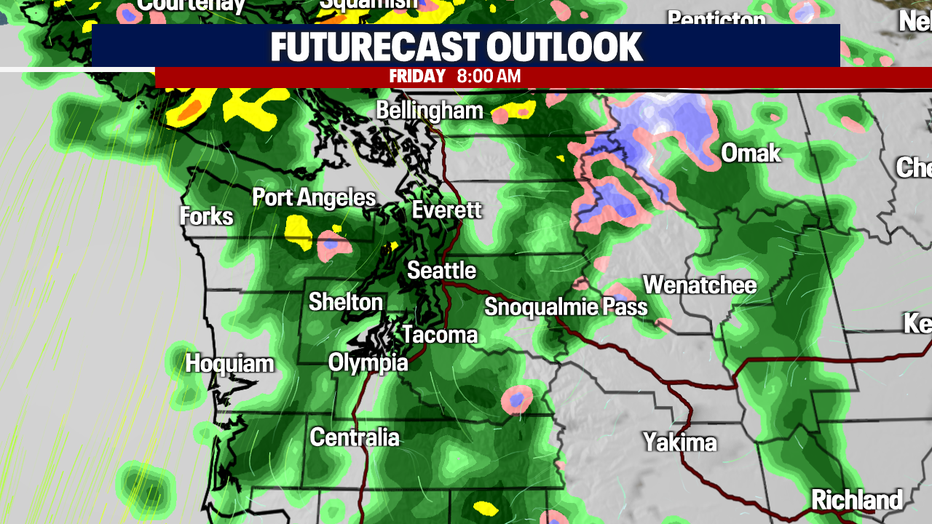 Those rains will keep us on alert mode for not only area rivers, but for the threat of more landslides just as we saw Thursday.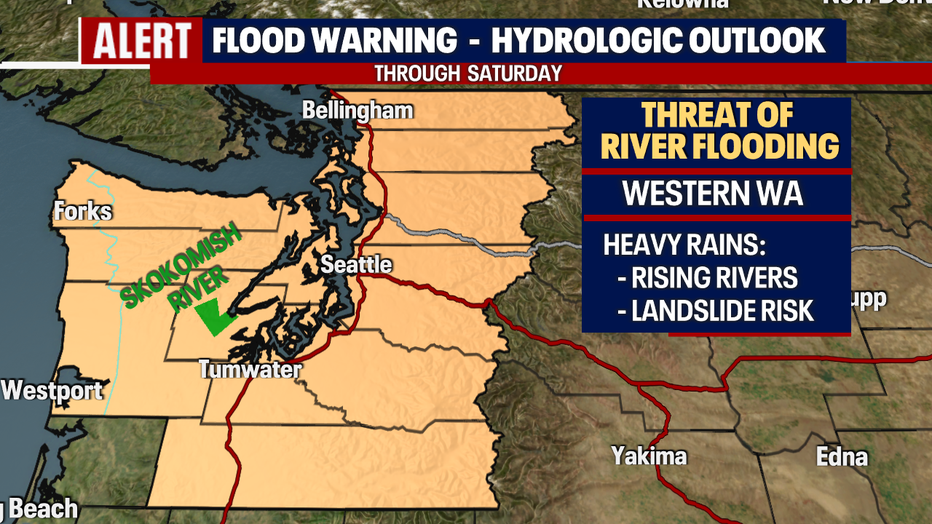 Our "Coastal Flood Advisory" for Puget Sound will expire around noon Friday as this system starts to break down. Rain will turn to showers at times with some midday drying.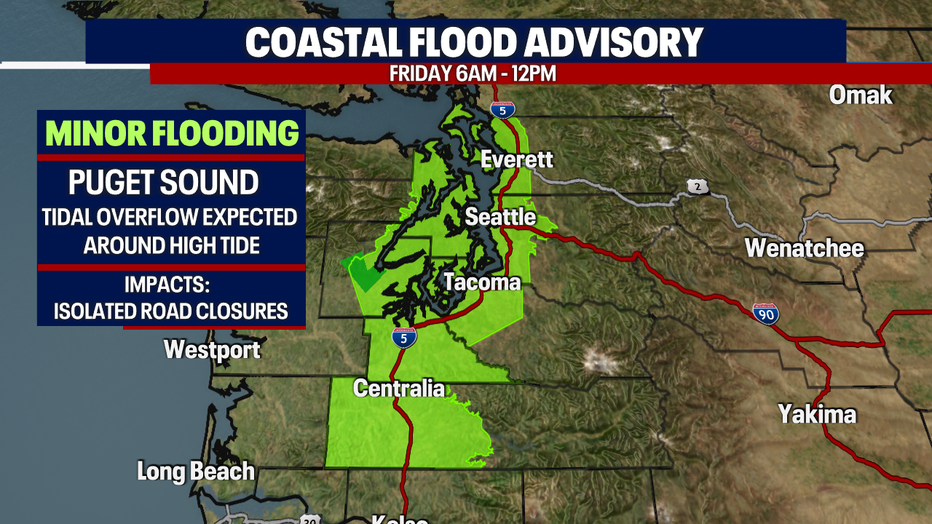 The Friday evening commute will deal with scattered showers instead of heavy downpours.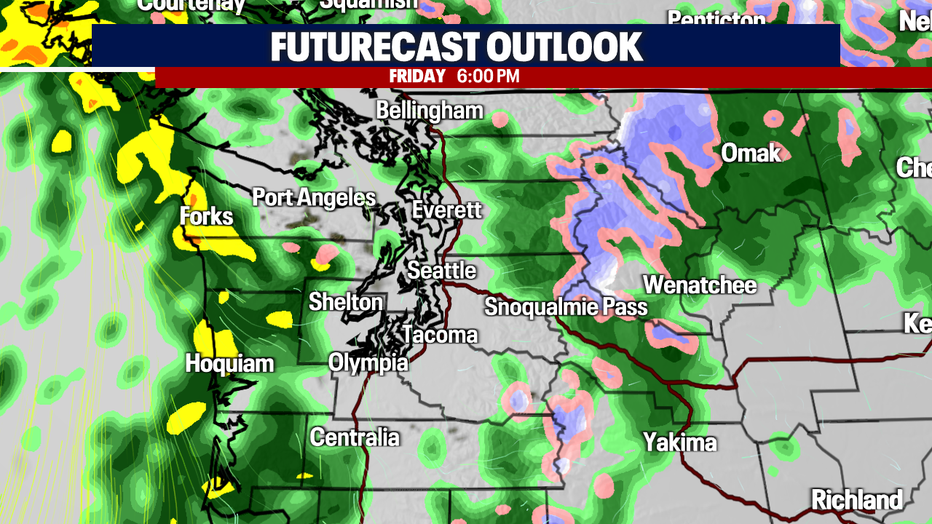 Highs Friday up and down the I-5 corridor jump above the seasonal average of 49 for this time of year. Most communities land in the low to mid 50s.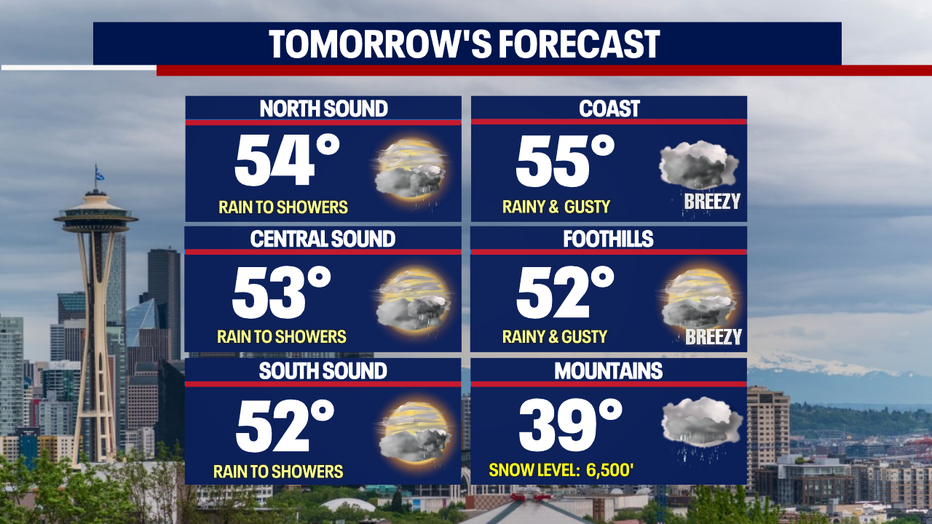 Check out Saturday morning around 9 a.m., when almost everyone is dry except for a few coastal and mountain locations.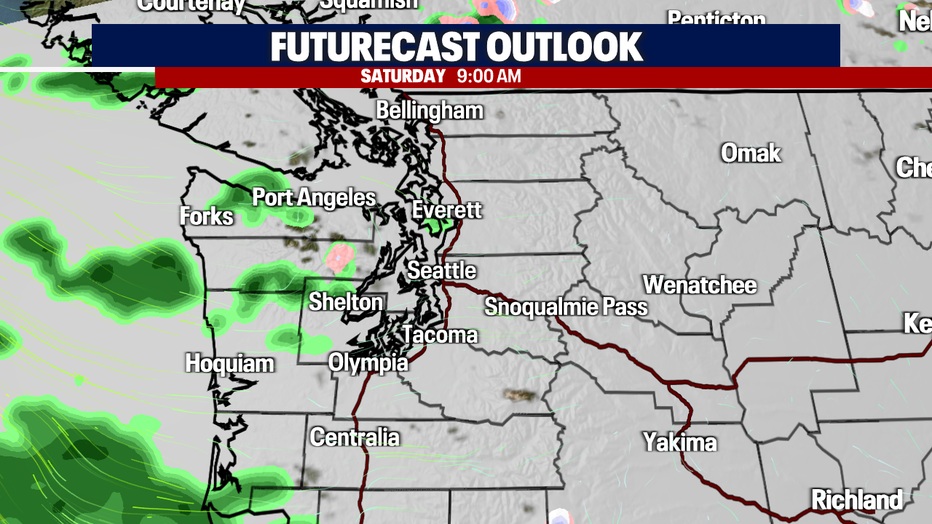 By 7 p.m. Saturday, a few more showers pop up, but nothing too major.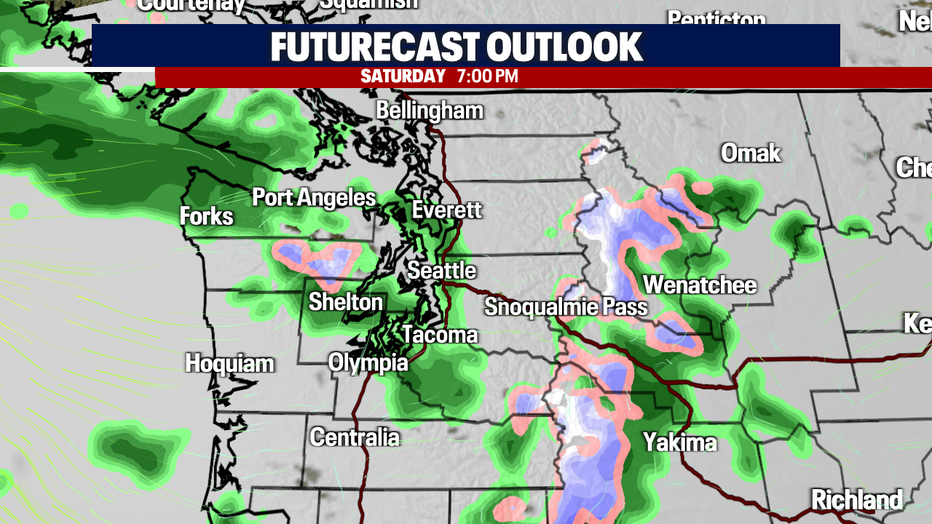 The Pacific Ocean seas will start to calm down as this system moves on, but there is still the danger of strong waves washing over beaches and jetties.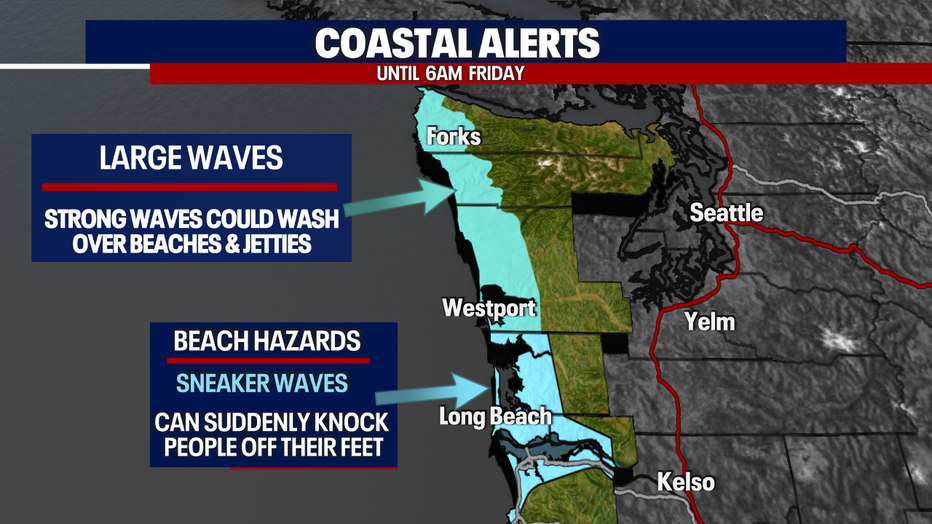 One more sloppy, soggy day for the coast and Strait before we see some more manageable conditions. The central and north coasts along with neighborhoods through the Strait will deal with a little morning patchy fog.  
Along with the rain tomorrow, winds will gust at times out of the south up to 30 mph.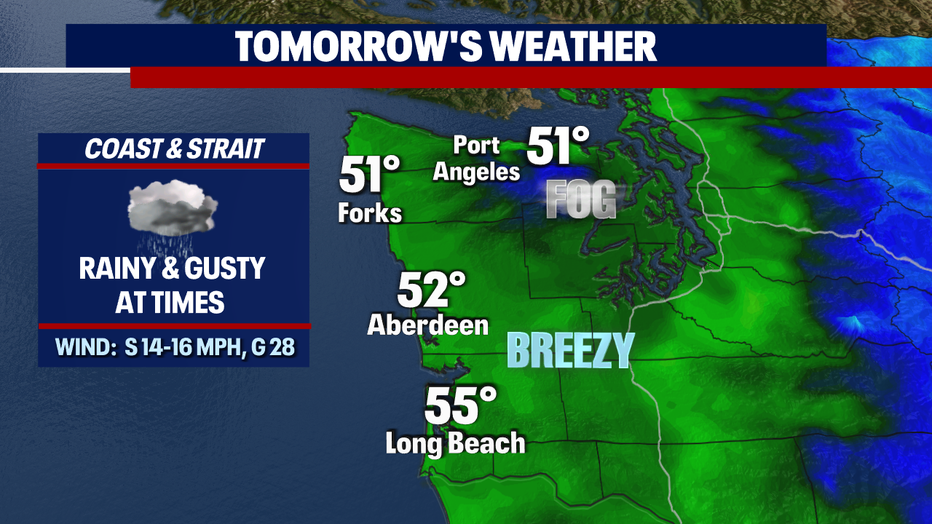 The weekend features some showers, but you'll get some sunshine too. Saturday might be a little drier ahead of the next system later that night into Sunday.  Highs drop from the mid 50s Saturday into the upper 40s Sunday with a few more showers. 
Some showers from the weekend system may linger into Monday. Another system heads our way late Tuesday afternoon with the potential to bring more lowland rain and mountain snow. Stay tuned!  
Have a great end of the week!  ~Erin Mayovsky, FOX 13 Forecaster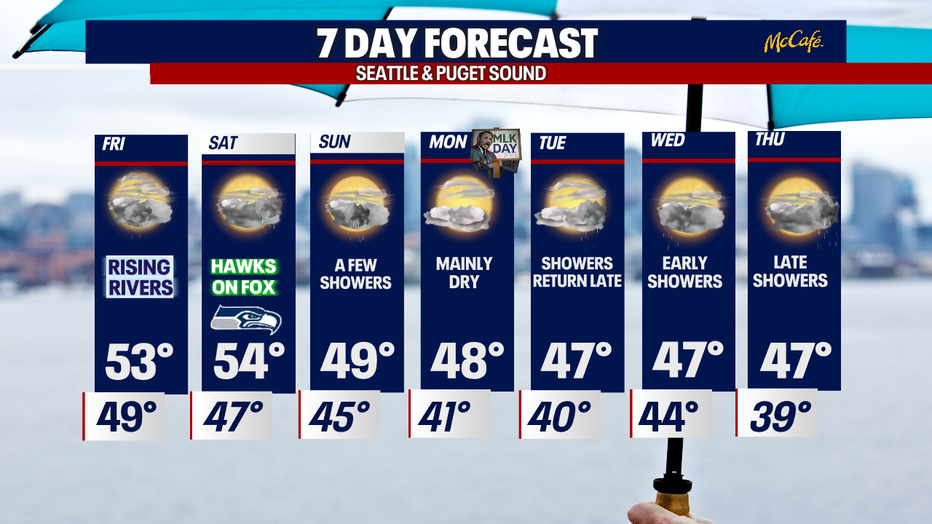 *Don't forget to cheer on our Seahawks as they take on the 49ers in the Bay Area. We've dialed up a stormy game day forecast for Santa Clara at Levi's Stadium.  The Hawks should feel right at home with very sloppy conditions.  
Remember you can find the Hawks on Fox Saturday. Make sure to tune in early as our game day crew brings you the latest leading up to kick-off. Plus, they'll have post-game coverage as well.