Snow, ice, rain could cause messy Monday morning commute
SEATTLE -- The weather warms up this week for Western Washington, but the transition won't be easy.

The snow level rises from Sea Level to about 1,000 feet on Monday bring a period of snowy or slushy weather for the morning commute.

Q13 Meteorologist Walter Kelley says places like Bellingham, Concrete, Darrington, North Bend, Enumclaw will stay snowy overnight making for a very slick mess.




The Metro changes to all rain sometime overnight but since the ground is still frozen Monday morning looks icy and slushy for most. Kelley says Seattle looks OK but all outlying areas will have wintry issues.

Mountain snow

Monday around noon looks pretty quiet for the Metro, but the snow in the mountains will be very heavy.

Kelley says we get another big punch of rain for the Metro and another round of heavy mountain snow on Monday night.

The snow level jumps above Snoqualmie Pass, but Stevens Pass continues to snow.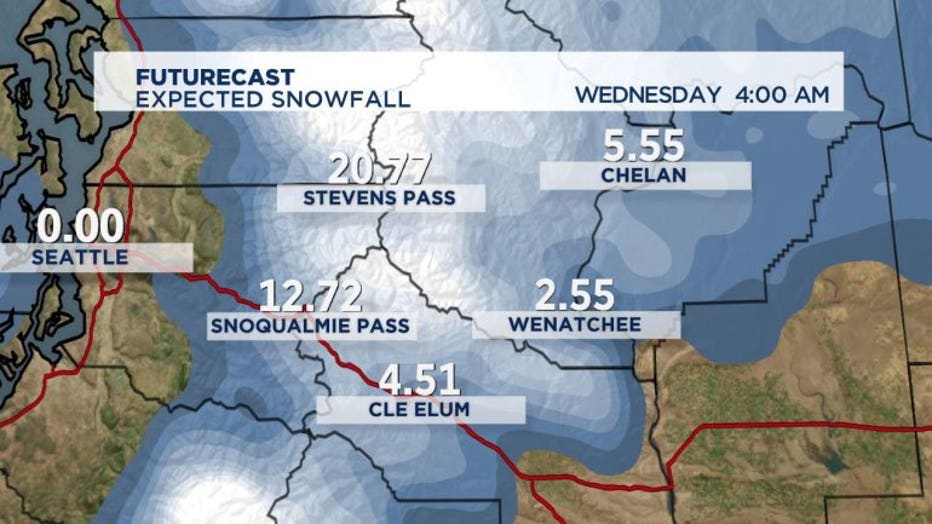 Temperatures 

Lows Sunday night will hover around 32 degrees.

Lows for Tuesday morning will be around 40. Kelley says Tuesday also looks wet with a high near 46.

Overall Western Washington will be warm compared to last week. Wednesday looks quiet with some sunshine which is an excellent start to Winter.

The Solstice is at 2:44 a.m. It's the shortest day of the year, but the good news is that from that moment on we gain daylight.