Seattle weather: Wet Wednesday ahead, but dry with sunshine on Friday
SEATTLE - Wednesday is looking damp and wet, but drier weather takes hold by Thursday morning. Friday will be beautiful, dry and sunny. Showers return on Saturday.
Highs this week will stay consistent in the mid 40s for most. Overnight lows plunge to the 30s almost each morning.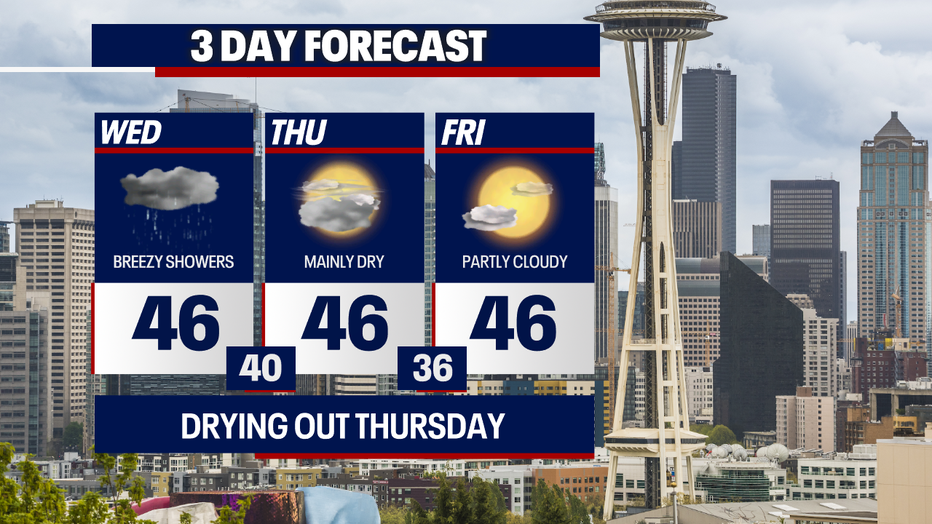 It's blustery this morning. By the early afternoon, winds calm down a bit. Up until then, we're tracking the potential for gusts of 20-30 mph in many places with higher gusts for the typical areas (e.g. the Salish Sea and coast). No official wind alerts are in effect.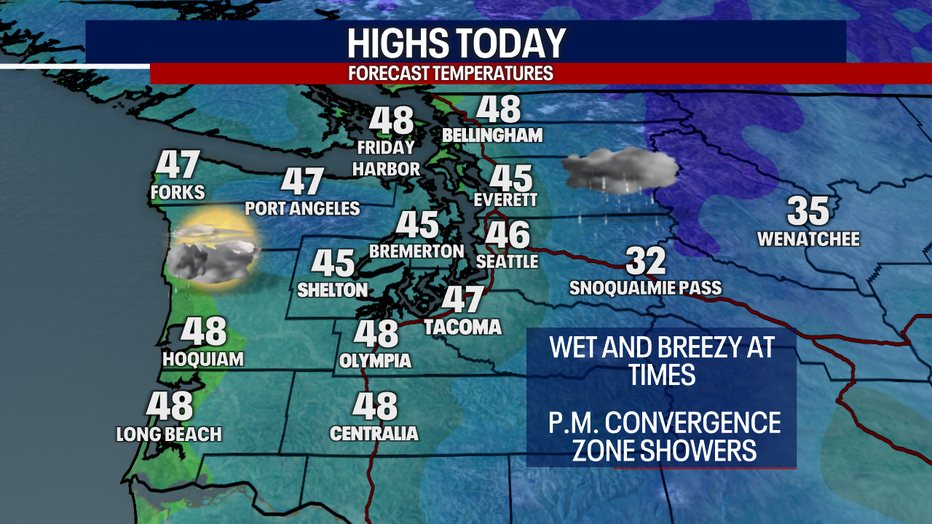 Remember, there's still a Flood Warning in effect for the Skokomish River until further notice for minor flooding.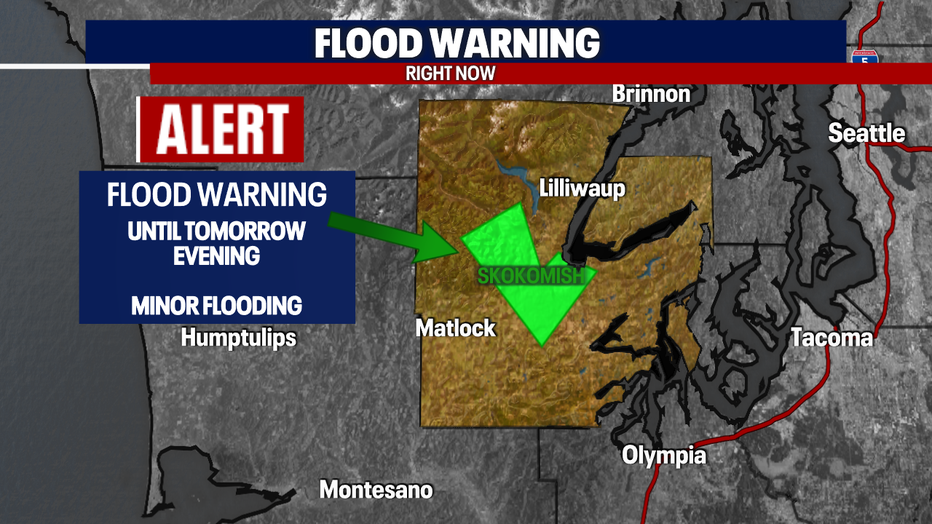 Speaking of floods, there could be minor coastal flooding as king tides return this weekend into next week. Thankfully, these tides won't be nearly as damaging as the event in late December. That's because we're not tracking a storm system at the same time. In fact, the weather should be fairly quiet during the high tides this weekend. Stay tuned for any changes!

Here's a look at the timing of the king tides below: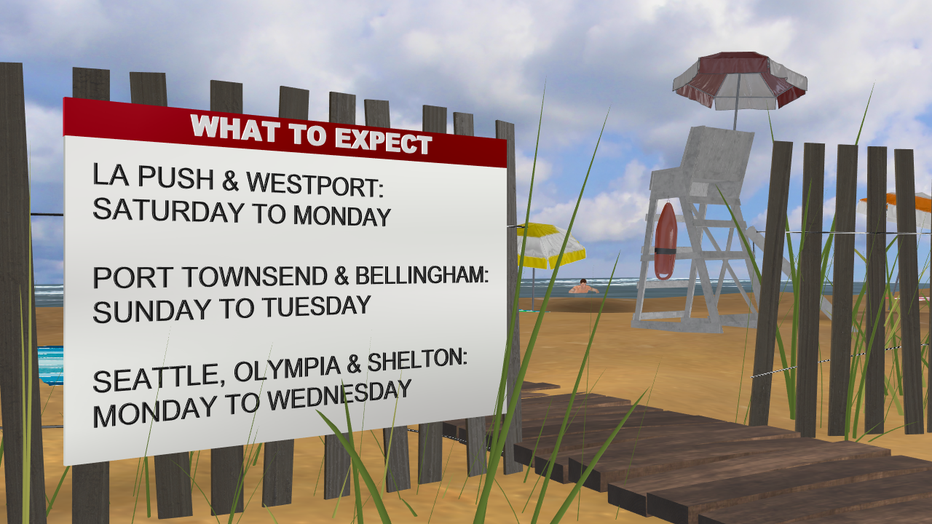 We also have a Coastal Flood Advisory for the San Juans the Admiralty Inlet area until noon today.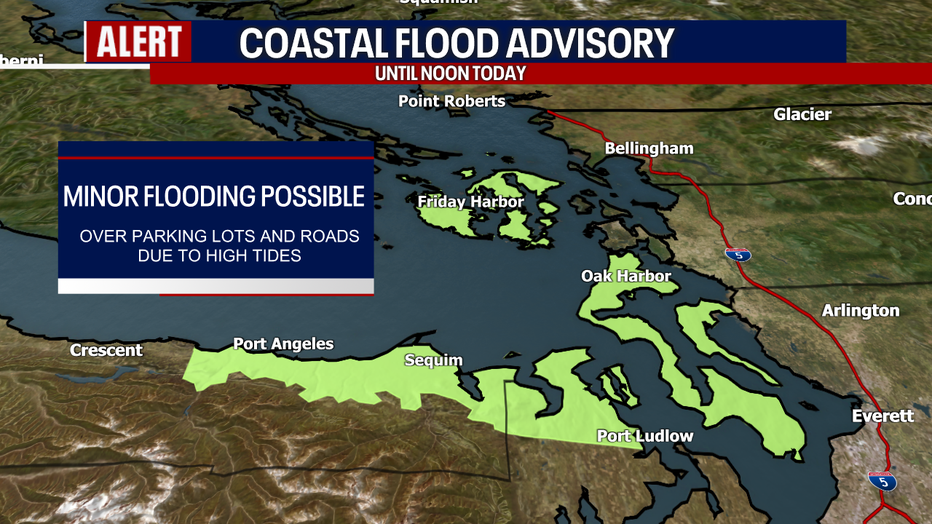 A heads-up: there's a Winter Weather Advisory until 10 tonight for the Cascades. Up to six inches of snow could accumulate. Check WSDOT conditions before you travel!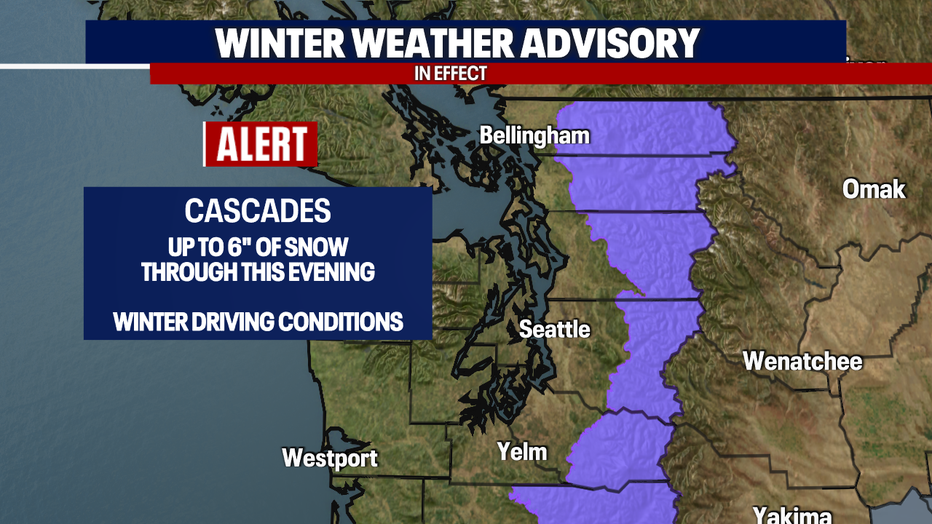 A convergence zone could pop up this afternoon before easing tomorrow morning. Thursday will wind up mostly dry with morning fog and afternoon sunbreaks. Friday looks glorious with partly to mostly sunny skies and dry weather.

Saturday, a little lowland rain and mountain snow could make a brief appearance. It could be breezy, too. Sunday will be the better of the two weekend days for getting outside. Mainly cloudy skies are in the forecast.

We can't rule out a few showers Monday, but Tuesday will be drier.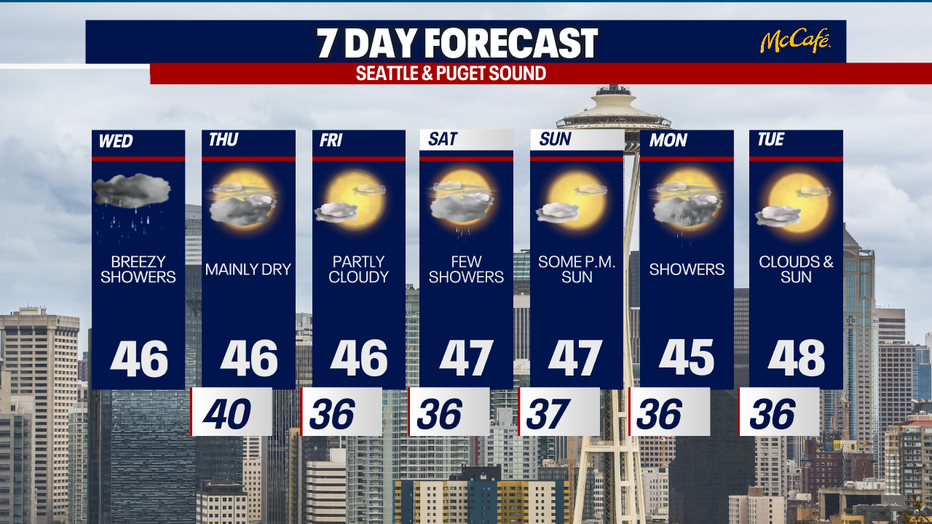 Hope you catch FOX 13 today! We're so thankful for your viewership.

Warmly,

Meteorologist Abby Acone
Follow me on Twitter @abbyacone, Instagram @abbyaconewx, TikTok @abbyaconetv and Facebook (Meteorologist Abby Acone)