Seattle weather: Rain and gusty winds coming in Friday; mountain snow hitting the region
SEATTLE - Another spectacular day around Western WA as beautiful skies could be seen across the region. And after a cold start, temperatures warmed into the upper 40s to low 50s.  
Change is on the way though, and it happens quickly! Friday serves up some blustery weather.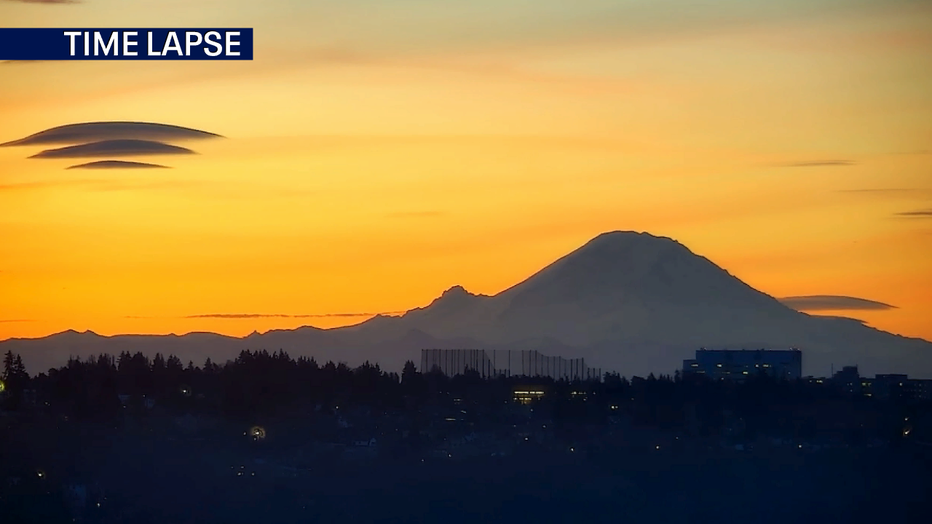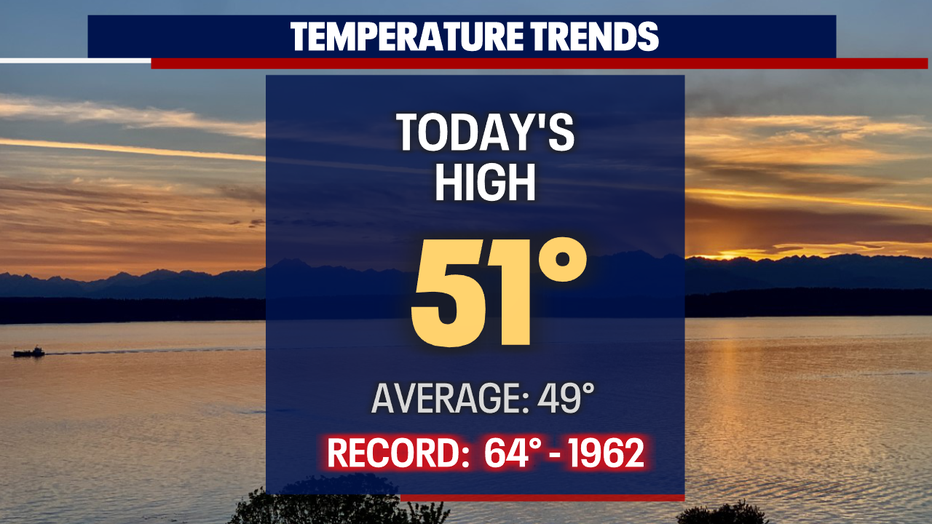 Overnight, temperatures cool into the upper 30s to low 40s under mostly cloudy skies.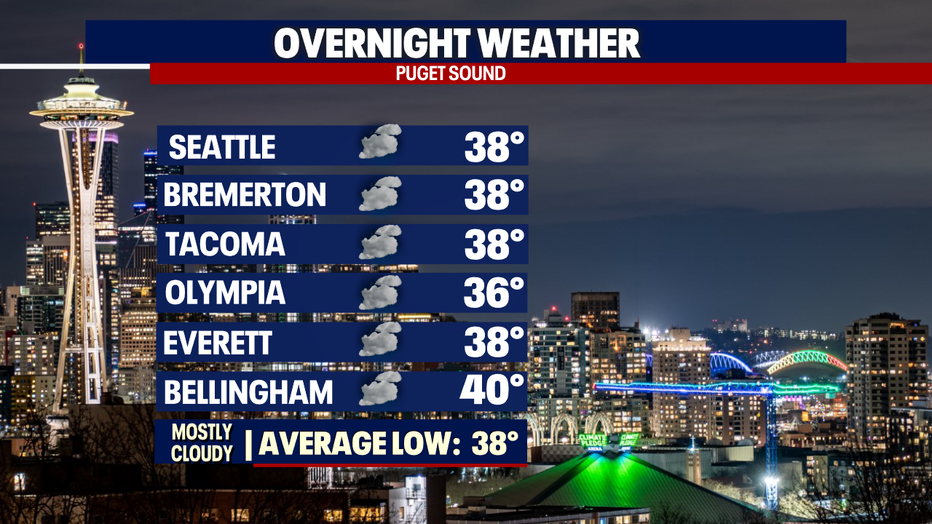 Low pressure out in the Pacific will spin active and unsettled weather our way starting tomorrow morning. The coast will see the first action as heavy rain hits followed by gusty winds.  
Then, by mid-morning, most areas inland will experience waves of showers moving through, heavy at times along with breezy to gusty winds.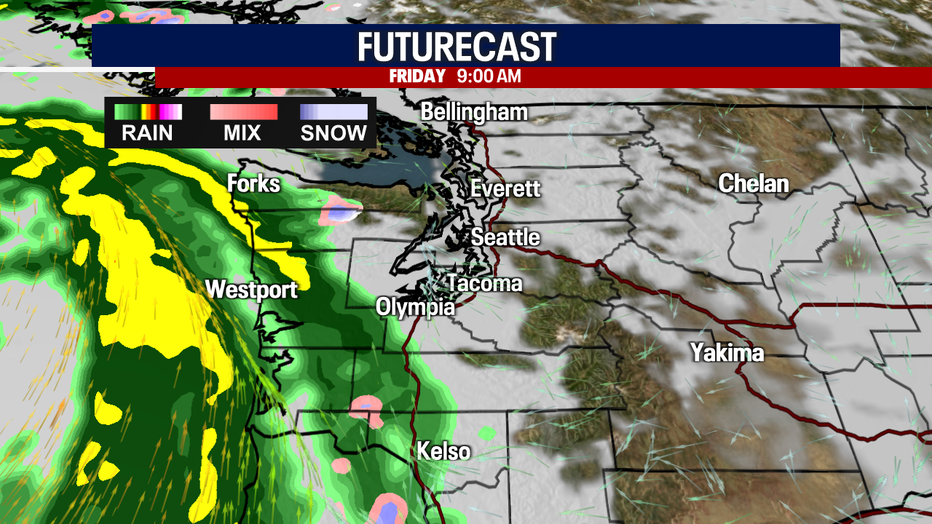 Just in the afternoon, snow will start falling over the Cascades, making pass travel difficult at times.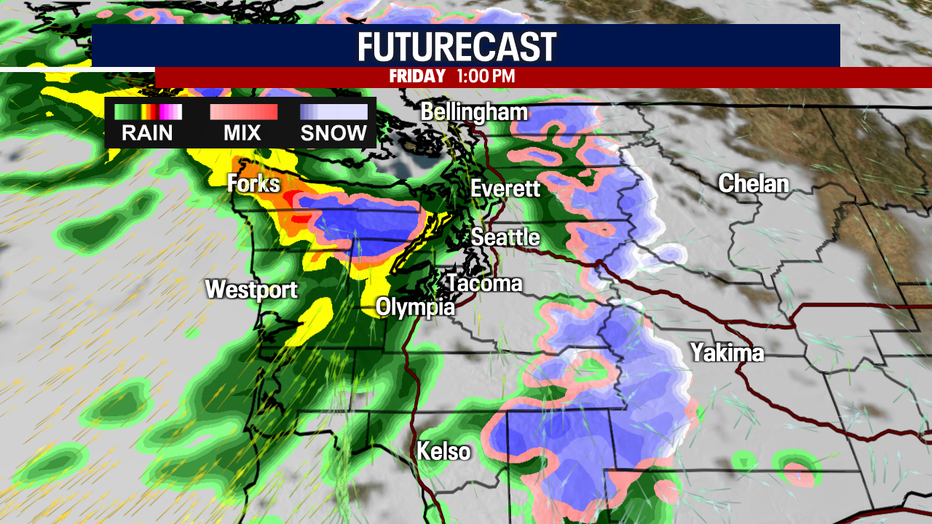 As this system hits the Western WA, winds will become gusty through most of the day into the evening hours. These conditions are triggering a couple of wind alerts for Friday. 
First, a "Wind Advisory" for the Central WA coast for sustained winds up to 45 mph with gusts up to 55 mph.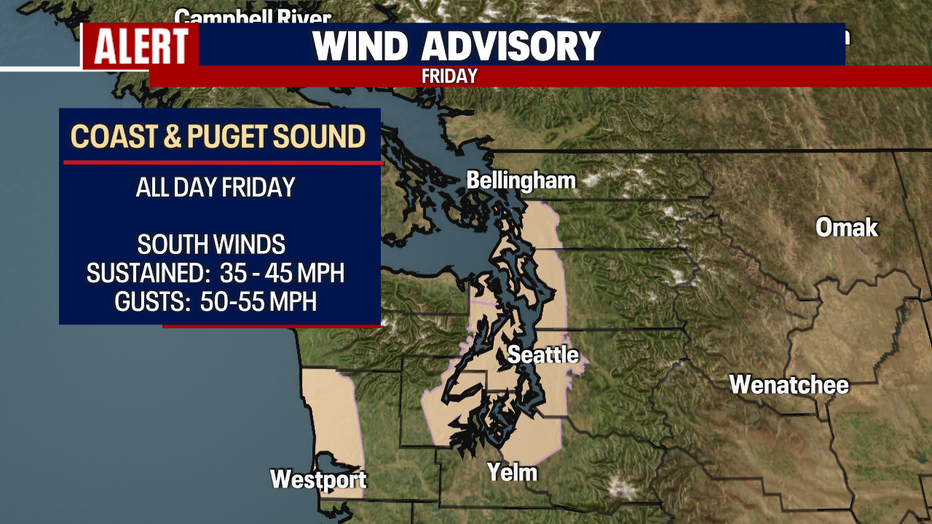 We expect even stronger winds along the NW WA Coast, the Islands, and Western Whatcom County. A "High Wind Warning" is up through 7 p.m. Friday for those areas with gusts up to 60 mph.  
Strong winds like these may cause trees and power lines to come down. Know your surroundings if out in the elements.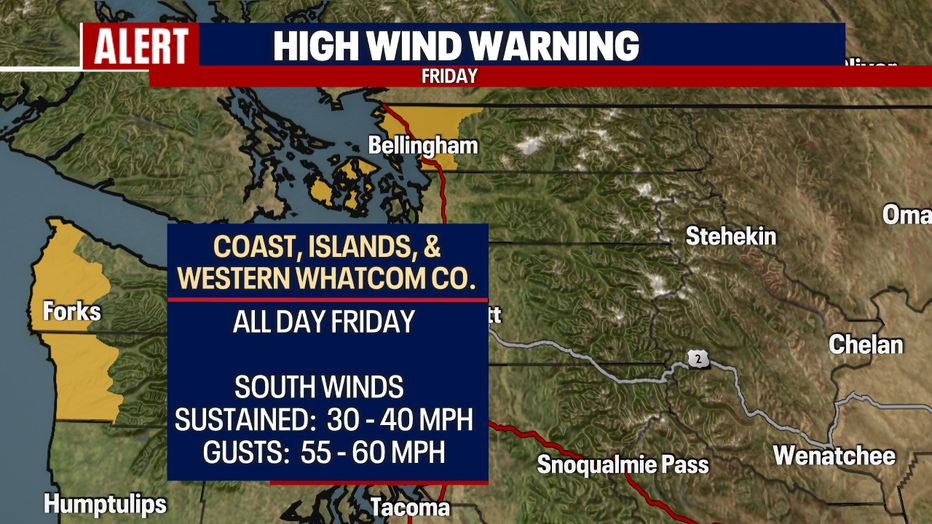 Here's a look at futurecast: peak winds will be around 4 p.m. with Whidbey Island potentially hitting 53 mph. Stay tuned!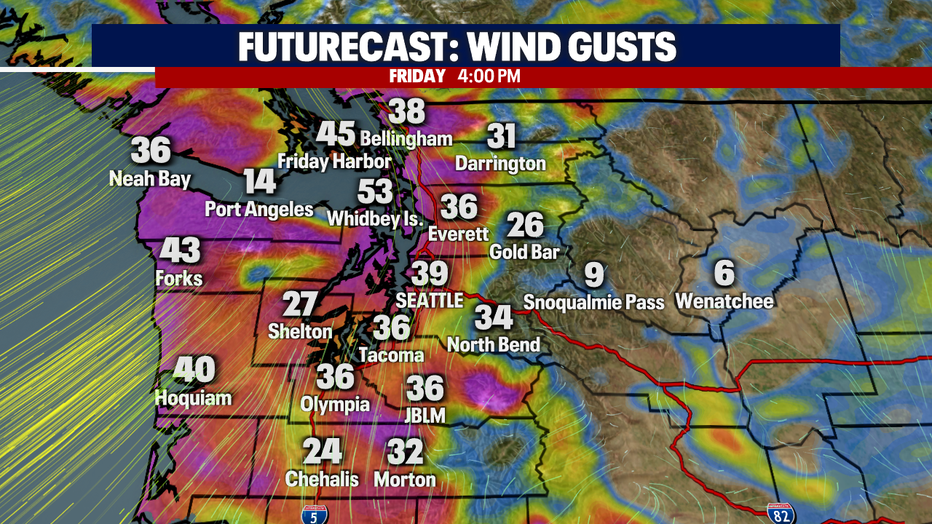 Friday's highs will remain mild, landing in the upper 40s to low 50s.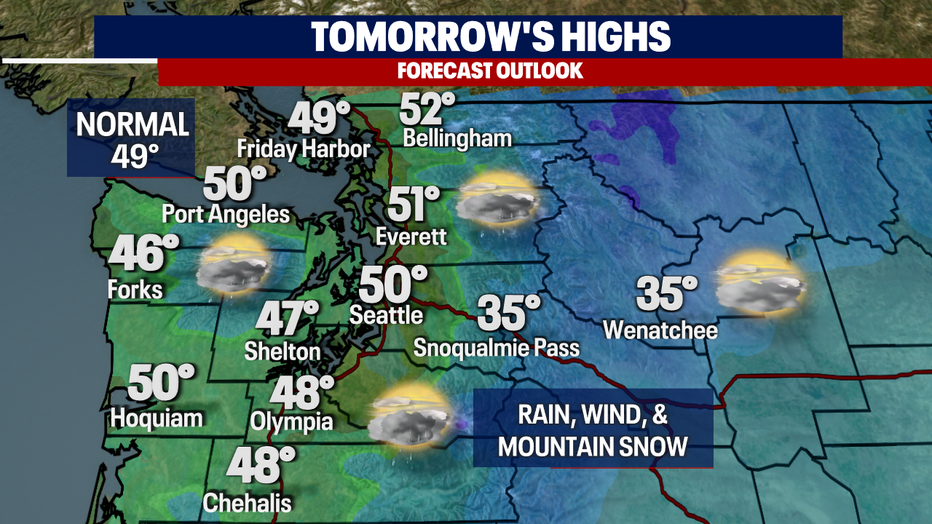 Rain and mountain snow pick up again late Friday night and continues through Saturday midday before letting up some.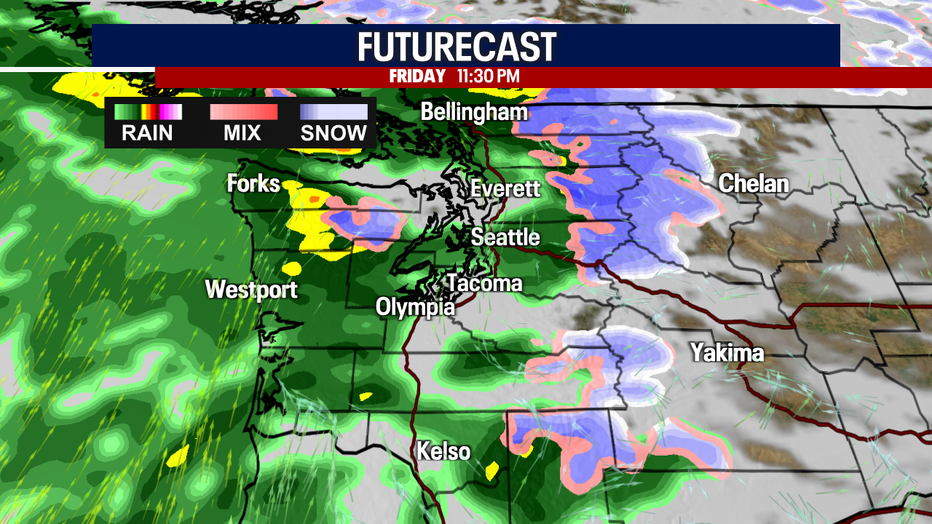 By Sunday, the Central and North Cascades should pick up 8-10 inches, with Mt. Baker pulling down nearly two feet.  Know the roads before you go!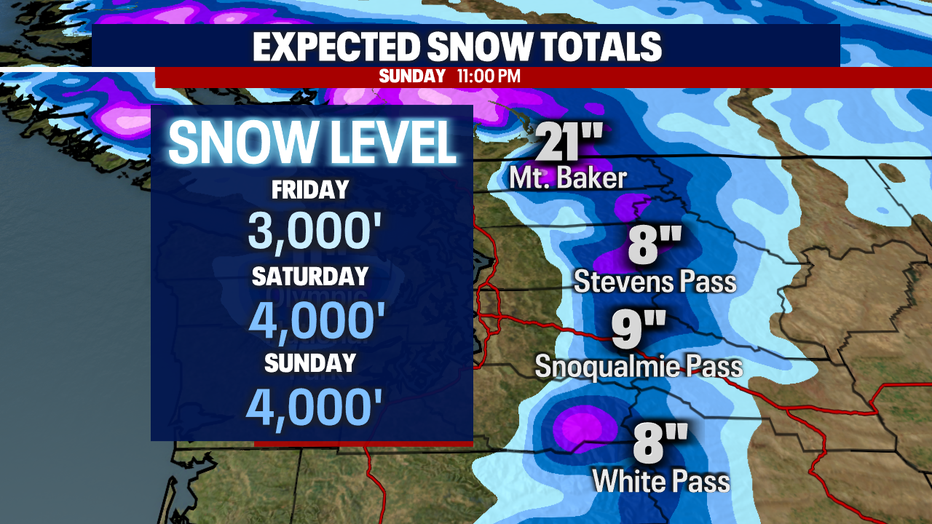 Sunday is showery at times with rain decreasing into the evening hours. Highs warm into the upper 40s.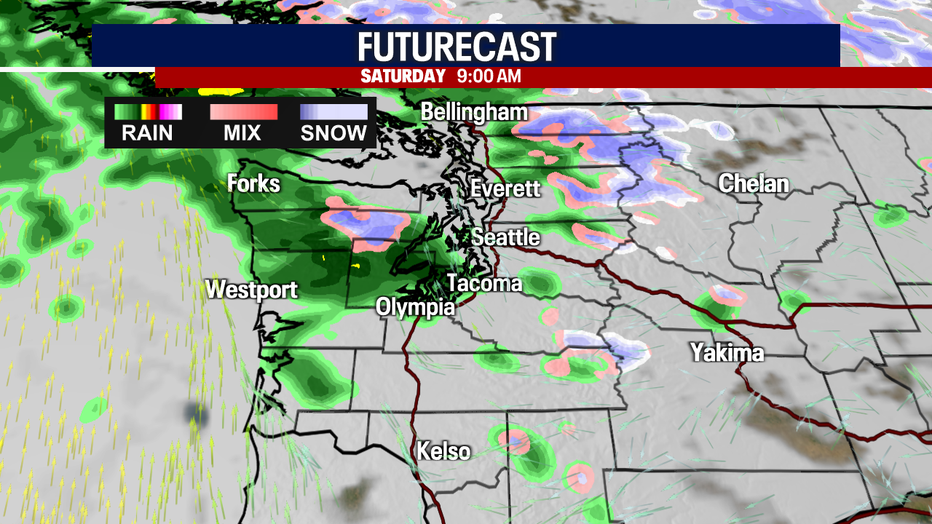 Ridging returns to the area by Monday for mainly dry conditions into Tuesday. Highs still hang in the upper 40s to near 50. 
By Wednesday, we're looking at the possibility of widespread showers returning with quieter and drier weather Thursday. Enjoy! 
Have a great rest of the week! ~Erin Mayovsky, FOX 13 Forecaster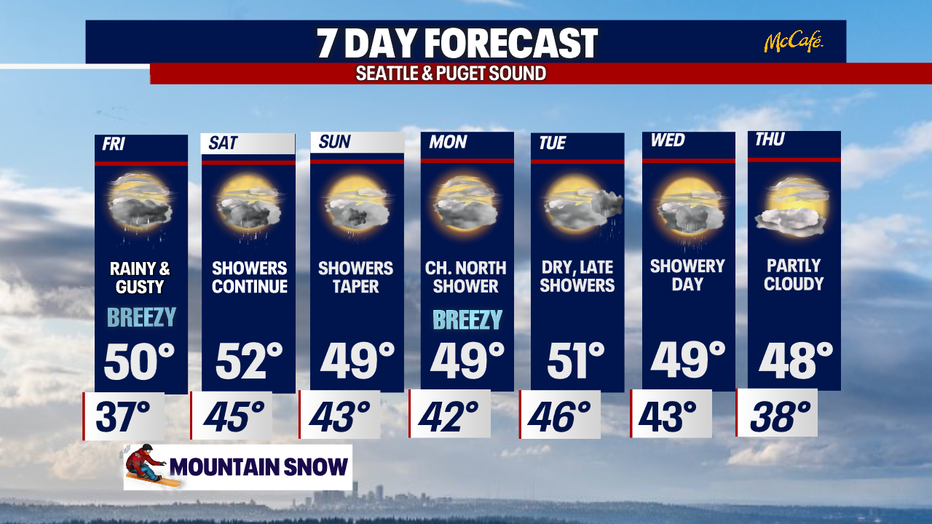 *Coast Forecast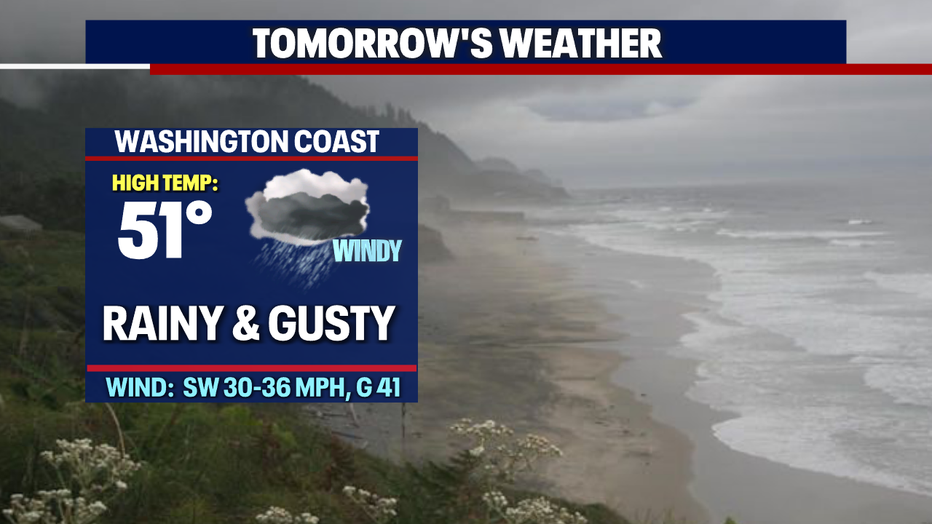 *Mountain Forecast