Rain, wind, and mountain snow on the way as we head into the weekend
SEATTLE - What a day across the Northwest! Beautiful blue skies took over as we heated to 47, just a degree below normal.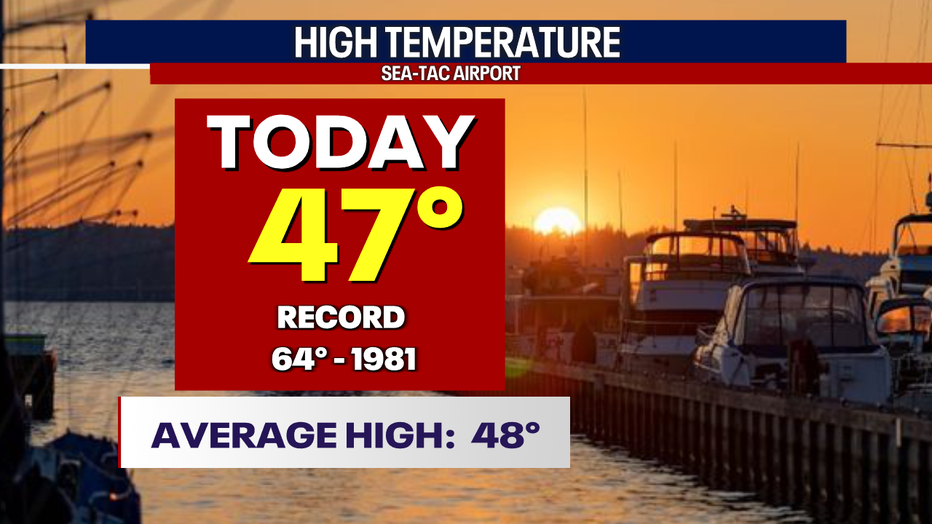 Overnight, we'll be under mostly clear to partly cloudy skies and that will give us some chilly lows. Most areas will dip to near freezing!  
Folks in the South Sound will see patchy fog too.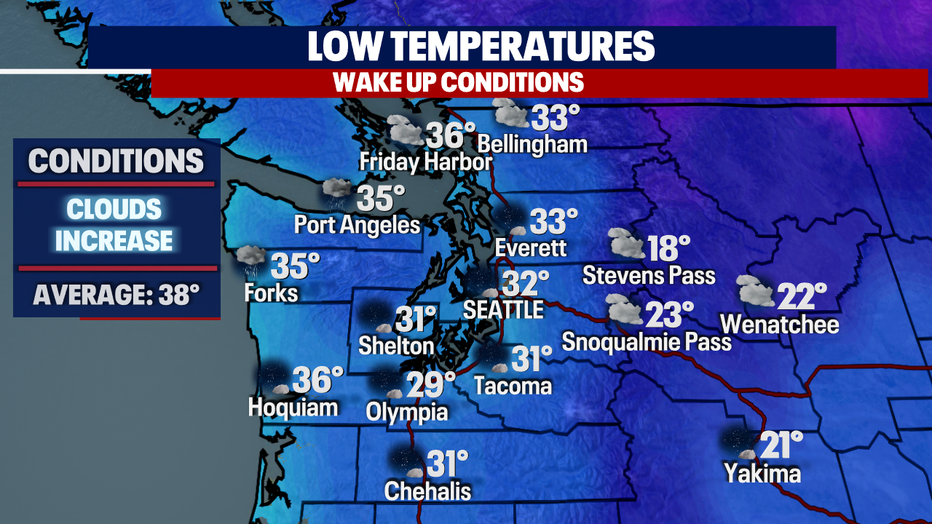 If you want to beat the incoming rain and wind, get out early for that walk to stay dry.  
Rain, wind, and mountain snow push inland throughout the morning blanketing the region all day.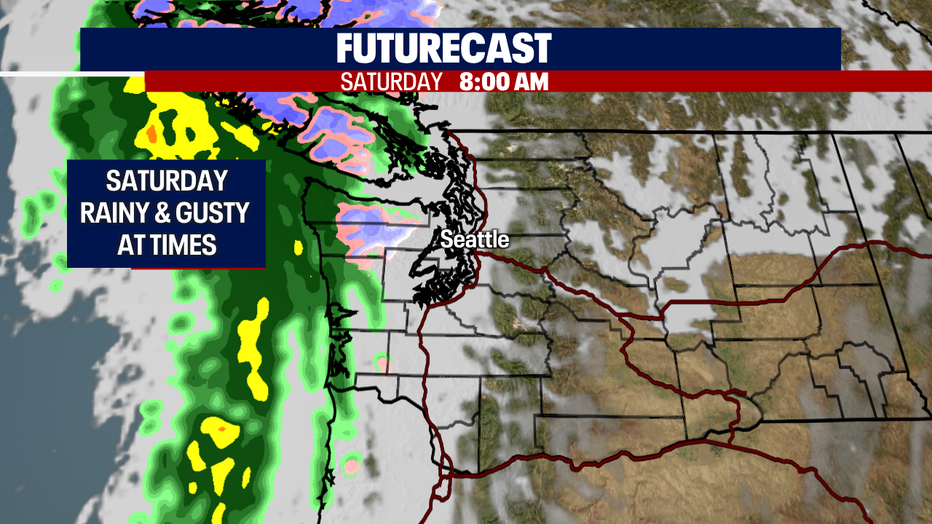 Rain will let up as we get closer to sunset Saturday (4:55 p.m). Winds will relax late evening into Sunday, but mountain snow keeps coming.  
A "Winter Weather Advisory" goes into effect 10 a.m. Saturday lasting through early Sunday.  
We're forecasting a nice refresher for the slopes with 5-15" of snow above 2,500'. Pass travel will be difficult at times, so please know the roads before you drive over the mountains.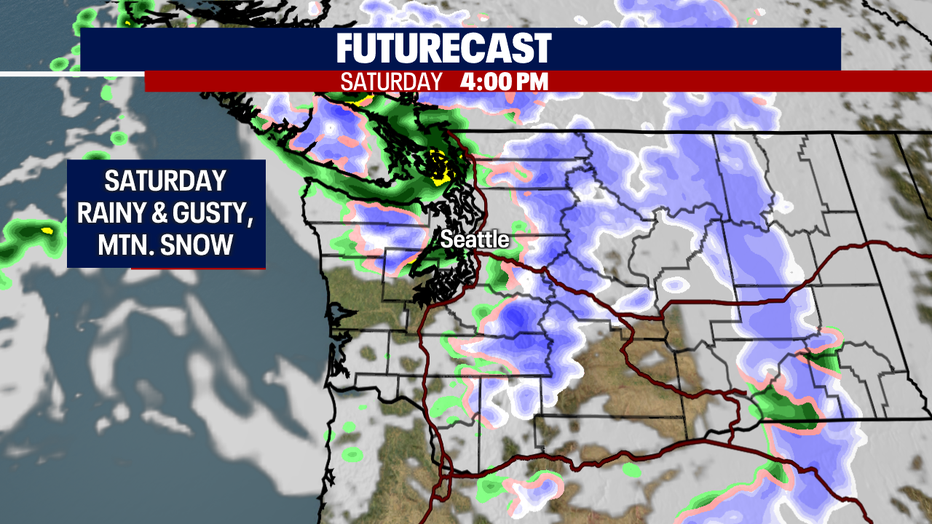 Highs on Saturday land cooler-than-average in the low to mid-40s. Some of us in the North Sound and SW coast could see a thunderstorm.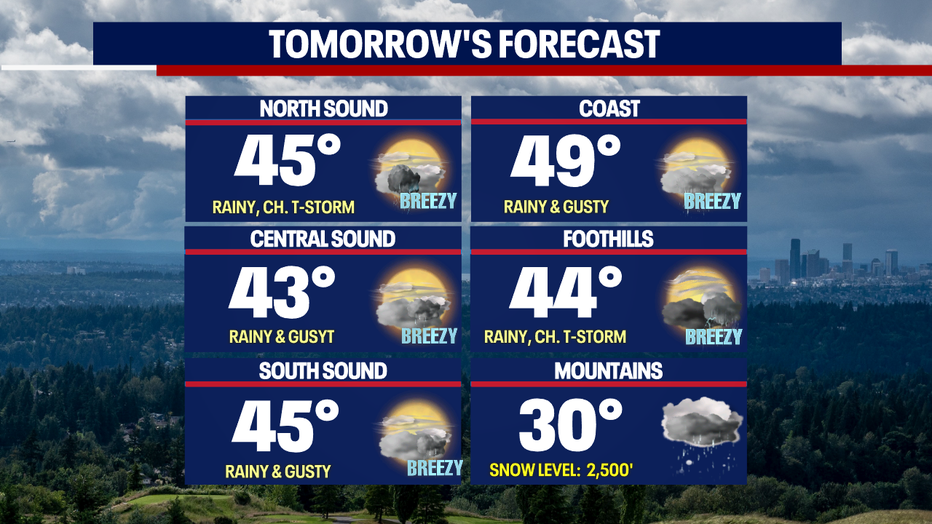 Winds will pick up tomorrow, especially for the Admiralty Inlet area and into the Islands.  A "High Wind Watch" is in effect Saturday afternoon into the evening hours.  
We expect sustained winds out of the west 30-40mph with gusty up to 50mph.  Outside the Watch area will be breezy and gusty at times too.  
In the Watch zone we may see power outages... stay tuned!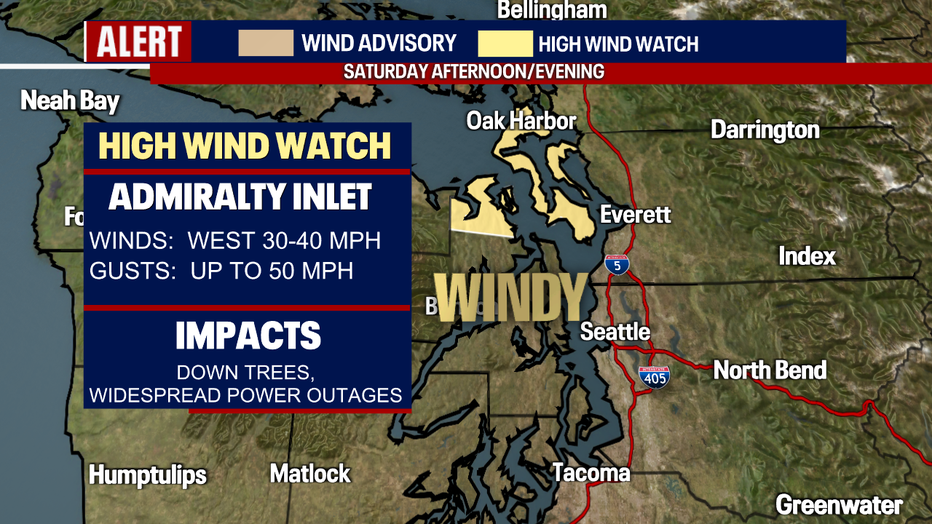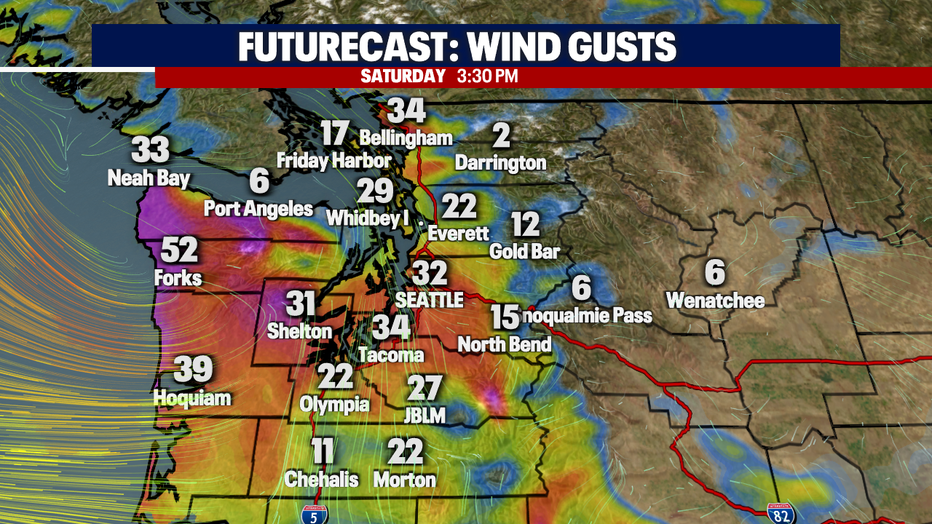 Sunday, skies will start to clear for a partly cloudy day with highs still cool in the mid-40s.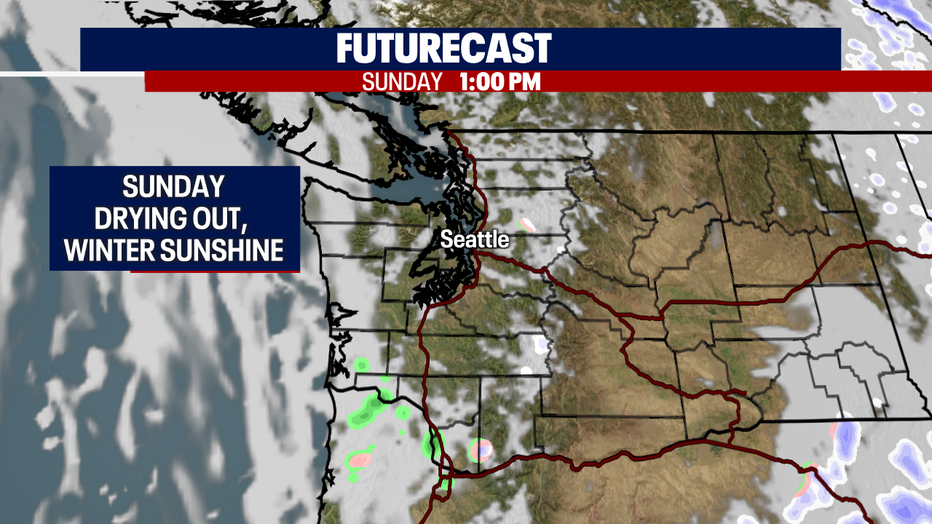 We're keeping an eye on Monday morning as there's a chance for a quick-moving system to drop a few showers early on, otherwise, look for a dry day. Highs will be near 44 degrees. 
The rest of the week features mainly dry conditions as high pressure builds into the area! Highs and lows sit near normal. 
Have a great weekend all! ~Erin Mayovsky, FOX 13 Forecaster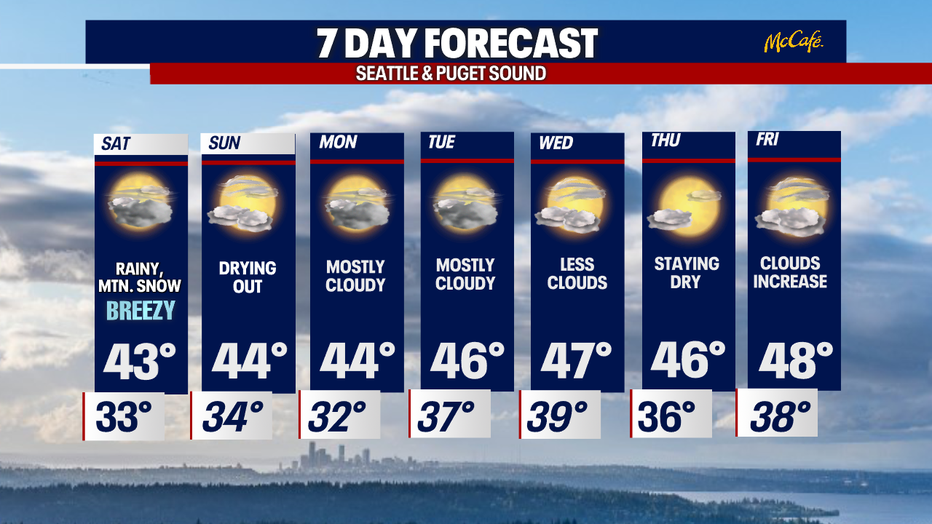 *Coast Forecast: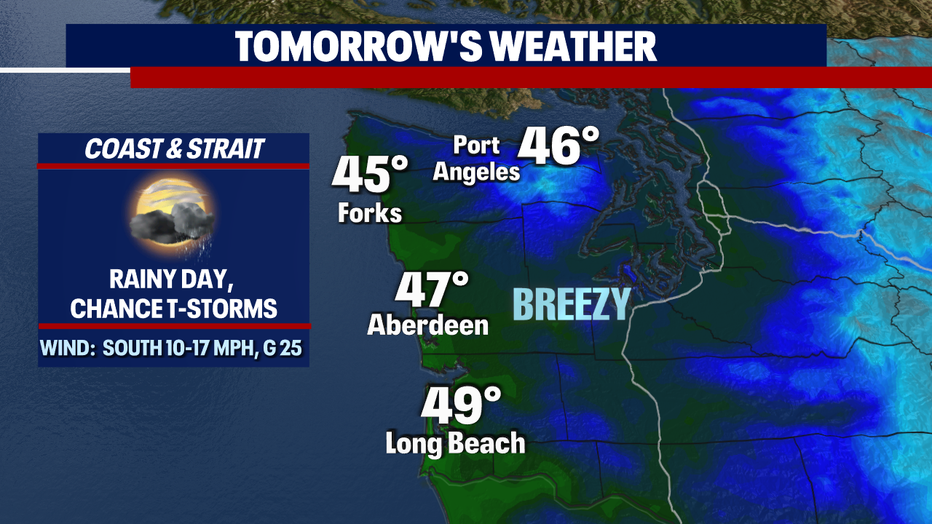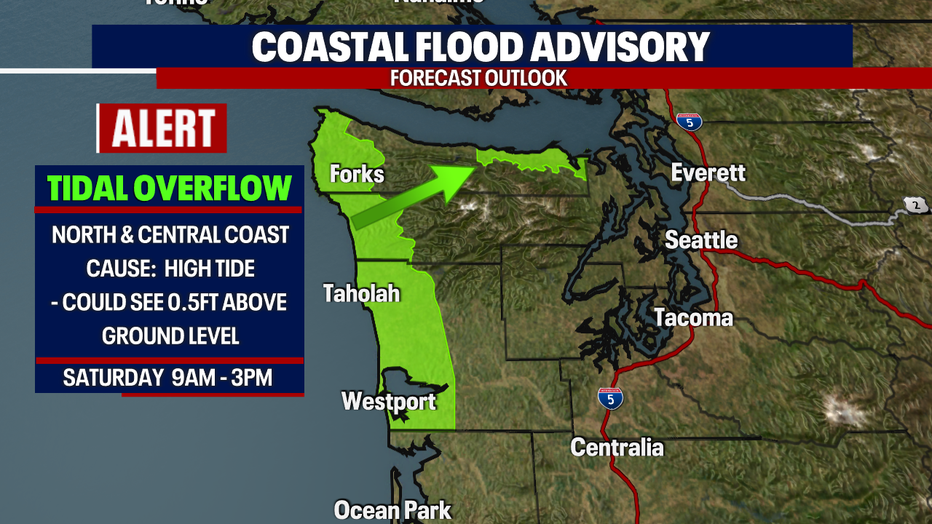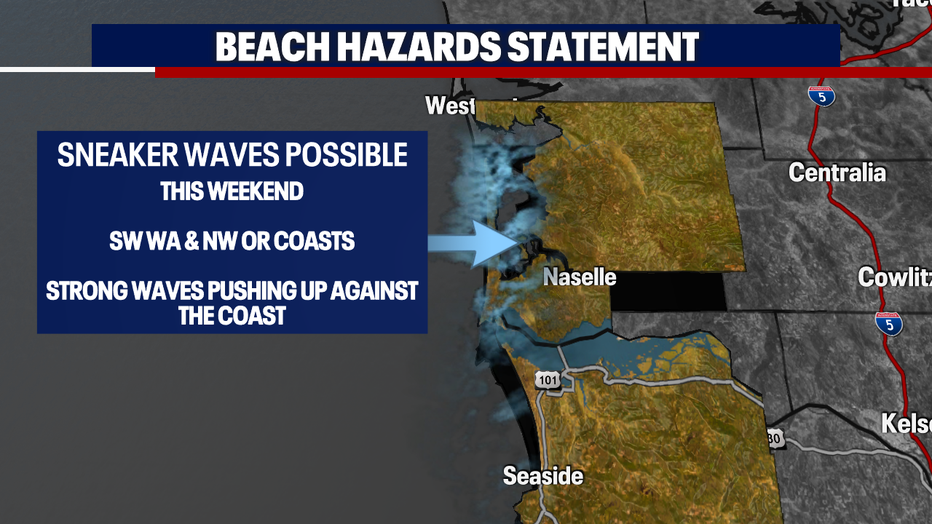 *Mountain Forecast: