Lowland snow expected Monday morning


SEATTLE -- Welcome to the weekend! Mild now, but some chilly temperatures on the way! A Winter Storm Warning has been issued for the passes from 2 p.m. Saturday through 2 p.m. Sunday.  The National Weather expect 6' to 20" inches of snow to fall in the mountains.

Today

We're talking rain, Meteorologist Erin Mayovsky said, but things will change quickly.  Some of the coldest weather of this season so far is headed our way later tonight.

That means two possible snow events we're tracking in the Q13 Weather Center.  Late Sunday into Monday morning and next Wednesday. Details are below with the rest of the

Details are below with the rest of the 7-day outlook and at this point, the timing of incoming precipitation on those days will play the biggest role if we're going to see the wintry weather in low elevations.




So, for the rest of Saturday look for mostly cloudy to cloudy skies and a few showers at times.  Highs still a few degrees above normal near 50, which keeps the threat of snow in the mountains. Late Saturday that cold front drops down through Washington and heads into Oregon. Behind the front, our temps will start dropping pretty quick.

Sunday

Much colder air slides right into Western Washington later tonight, Mayovsky says. It will be one of those rare days when the high temperature is in the morning and we get colder all day.

Colder air holds less moisture than warmer air so there won't be much moisture to give us any snow on Sunday, Mayovsky explains.

We do expect it to be dry for most of the Seahawks vs Panthers game with temps in the 30s.  Any precipitation could be some flurries during the second half, but we're not really seeing any moisture move in until close to midnight.  Below is a look at some of the Monday morning snow totals.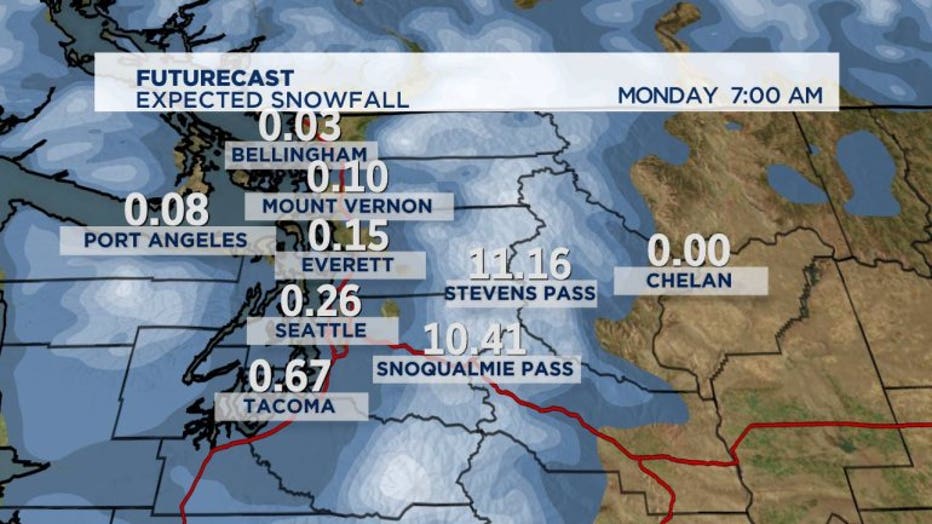 Monday

If there is any moisture left in this cold air mass, the precipitation most likely will fall in the form of snow.  Not a whole lot, but about an inch could put a lot of school districts on 2-hour delays and buses on snow routes in hilly neighborhoods, Meteorologist Tim Joyce says.

Highs will get to about 40 for Puget Sound lowlands on Monday, so the snow showers look like they'll be only for the morning.

Lingering showers later in the day could be icy spots into Tuesday.

Tuesday

Our coldest day so far this season looks to be Tuesday. Starting off partly cloudy to mostly sunny and dry by the end of the day, Joyce says. Highs very cold in the upper 30s. Overnight lows really drop with clear skies and plummet back into the 20s.

Wednesday

Joyce says Wednesday will be our transition day back to a wetter and warmer weather pattern.  Timing will be everything regarding snow potential.

If precipitation arrives in the morning when temperatures are still below freezing, this could be a significant snow event with several inches of snow accumulating all the way down to sea level neighborhoods. If the precipitation arrives mid-morning, sea level locations could see all rain and higher hills get some snow before it transitions over to rain, Joyce says.

If the precipitation holds off until the early afternoon, we'll have warmed everywhere (including the Cascade foothills) above freezing (likely to near 40) and everyone just gets rain.

At this early look towards mid-week, the timing in several of the forecast models is leaning towards the precipitation arriving in the afternoon, which would mean it would start as rain and only the foothills and Cascades would get snow.

We'll be watching Monday and Wednesday very closely.