Flood warnings ease in some areas, snow falls in the Cascades
SEATTLE -- The latest storm system is winding down, but the Puget Sound is not in the clear just yet.

King County's Flood Warning Center closed on Sunday morning, as rain activity eases throughout most of Western Washington.

Wet weather will continue into Sunday night, but rainfall totals are forecast to be much lighter.

There were some power outages reported Sunday evening. Seattle City Light said power was restored around 7 p.m.

On Saturday, the Seattle area broke a Halloween record.




A flood alert for the Tolt River that went into effect on Friday night has been lifted. Flows are expected to recede through Sunday night.

However, flood warnings are still active for the Skykomish, Snohomish, and Snoqualmie rivers.

Due to moderate flooding around the region on Saturday, a number of roads remain closed throughout King County, affecting routes in Duvall, Carnation, Fall City and Snoqualmie.




Officials in Grays Harbor County warn many trees could topple, causing power outages or blocking roads.

Heavy rainfall has also increased the risk of landslides, and those living near steep slope areas are being asked to take extra precautions.

In Pierce County, officials said they were monitoring at least 20 areas with water over the roadways on Sunday morning. A portion of 122nd St. E remains closed in Puyallup, following a mudslide on Saturday.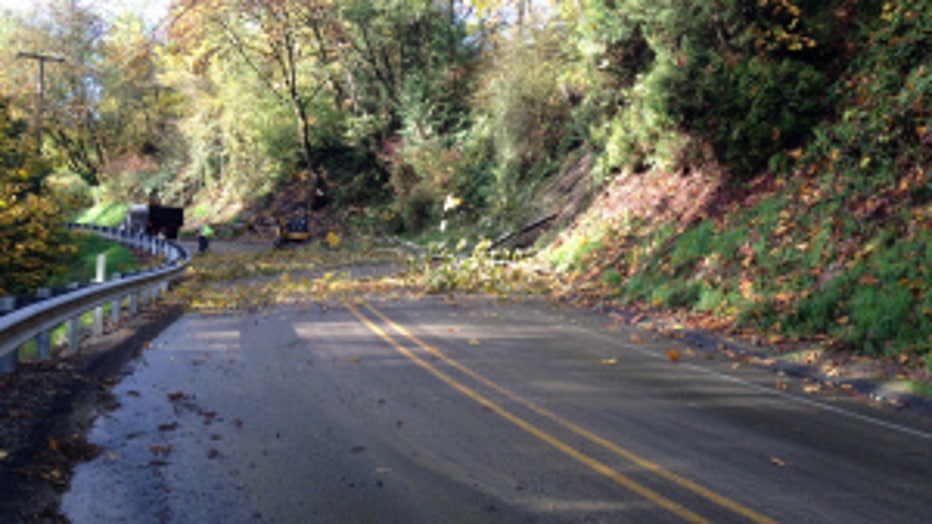 The Cascade Range got its first taste of winter, with Crystal Mountain and Mount Rainier both recording measurable snowfall.




A winter storm warning is in effect through Monday.

Mount Baker, Hurricane Ridge, Paradise, Stevens Pass, White Pass, Rainy Pass and Chinook Pass will see anywhere from 4 to 20 inches of accumulation.