Drier, cooler weather ahead this weekend


SEATTLE -- Our forecast will improve as we roll through this last full weekend of fall.

Showers have already started to decrease, but we wouldn't be surprised if an isolated thunderstorm popped up.  By Saturday evening, most of Western Washington will be dry under cloudy skies. For the overnight hours expect a few showers for the lowlands and snow showers over the mountains.

Passes this weekend will see some snow, but not enough to cause problems like we saw Friday morning and Thursday.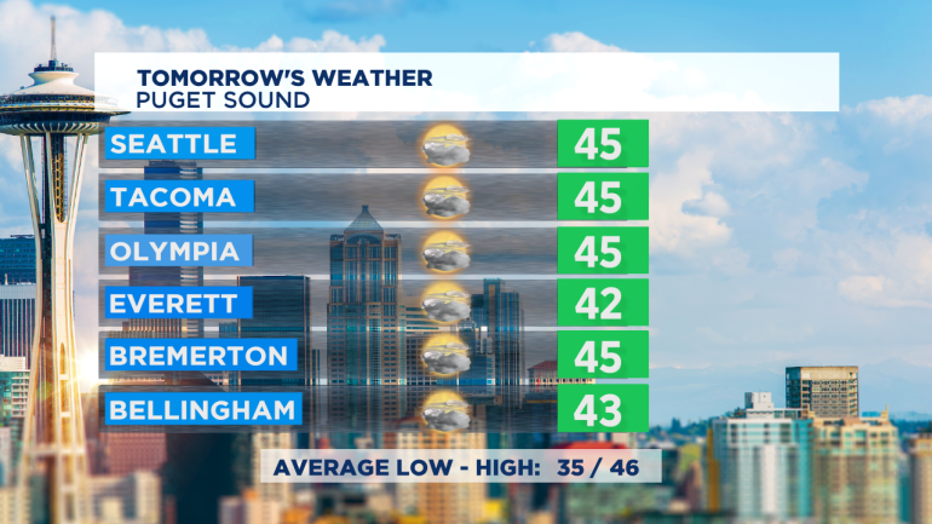 The good news is we will see two more ski resorts open within the next five days. White Pass opens Saturday and Stevens Pass opens next Wednesday, Dec. 18.


The weather system to the south of us keeps tracking further and further into Oregon. The counterclockwise flow around low pressure means we get chillier north dry winds and stay mostly dry on Saturday.  Hard to get totally blue skies with such short December days, but in some spots it's possible. It looks chilly for the Luminaria Walk around Green Lake on Saturday evening.


Sunday looks mainly dry, but there is a slight chance of a few showers.  Precip could be confined to the mountains during the day with some activity late in the day to the north over Skagit and Whatcom Counties.


By the middle of the week, it looks soggier with some warmer mornings. We could actually use the rain (and mountain snow).  We've only seen about half the average rainfall since the rain year began on Oct. 1 and about 7 inches below where we should be for the 2019 calendar year.

Only 8 days left officially in autumn and our days start getting longer again after the solstice on the 21st.   And that means holiday festivities are right around the corner... only 19 until the New Year!