Seattle weather: Heavy rain throughout the day Thursday, increasing risk for landslides
SEATTLE - Alright, are you ready for this next round of wild weather? The FOX 13 Weather Team has you covered as another atmospheric river slams into the Pacific Northwest. 
Wednesday was another day above average temperatures for many communities around the region. On Wednesday, Sea-Tac Airport hit 57 degrees, which is nine degrees warmer than normal for this time of year.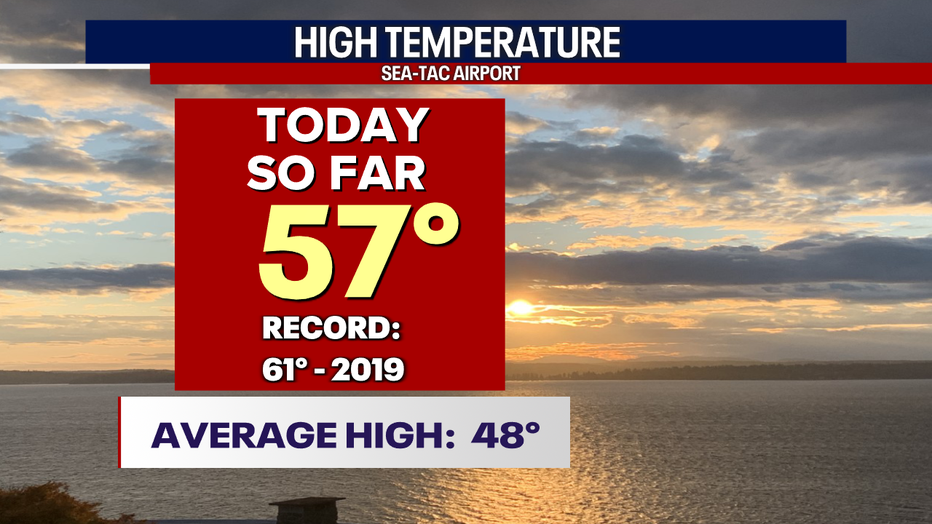 Here are some of the important "Weather Headlines:"
Tonight: Widespread rain hits the region. We do expect breezy pockets of gusty winds up to 30 mph.  
Thursday: Heavy downpours continue all day into early Friday with warmer than average temps and continued gusty winds.  
Friday: Rain starts to let up some, turning to showers throughout the day. With so much rain area rivers will rise, the landslide risk becomes elevated, along with the threat for avalanches. Plus, Pacific Ocean seas will be dangerous with strong waves washing over beaches and jetties. 
Weekend: Fewer showers with a mix of sunshine and clouds. 
Overnight, temperatures will only cool into the low to mid 40s after Wednesday's above-normal warmth. Rain continues to pour over the region.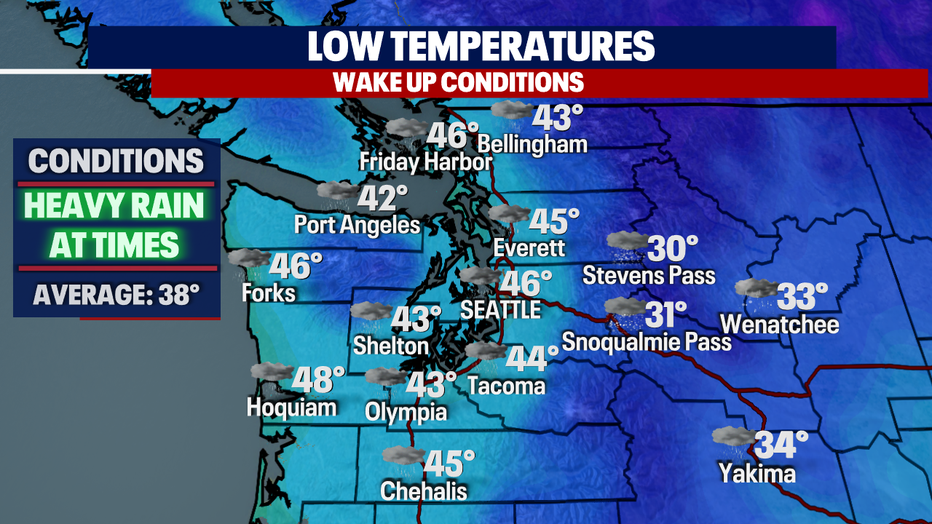 We can thank an area of strong low pressure pushing this latest atmospheric river into the West Coast. Seattle to Southern California will feel the effects of this major system.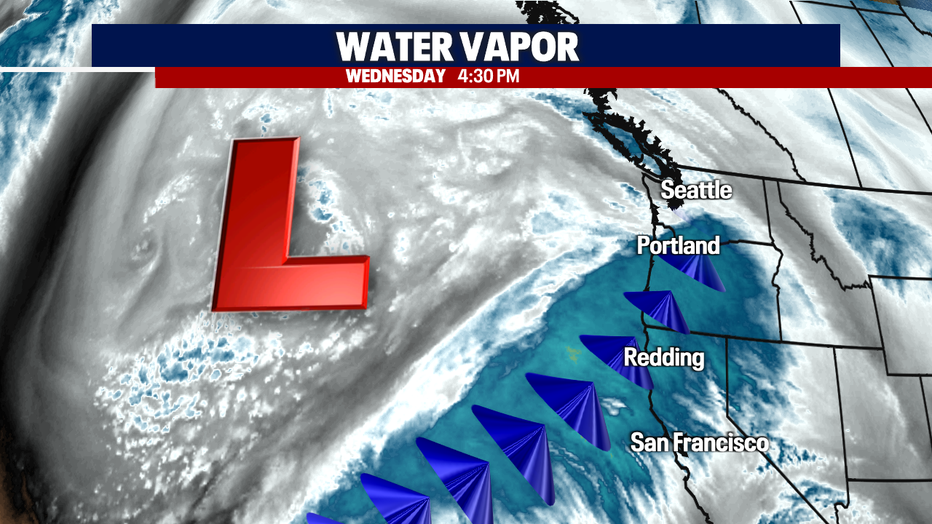 Here's a peek at our beautiful futurecast at 7 a.m. Thursday, displaying all the colors this storm has to offer! Lowland rain and mountain snow will dominate.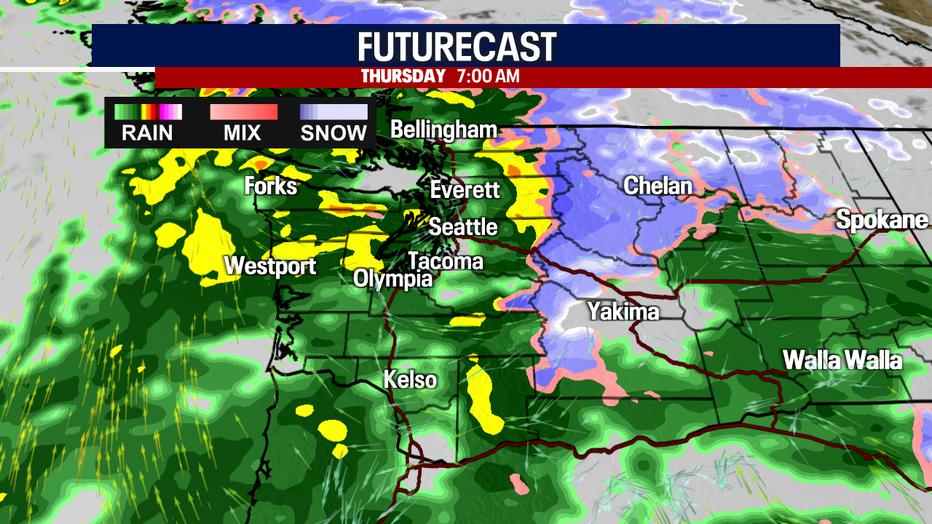 And the picture looks very similar through the evening commute too.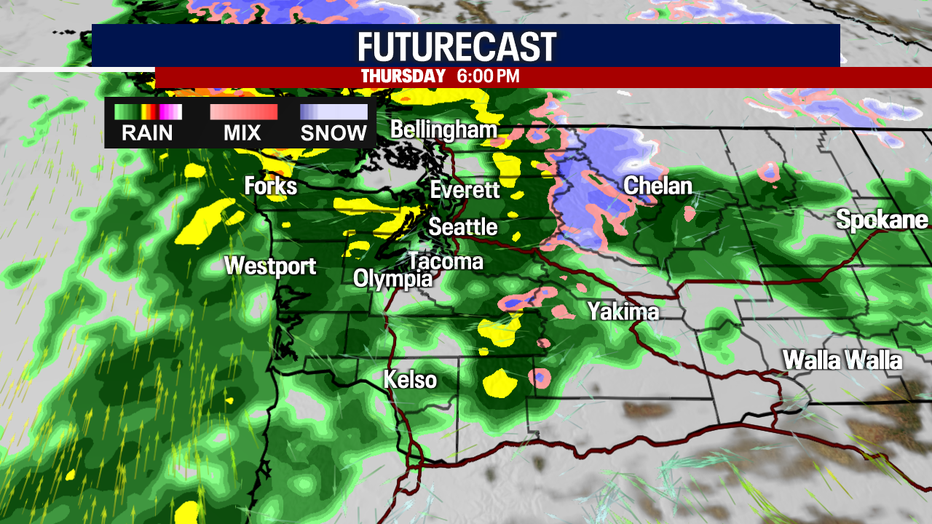 With so much rain falling over the next 24 to 48 hours, this drives up the risk of rivers flooding across Western WA. We'll keep an alert up through Saturday.  
And don't forget, grounds will become very saturated once again and that increases the threat of landslides in the area. Know your surroundings when out and about around the community.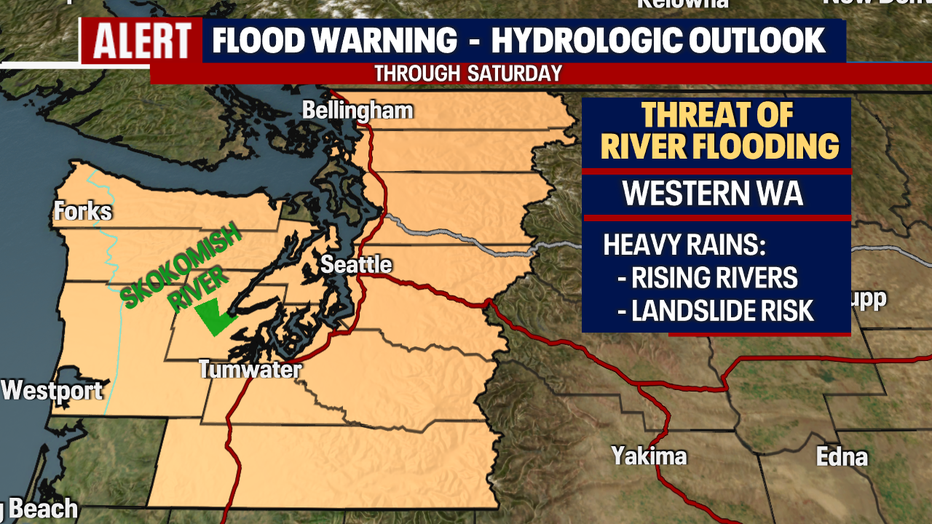 Highs Thursday cool off from Wednesday's warmth into the low 50s which is still pretty mild for this time of year.  
Winds will gust up too as low pressure moves northward tomorrow. Peak east/southeasterly winds could push up to 35 mph for some areas, especially closer to the coast and into the foothills of the Cascades.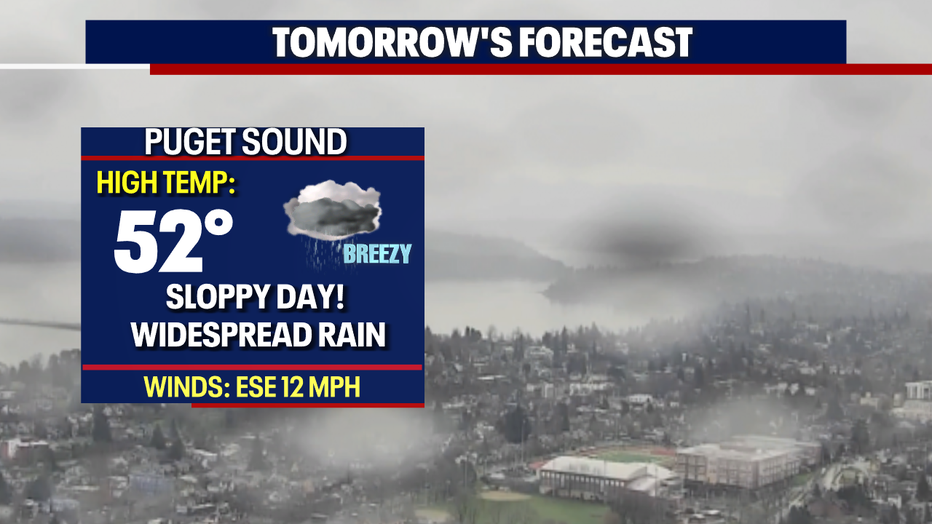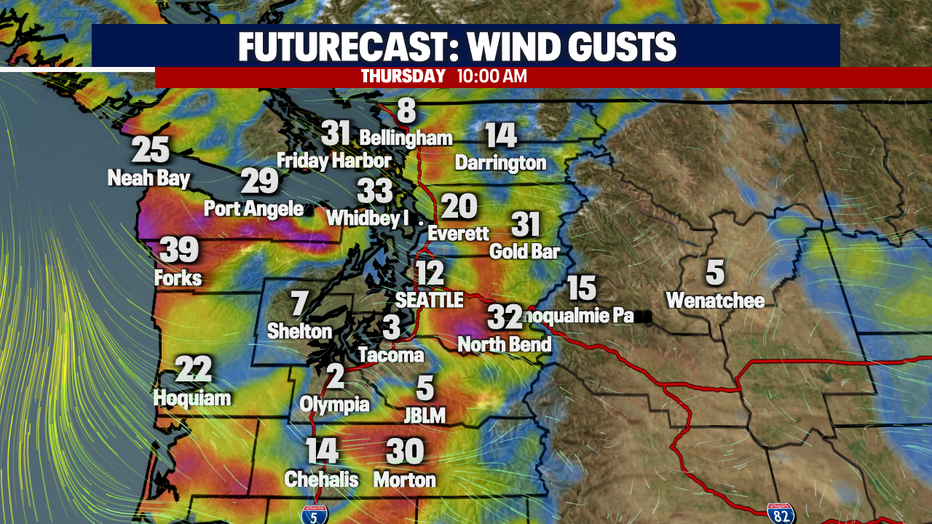 A "Winter Weather Advisory" for the Northern Cascades remains in effect through midday Thursday for Skagit and Whatcom Counties. We expect the largest snow totals at Mt. Baker Ski Resort with a few feet of snow through early Friday. 
The Central and South Cascades will see mainly rain at pass level with snow above 7,000 feet.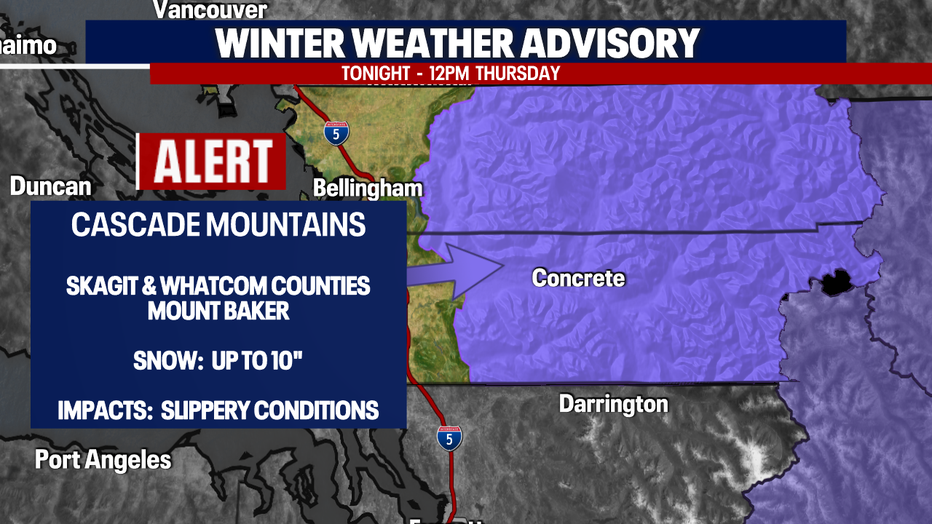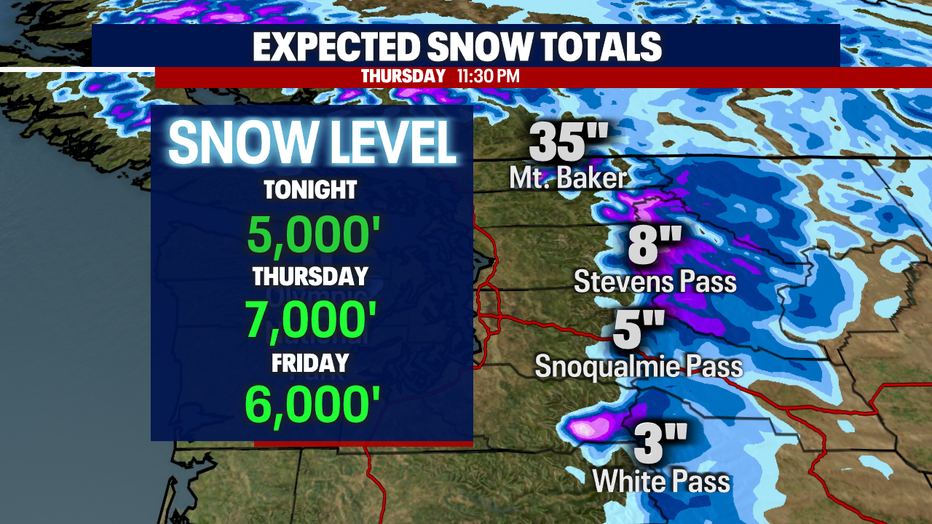 By Friday, lowland rain and mountain snow start to let up some with drying to the east first.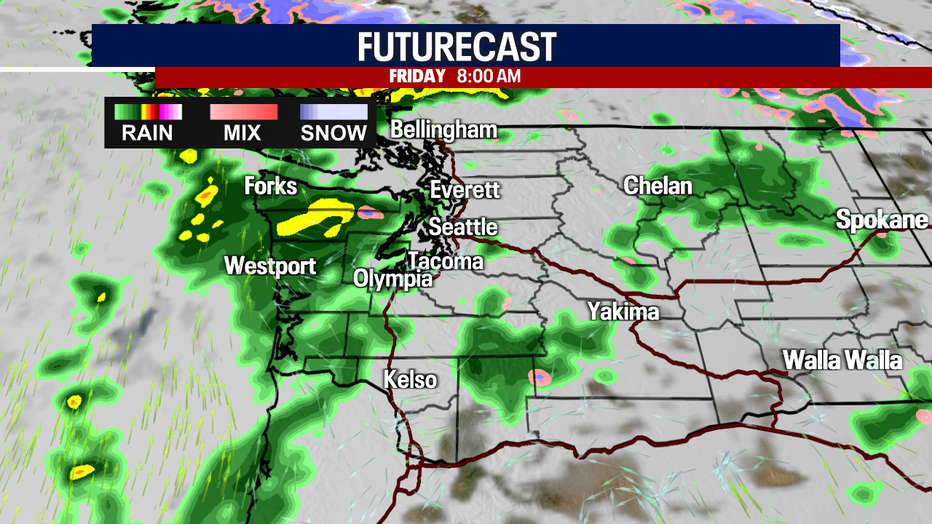 So just how much rain will we pull down by Friday evening? Quite a bit over the Olympics with the potential for 5-8". The Coast may see up to 4" and lesser amounts in the lower elevations inland between 1-2".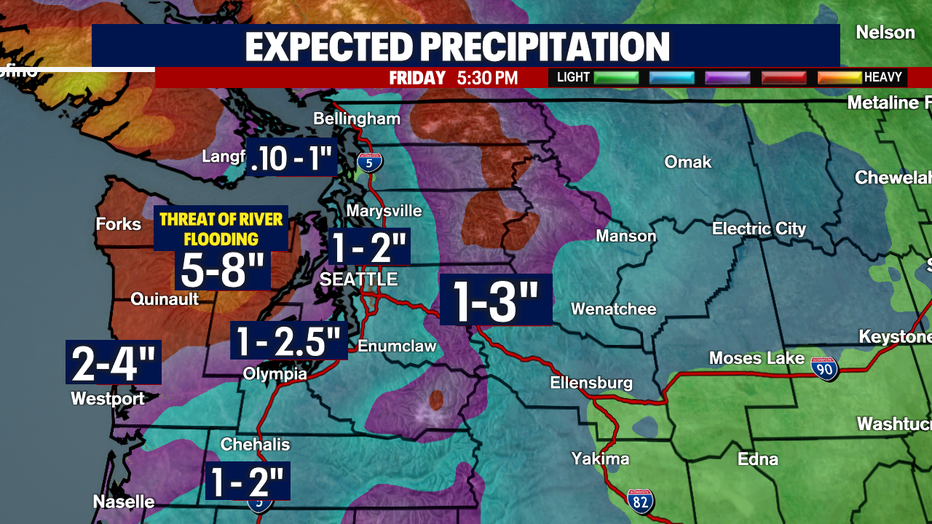 Saturday calms down with just showers at times under mostly cloudy skies. Highs still run warm in the low 50s.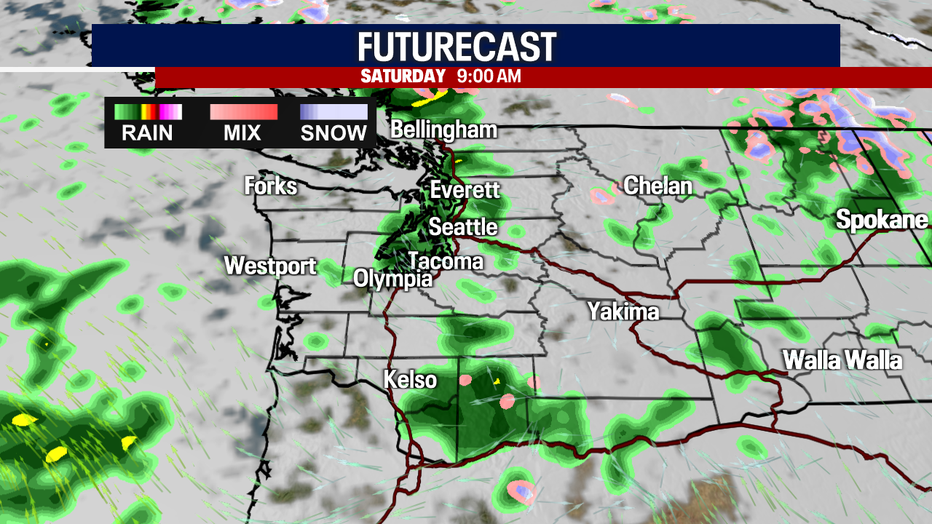 Don't forget to cheer on our Seahawks as they take on the 49ers in the Bay Area. We've dialed up a stormy game day forecast for Santa Clara at Levi's Stadium. The Hawks should feel right at home with very sloppy conditions.  
Remember you can find the Hawks on Fox Saturday.  Make sure to tune in early as our game day crew brings you the latest leading up to kick-off.  Plus, they'll have post-game coverage as well.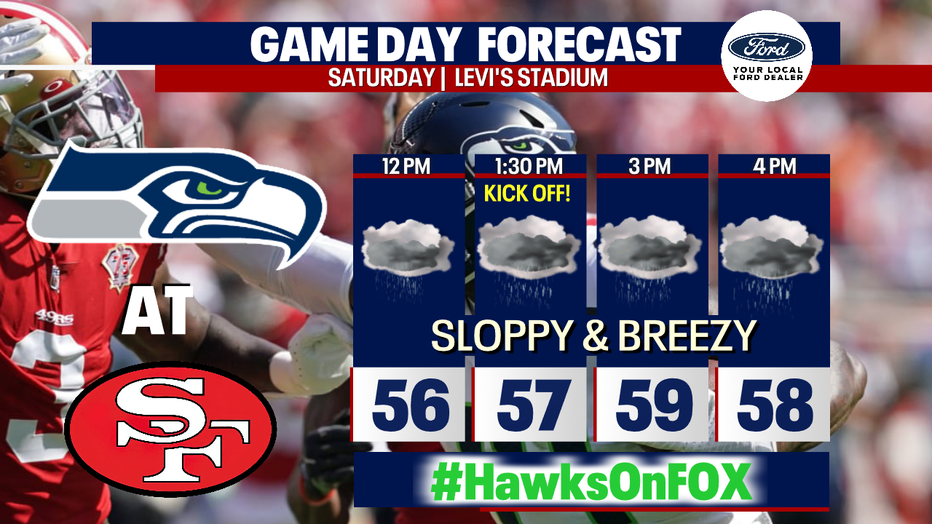 We'll leave you with a look at the extended forecast where the weekend finally calms down some with highs cooling into the mid to upper 40s through next week.  Enjoy! 
Have a great soggy close to the week!  ~Erin Mayovsky, FOX 13 Forecaster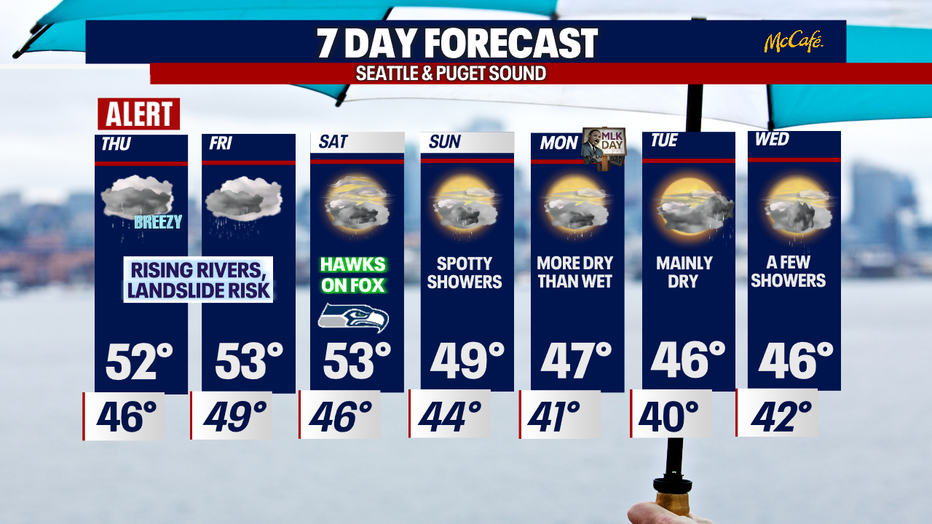 *Coastal forecast and alerts: