A dry day Wednesday, but gusty easterly winds could cause problems for some
SEATTLE - A pretty and mainly dry Tuesday for Seattle. The airport did warm two degrees over the seasonal high of 47.  Not bad right?  
Don't get used to it because more active weather is on the way to close out the week.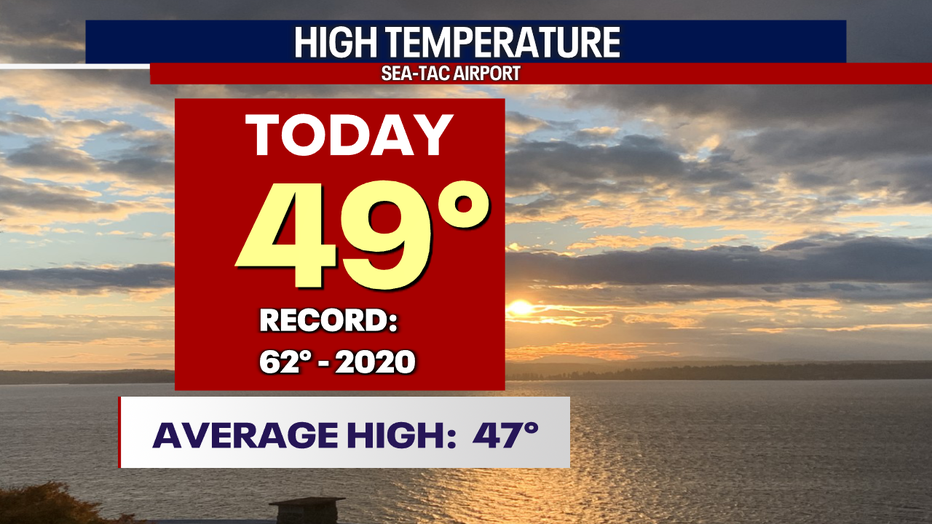 Overnight, temperatures will run cool for many communities. Olympia drops to near freezing again with the metro a few degrees warmer, landing at 36.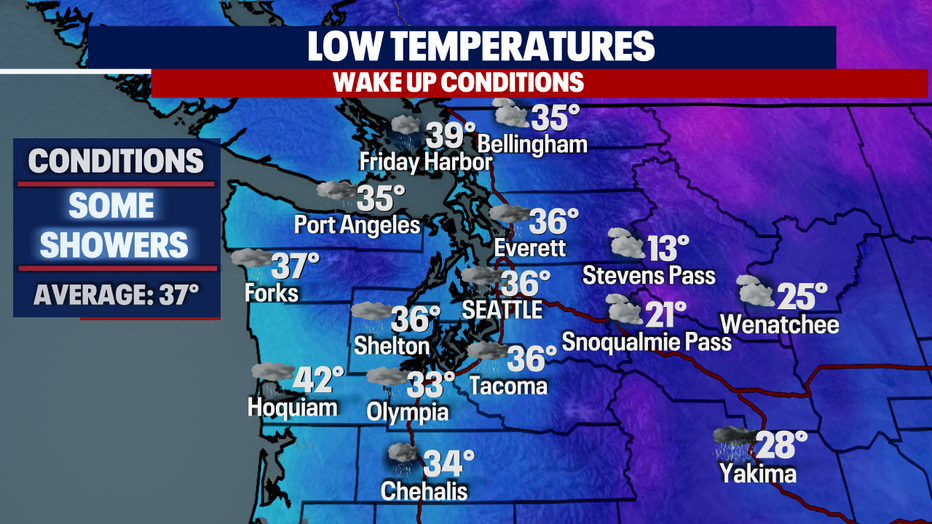 Here's a peek at what's out gearing up in the Pacific. A series of systems will march into Western WA starting tomorrow. The first system will deliver rain just after dinner Wednesday evening. As this weather maker approaches easterly winds will start to pick up as they push out mountains and down into the lowlands.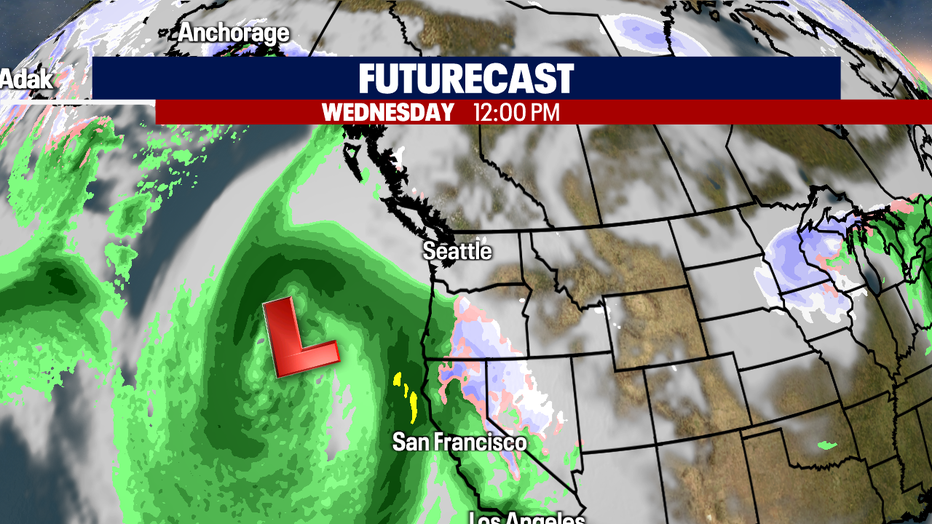 Areas with the most potential for gusty winds are the foothills of the Cascades, the Coast, and through the Strait. This is why a "Wind Advisory" goes into effect Wednesday at 4 p.m., lasting through early Thursday. Expect breezy conditions elsewhere. 
We're forecasting sustained winds of 20-30 mph with gusts up to 55 mph. It's very possible some areas could see down tree limbs or power outages.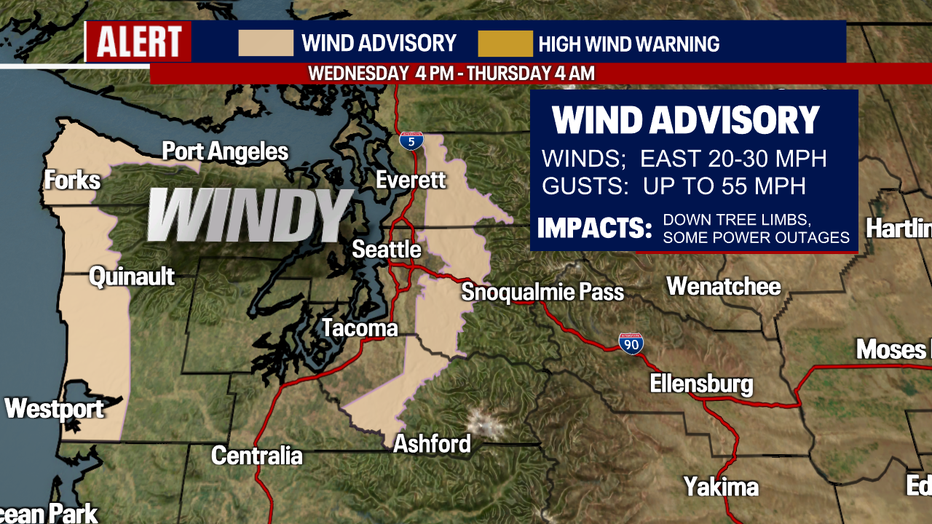 Our futurecast wind outlook for 11 a.m. Wednesday has peak gusts of 30-46 mph.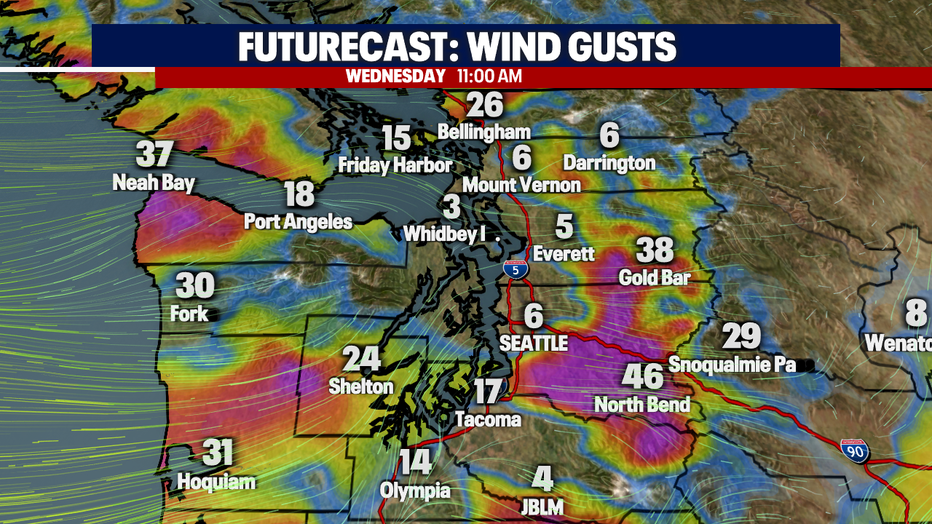 By 4:30 p.m., winds become even stronger through the foothills. At this point, it looks like North Bend could see 50+ mph gusts.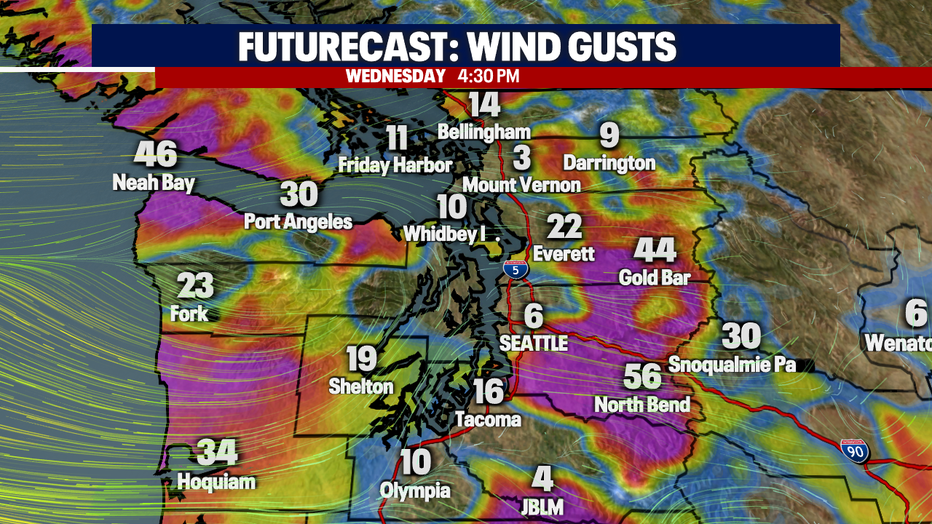 Highs Wednesday are pretty consistent with our daily average for this time of year with most communities landing near 47 along the I-5 corridor.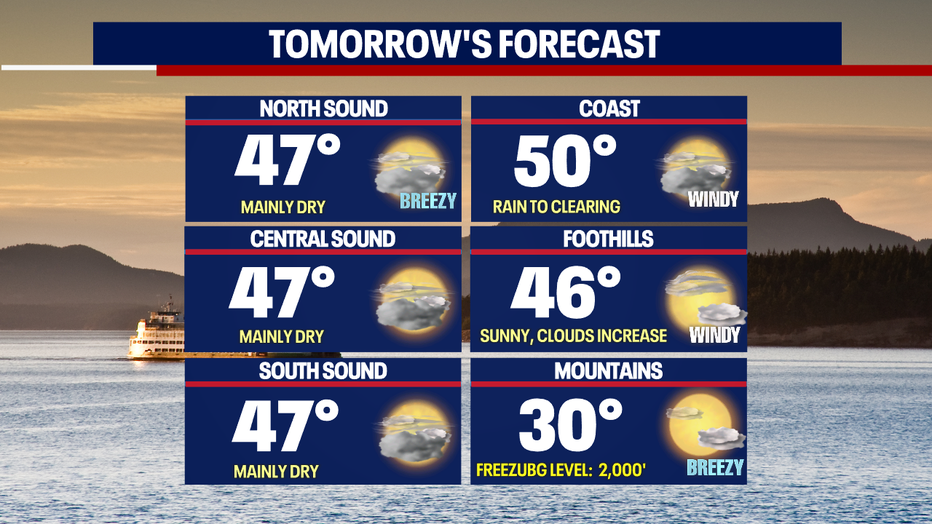 As we close out the week we'll see more of the same as a stronger system pushes inland late Thursday into Friday delivering more rain and wind. As this system slides north over the Pacific, seas will become stormy with forecast swells near 17-19 feet along the coast, with 20-foot waves possible. These conditions could potentially trigger a high surf alert for coastal communities. Stay tuned.
Active weather will continue through next week, but there will be breaks in between. Saturday at this point looks like the better day as showers return later in the evening.  
If you're heading to Lumen Field Sunday to cheer on the Seahawks, pack the rain gear as showers pick up again. Highs over the weekend sit near 50. Enjoy! 
Have a great rest of the week!  ~Erin Mayovsky, FOX 13 Forecaster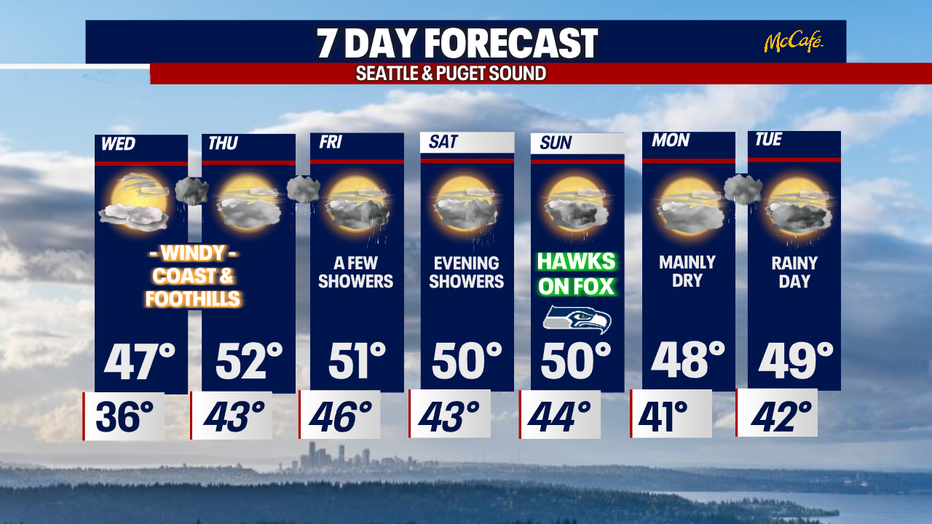 *Cascade Snow Outlook: