Violent vending machine crooks: Help Edmonds police identify perp with a pry bar -- and his lady lookout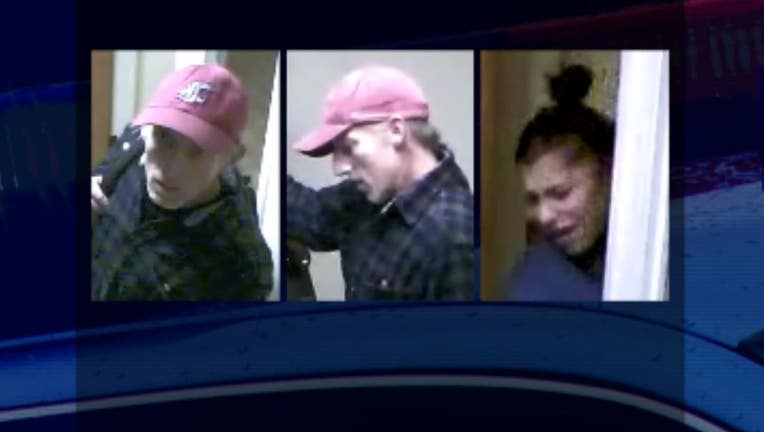 WANTED IN EDMONDS -- The owner of a pair of vending machines is a victim after a perp with a pry bar -- and a lady as his lookout – broke into an Edmond's hotel's snack center. Watch the video as Edmonds Sgt. Mark Marsh takes us through the crime. "He has a small pry bar and he's trying to pry open the coin box there off this vending machine as she is keeping lookout as we can see. And, as you can see he's putting in a lot of effort into that and subsequently causing a lot of damage to the machine. The owners of the hotel did a really good job of placing the camera, so we could get this good quality video of both the suspects on there, which we're hoping will lead to some good tips so we can identify them and prosecute them."
After grabbing the cash from the first machine he goes to leave, but has second thoughts and gets greedy and goes for the second vending machine. He only spends 20 seconds or so trying to bust-in before his lookout pokes here head in and yells at him that it's time to split. Edmonds detectives say this is at least the third time this criminal couple has hit those same vending machines at the Edmonds Harbor Inn. They've done hundreds of dollars in damage. The guy was wearing a crimson Washington State Cougar hat for both hits, so detectives think he wears it a lot. They also think the pair could be from the other side of the Puget Sound. "With the proximity to the Edmonds-Kingston ferry terminal, there is some thought that they might be from on the other side of the water and maybe commute over and walk though and commit their crimes and then go about their way." If you can tell detectives who these two are, call an anonymous tip into: CRIME STOPPERS: 1-800-222-TIPS You must call the Crime Stoppers hotline with your tip to be eligible to receive a cash reward for information leading to a fugitive's arrest. Click here for information on how to text a tip to Crime Stoppers.