Violent cash machine crooks: Stolen truck found after robbers use pepper spray, hand truck to steal ATM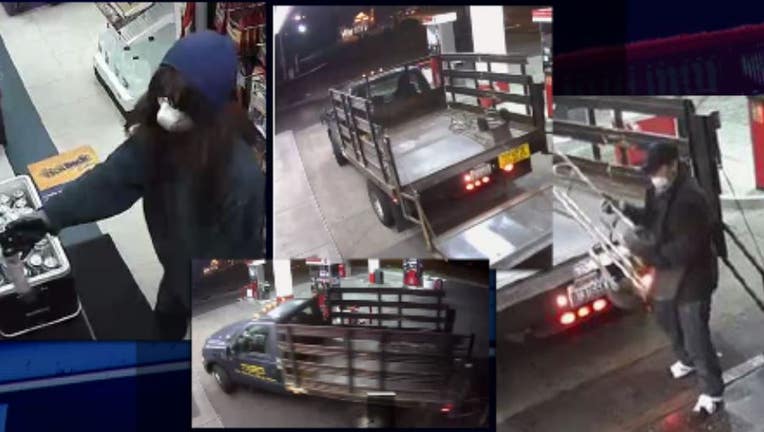 UPDATE October 6, 2015 -- Seattle Police have located the stolen "Miller Paint Company" truck and are processing it for evidence. The two suspects remain unidentified. FUGITIVES WANTED IN SEATTLE October 2, 2015 -- It's shocking video you have to see: Watch as a suspect walks into the 76 Gas Station on S. Michigan St. in Seattle and immediately starts spraying a large can of pepper spray right in the cashier's face -- clearing the way for his partner crime to steal the cash machine inside the store.
Retired Detective Myrle Carner with Crime Stoppers of Puget Sound walks us through what happened: "First of all, the suspects entered the gas station in a vehicle, in a truck that turned out to be stolen. One of the suspects gets out, enters the store, approaches the clerk on duty and immediately takes a very powerful spray, whether it`s bear spray, some kind of pepper spray, sprays him all over the face. The clerk immediately covers his face and goes basically blind. While Suspect #1 was spraying the clerk on duty, Suspect #2 enters the gas station with a hand truck, immediately goes over to the ATM machine, puts it underneath and just literally rips it from the wall and then proceeds very calmly and coolly to push it out the front door and load it onto the tailgate of the stolen vehicle. Suspect #1 then leaves the store. They both drive away with the ATM machine, leaving the victim on the floor, trying to regain some kind of composure. This likely isn`t the first time for these guys. As we`re talking about this we have two or three other robberies where ATM`s were taken in a forcible way, so if you know anything description-wise while you watch this video, or if you know anything about somebody who looked like they were driving a truck they weren`t familiar with, or even if you saw the truck being stolen, anything, any kind of information on this case is greatly desired."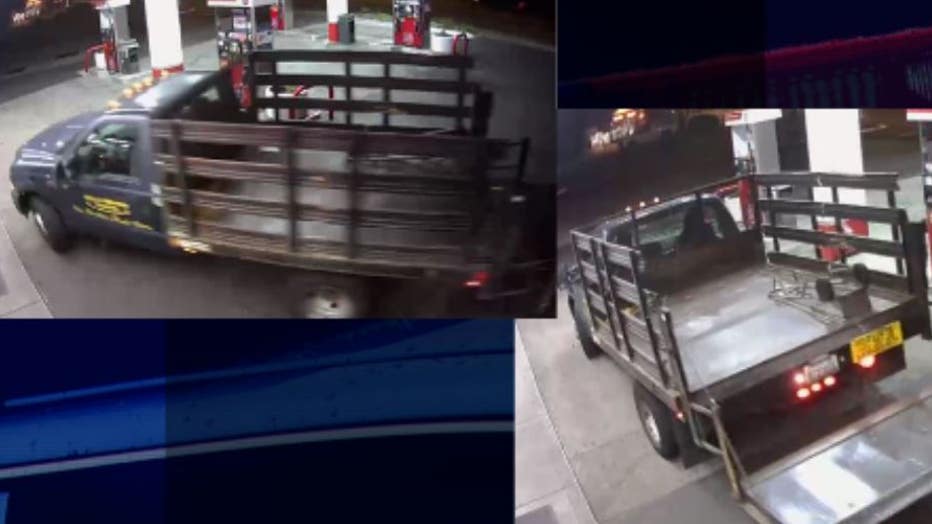 The stolen truck that Seattle Police are trying to find was stolen from 'Miller Paint' on Airport Way just a few blocks from the robbery scene. It even has 'Miller Paint Company' written on the doors. It's a 2006 dark blue Ford F-3 Flatbed pickup with Washington License Plates B73166K.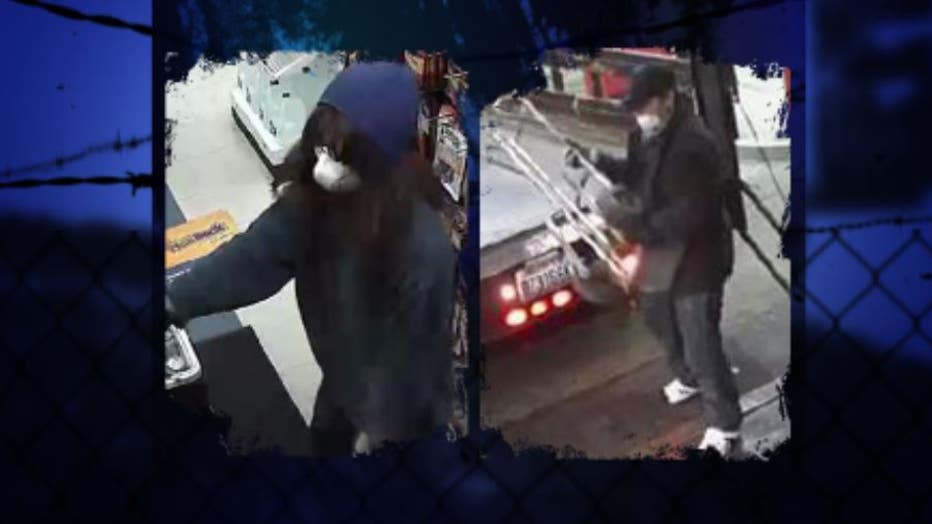 Detectives think Suspect #1 is a white guy who is possibly wearing a dark wig or there is a chance it could be a woman. You get a little better look at Suspect #2 because he only has part of his face covered with a dust mask. Detectives think he's also white. If you recognize them or know anything about the crime, call an anonymous tip into: CRIME STOPPERS: 1-800-222-TIPS You must call the Crime Stoppers hotline with your tip to be eligible to receive a cash reward for information leading to a fugitive's arrest. CLICK HERE for information on how to TEXT A TIP to Crime Stoppers