Terrorizing armed robber: Clerk on break opens door to gun in face; loud car clue could help catch crook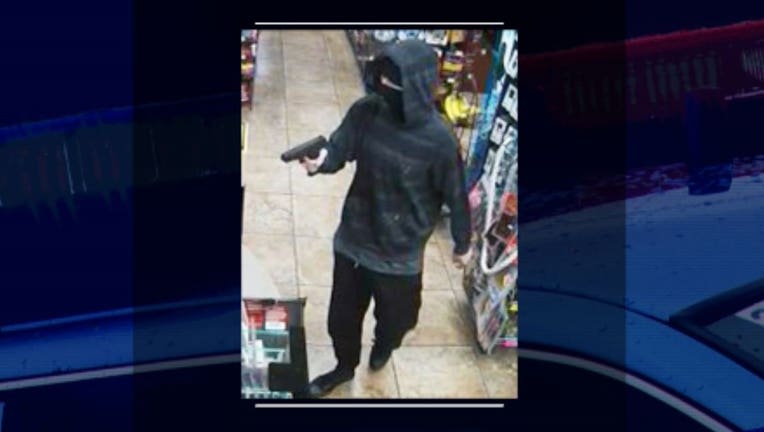 A backroom break turns into terror for a gas station clerk who opened the door to a robber all in black -- and a gun in his face.

Arlington Police are on the hunt for the suspect and hope you can help. "The suspect is dressed in all black, black hoodie, black beanie, black pants, black shoes and comes running into the store, carrying a weapon, displaying the weapon," describes Kristin Banfield with Arlington Police. "Gets the cashier to come out of the office and demands all of the money out of the register, which the cashier complies with and then see him run out of the store very quickly. This event occurred in less than a minute. Man, do we really want to get him off the streets. This is something we do not see routinely here in Arlington. This is very unique to us and it's very dangerous and we want to get him as quickly as possible."

It's just frightening to watch how the robber has his gun staring down the clerk the entire time.




Police say a driver passing by saw a big clue that led detectives to believe he wasn't working alone. "We believe there was a vehicle associated with this, that he had a getaway driver and it was described as a dark blue, or black PT Cruiser and fled southbound on Smokey Point Boulevard, away from the scene. The vehicle has a very unique sound, a very loud exhaust system, so we're hoping somebody recognizes that type of vehicle in the area and may know who owns that vehicle, or may know who's associated with that vehicle."

For this guy being all covered up, detectives still have a pretty good description of him: They think he's white, in his late teens to early 20's, 5'10" and weighs around 135 pounds.

He was all in black: His hoodie, beanie and bandana.

If you can tell Arlington Police who he is, or lead them to that dark-colored Chrysler PT Cruiser with the loud exhaust, use the P3 Tips App to submit your information to Crime Stoppers, or call the hotline anonymously at 1-800-222-TIPS.