Suspect who robbed armored truck courier in Seattle used cash for neck tattoo, say police


CAPTURED-- King County Prosecutors charged 31-year-old Markus Allen with Robbery 2nd Degree.  Detectives say Allen was identified by Washington's Most Wanted viewer tips to Crime Stoppers of Puget Sound after he was recognized him from the surveillance images.  He is being held on $150,000 bail.

WANTED IN SEATTLE --
It's like something you only see in the movies -- both the crime and the bad guy: A violent heist where an armored car courier is robbed -- the money bag ripped right out of his hands.

It's all real for Seattle Police, who need your help to identify the distinctive-looking suspect.

He wore a unique President Trump t-shirt that reads, 'F*** Your Feelings' where the 'Make America Great Again' slogan usually goes.

And, what's really odd and what I really want you to pay attention to is -- he's wearing ankle weights on both legs for the heist. He's a pretty buff guy and I guess he wanted to burn big calories while committing big crime.

Detectives say he struck Monday as the courier went to fill an ATM on the Seattle Central Community College campus. "He's working on the ATM to open it up and put the cash in, when all of a sudden the suspect appears and he senses someone behind him and he grabs for the bag, but the suspect grabs the bag. There's a brief tussle. This guy's fairly strong. He rips it out of the attendants hands and just proceeds to take off. You'll see he has a Trump shirt. He's got what we call a 'do-rag' bandana on his head, he's tattooed everywhere. What's unusual about this is he has ankle weights on and to my knowledge in all the years I've been working cases, never had a suspect appear with ankle weights, which tells me, maybe he came from a workout facility or he's going to a workout facility, we don't know, but it certainly didn't slow him down, getting away from the scene," said Ret. Det. Myrle Carner with Crime Stoppers of Puget Sound.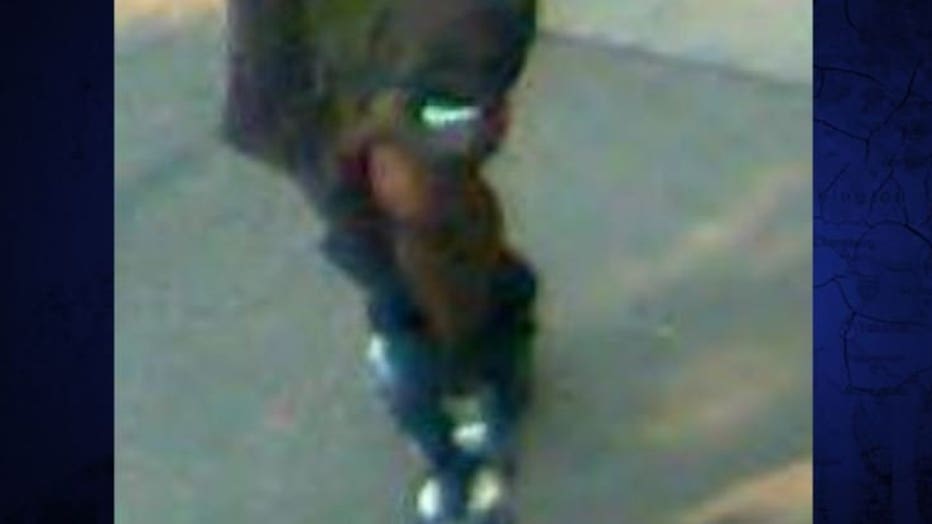 The suspect was caught on surveillance cameras from the college.

Detectives think he's 25 to 35 years old with a sleeve of tattoos on both arms -- and again -- wore that offensive Trump shirt and ankle weights.

Somebody knows who this is and is going to get a cash reward up to $1000 if their information to Crime Stoppers leads to his arrest.

Use the P3 Tips App on your phone, or call the hot line at 1-800-222-TIPS(8477).