Seattle police Captain Dick Belshay retires after 34 years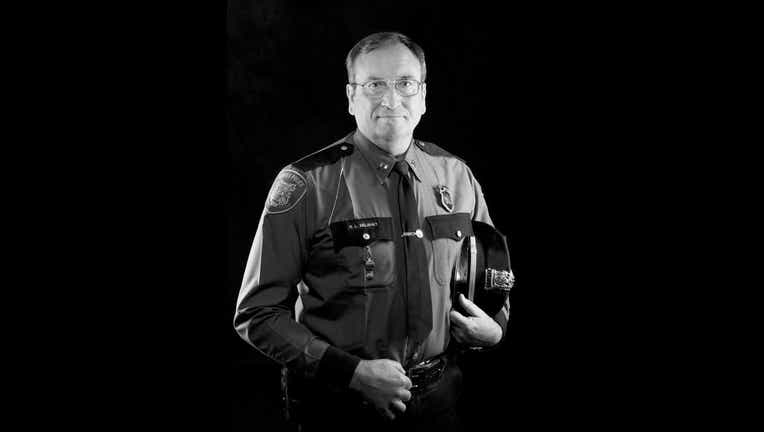 SEATTLE -- With mixed emotions, Seattle police Captain Dick Belshay will retire on Dec. 20th as the traffic commander, after a 34 year career, one marked by tremendous achievements, personal tragedy and through it all, a strong sense of faith.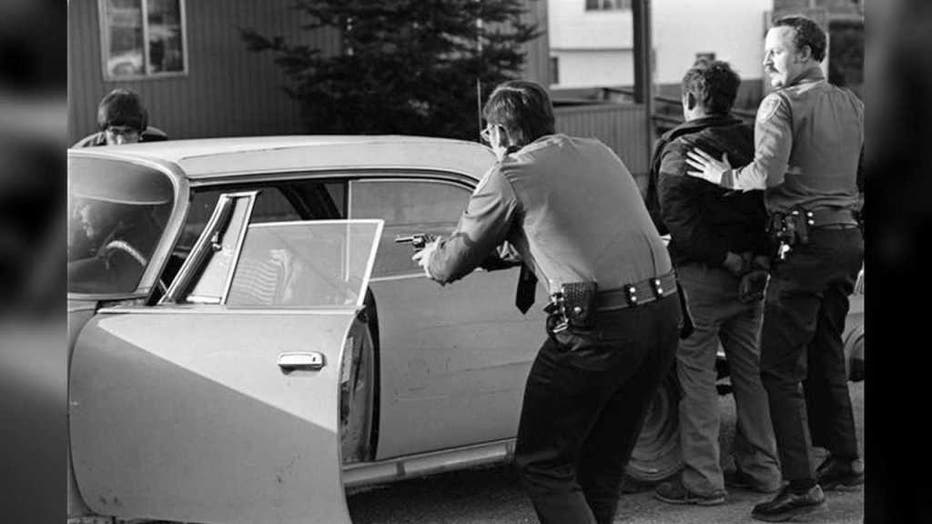 1979 - Belshay's first bust
"My first arrest happened on my second work day," says Capt. Belshay. It was 1979. A black and white photo shows a young Officer Belshay with his gun drawn, after pursuing a reckless driver. "I had just an electric feeling going through my spine. I was new. I kind of followed the lead of everybody else. They got out of their cars. They`re drawing their guns, so I draw my gun and I`m thinking 'aww man, what`s gonna happen next here.'" Out of the corner of his eye, he could see the photographer who snapped the shot by climbing on a car. Turns out, it was Renton's mayor, Denis Law, working for a weekly newspaper back then. "Back in those days, I didn't use a lot of common sense, I just wanted to get there quickly. He was out there where the action was, and I think his commitment to his position as a police officer, and his love for the job was one of the reasons he was able to rise through the ranks."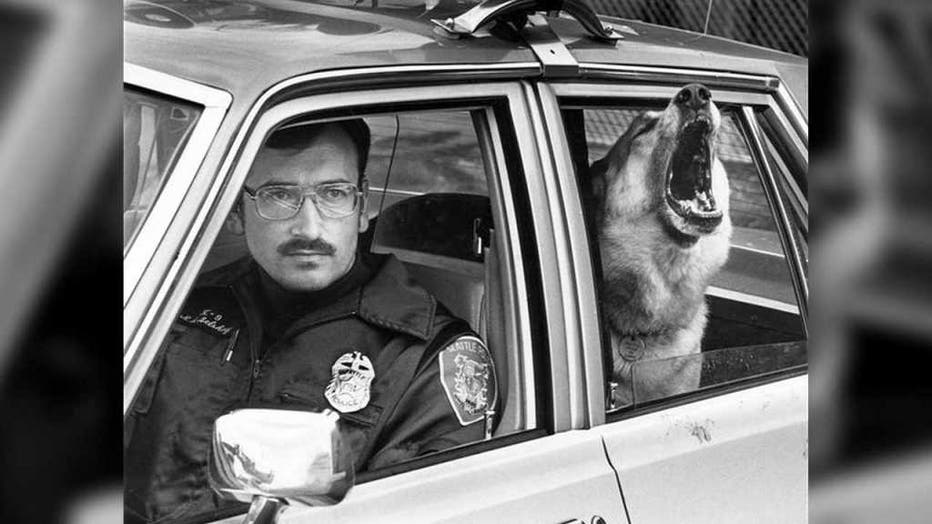 Mayor Law also took a photo of Belshay as a K9 officer with partner, 'Tali', in the back seat. The pair were on their very first track, finding a guy who shot a deputy. Capt. Belshay remembers, "He had dug a hole and actually pulled a piece of dead log over himself, and was trying to hide, but the dog found him. We never had a better K9 track then that."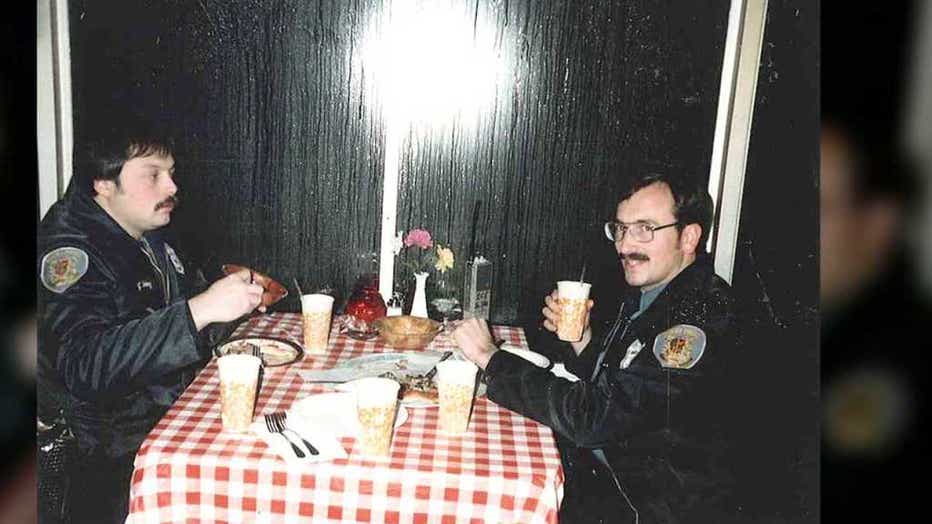 Belshay and Seattle police Chief John Diaz
For four years, he worked on Alki in West Seattle, at a time when it was really hopping -- a lot of drinking, a lot of fights – and his partner was future Seattle police Chief John Diaz. "We did have to scrap every once in a while," laughs Capt. Belshay. "Unfortunately, more often than not. We never got injured, but there were some hairy moments, truly."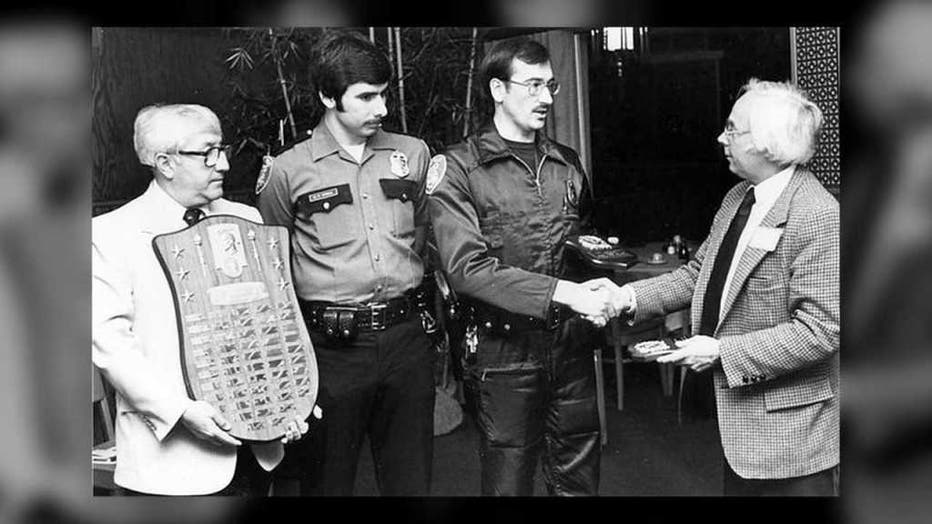 Belshay with SPOG President, Rich O'Neill, on his right
Chief Diaz wasn't his only high-profile partner. In 1982, he and Rich O'Neill, who's now President of the Seattle Police Officers Guild, were honored for rescuing a six year old abused runaway. John Abraham is a motorcycle officer who's worked for Captain Belshay off and on for 9 years. "He's got a heart of gold," says Ofc. Abraham. "It's like putty. It's like a big box of ice cream if you put it underneath a microwave. I think he has a tendency to make people go above and beyond what they want to do, whether they like it or not." Captain Belshay is quick to say cops don't work for him -- they work with him -- a police family that helped him recover after a personal tragedy in 2005. His old partner, John Diaz, called and asked to visit him at his home. "Tears… that was the first moment where I realized something was wrong," an emotional Belshay says. "My son is also a Seattle police officer. The first thing I thought was that he had been killed." As bad as that would have been, he knows that danger comes with the job. What happened was much, much more painful. His daughter, Laurie, had just given birth 9 weeks earlier to his second grandson, when she died from an overdose of pain medication. She was 29.  "I got the biggest beating of my life and nobody put a finger on me." Captain Belshay, who keeps a bible in his office overlooking the railroad tracks in Sodo, says his firm belief that 'God is good' is what held him together. That, and the support of his fellow officers. He says the loss of his daughter made him more compassionate, especially for people in need. Now, after years of getting up at 4:40am, he's looking forward to sleeping in. "The first day I'm not at work, I'm not going to get up with an alarm clock." He plans to travel with his wife, Melodie, and go jet skiing in Puget Sound. He says he'll stay connected to the department through his son, Bob, and sister, Karen, both still on the force. But, for Captain Belshay, his career in law enforcement is at an end and he leaves feeling proud. "I've committed myself on December 20th. I'm walking out the door with my head held high." To give you an example of the kind of officer he is, earlier this week, Captain Belshay handed out $10 Ivar's restaurant gift cards to 34 drivers and bicyclists who stopped for him in a crosswalk --One for each year he was on the force.