Seattle homeowner hit three times by thieves; help detectives identify suspects
WANTED IN SEATTLE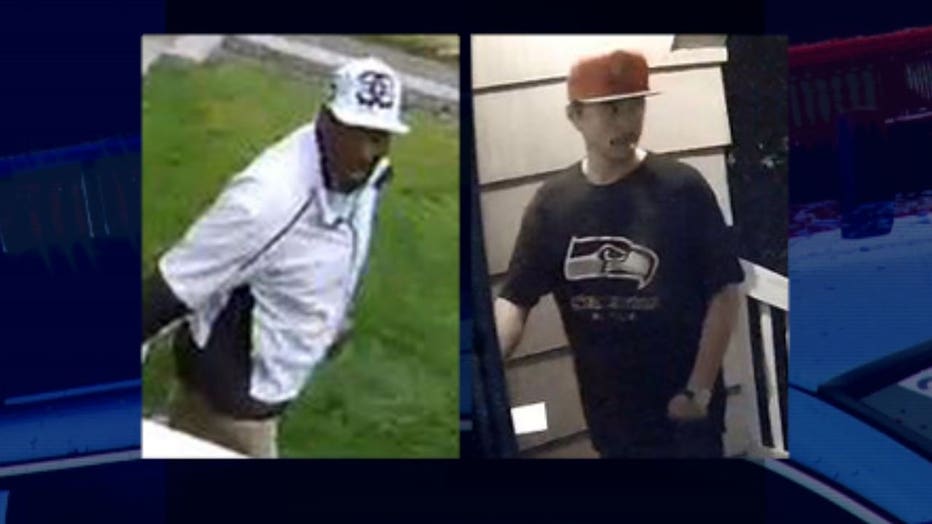 A Seattle homeowner hit three times by thieves going after his packages, his mail, and even a diaper bag in the car. Fortunately, he has a good security system so detectives are hoping you can help identify the suspects.

Surveillance video from June on 15th Ave. S. Beacon Hill shows thief #1. He comes waddling up onto the victim's porch and steals his package. In it? Some T-shirts for a toddler.

"I never thought it would happen to us. Just an unfortunate circumstance, felt a little violated."

Then, last weekend, another thief caught on camera. This time, the crook wearing a Portland Trailblazers hat and a Seahawks shirt stealing his mail.

"It`s frustrating. You feel it`s an invasion of your privacy and something needs to be done. It has to stop."




Now, the homeowner is worried this mail thief could try to steal his identity.

Jim Fuda with Crime Stoppers of Puget Sound urges homeowners not to have packages or mail delivered unless they can be left in a locked mailbox or somebody is home. "These are the kind of crimes that make people's life miserable," Fuda says.

In the first case, the suspect clearly knew the package was tucked behind a column so that he may have been following the delivery truck.

"It's during the day," says Fuda. "Where are people? They're at work. Neighborhoods are virtually empty. Truck comes by, drops off the package. It just takes a split second, and we have a theft."

The victim lives on a busy street, so he was surprised at how bold these thieves are, and he has a message for the crooks: "This doesn`t define them. I really, truly believe that they're probably in a bad place right now, and it doesn't have to be like this. We forgive them. It`s unfortunate. If you really need something, ring my doorbell. I`d be more than happy to see if I can help. If I can`t help, I can maybe point you in the right direction. It`s just more of an inconvenience and frustrating. I just can`t articulate that enough that it`s just, it`s been a pain in the butt."

The first suspect, who stole the package, is black, 30 to 50 years old, 5'09" and around 190 pounds. He is wearing tan pants, a white and blue jacket and a white Chanel No. 5 hat so keep an eye out for it around Beacon Hill.

The mail thief is Asian, in his 20s and about 5'04" tall. In the theft, he was wearing a Portland Trailblazers hat and a Seahawks T-shirt.

If you know who either of these guys are call an anonymous tip into CRIME STOPPERS: 1-800-222-TIPS.

You must call the Crime Stoppers hotline with your tip to be eligible to receive a cash reward for information leading to a fugitive's arrest.