Seattle cops searching for suspect who attacked 73-year-old woman to steal her purse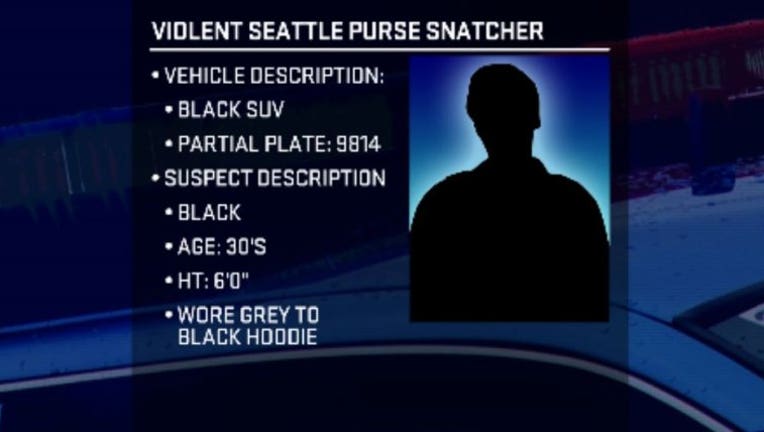 WANTED IN SEATTLE -- 

A 73-year-old woman was attacked and seriously injured in the Belltown neighborhood of Seattle -- all to steal her purse.

Detectives say it happened at 8:00 a.m. last Saturday as she was walking into Salon Divas on 4th Ave. for a hair appointment. The crook got away with her keys, credit cards, IDs and phone.

Police are still canvassing the area for video and say it was a brutal assault.

"The suspect in this case runs up behind her and just body slams her, grabs her purse and the force caused her to fall forward, hit her face and she also hit on her right arm and we feel she's dislocated her shoulder and a lot of ligament damage. Very, very painful at this point," said Ret. Det. Myrle Carner.

The suspect took off and jumped into a black SUV with a partial plate number of 9814.

He's described as a black male, in his 30s, about 6' tall and wearing a grey to black colored hoodie.

Police say there were two other people inside the vehicle. They found the victim's iPhone on the Aurora Bridge after it had been tossed out.

While detectives try to identify him and search for that SUV, they are warning all women to take caution.

"Being aware of your surroundings, holding your purse properly, keeping the main part of the purse in front so it's not dangling behind you."

If you have any information that can help Seattle police locate the suv or identify the suspect, call the Crime Stoppers hotline at 1-800-222-TIPS or use the P3 tips app on your phone.