Pricey purse-stealing perp: Help ID violent robber who stole pair of Louis Vuitton's
WANTED IN SEATTLE --
20 seconds in and out -- that's all it took for a crook to steal two Louis Vuitton purses worth almost $10,000 during a robbery.

Take a look at the video below showing the suspect run out of Nordstrom in downtown Seattle. He took off down the street and was caught on several surveillance cameras on April 2nd, just after 8:30pm. One camera showed him walking through an alley.

Witnesses described him as black, 40 to 50 years old, more than 6 feet tall with Cornrow hair that was pulled back in a small bun.

The cameras in front of the Banana Republic store show him with the purses.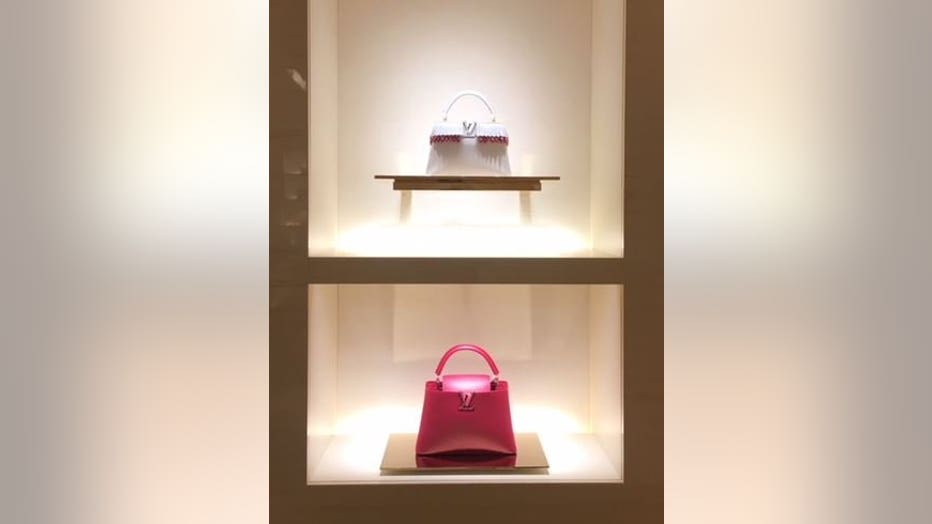 Unfortunately, there is not a clear shot of his face, but police are hoping somebody knows his name because of how violent he was. "Store security, a female, spotted the suspect taking the purses. Tried to interrupt. Got between him and the door. Suspect in this case took one of the purses and actually smacked her in the head, knocking her back  and then he took off running," said Ret. Det. Myrle Carner with Crime Stoppers of Puget Sound.

That loss prevention officer is okay, but Seattle Police say this purse theft is a strong-arm robbery.

Detectives say the suspect was seen getting out of the older silver or gold colored mini-van pictured above. It was driven by a second suspect described by witnesses as black, heavy set with a bald head.

So, take a look at the man police are trying to identify. His clothes. The way he moves and the fact he hangs with a guy in a minivan.

If you know who he is, Crime Stoppers will pay you a cash reward of up to $1,000.  Call the hot line at 1-800-222-TIPS(8477), or use the P3 Tips app on your  phone.