'Orange County Choppers Bandit': Serial bank robber wears same hoodie for his heists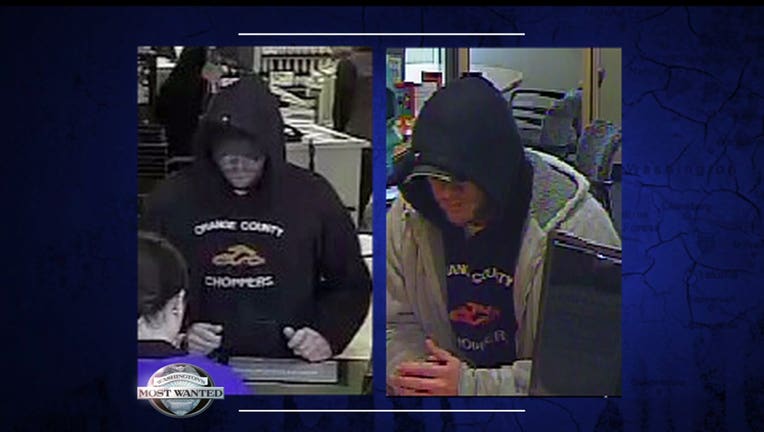 WANTED IN MUKILTEO and AUBURN -- Like all bank bandits we feature, a guaranteed $1,000 reward is yours if you know this accused serial bank robber's name. We've dubbed him the 'Orange County Choppers Bandit' because he's worn the same sweatshirt with the celebrity motorcycle maker's name on it. Detectives say he hit twice in Auburn in January and once in Mukilteo earlier this month. "The suspect came into the bank in Mukilteo and demanded 100's, 50's and 20's," said Mukilteo police Ofc. Colt Davis. "That's the only thing he said to tellers and walked out. It's possible there's a dark-colored sedan associated, possibly a Volkswagen GTI with a loud muffler."
If you know this guy's name, call an anonymous tip into: CRIME STOPPERS: 1-800-222-TIPS You must call the Crime Stoppers hotline with your tip to be eligible to receive a cash reward for information leading to a fugitive's arrest. CLICK HERE for information on how to TEXT A TIP to Crime Stoppers.