Offers of help pour in after homeless man is robbed for his change
SEATTLE -- There's been public outrage and offers of help for a homeless man in Seattle who was robbed on the street for his change.

After the story aired on Q13 FOX News, I started getting messages from viewers who wanted to help Michael Gillespie.

The onetime fisherman from Montana is homeless and panhandles in Seattle for food money -- but when word spread that he'd been held up at knifepoint for what little money he had, it spurred people like Vinks McIntire to action.

"For some goofball to come by and rob him of his pocket change? You know, that's a meal to that guy," said McIntire, who knows what it's like to be homeless and cold




He invited me to his Auburn home, where he stuffed a backpack for Gillespie full of clothes, gloves, boots and food.

"Some ham and cheese sandwiches, some iced teas, and a little Christmas treat for him," he said.

I gave McIntire a big hug and headed off with all of his donations to find Gillespie. The only problem was that he wasn't at his usual spot, the corner of 12th Avenue South and Main Street.   A nearby sandwich shop owner said other people had dropped off warm blankets and food for him, too.

When I called his mom and dad in Montana to tell them he was missing, they said he'd finally called. It was the first time they'd heard from him in months.

I dialed the number he called from and a nice woman in Bremerton said she had let him borrow her phone to make a call -- more kindness from a stranger for a man who is just trying to survive.

I will be back out Saturday trying to find Gillespie to give him some money and the backpack. I also hope to share with him what McIntire told me, "I guess my message to him is: You're loved. Someone on this world loves you."

If you know the name of the man in the blue coat who robbed Gillespie, call Crime Stoppers at 1-800-222-tips.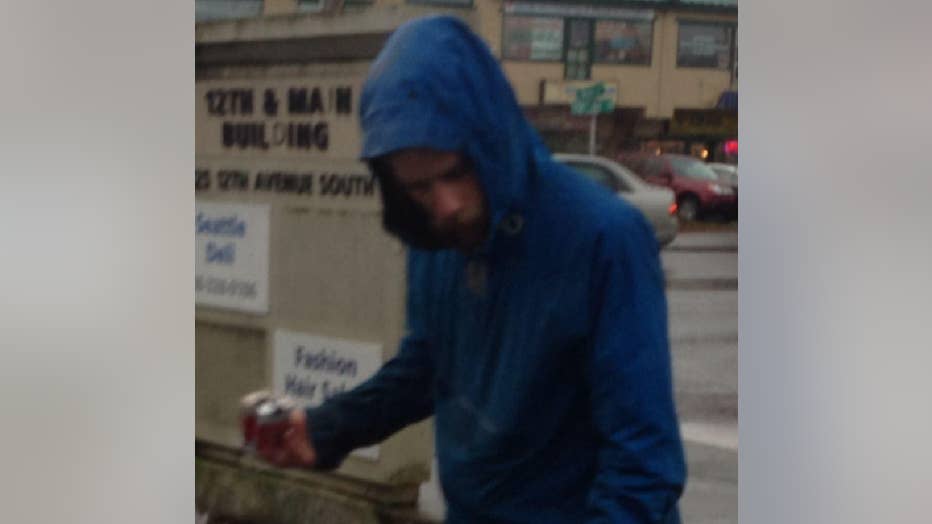 This is a photo of a man who is suspected of having robbed a homeless man in Seattle. (Photo: Son Quach)


 

>>>> Click here to read our earlier story