IN CUSTODY: Sex offender Michael Bailey booked into King County jail
CAPTURED - Michael Bailey was booked into the King County jail at 1:55 am on Monday, September 5th. Dept. of Corrections officers confirm he was found thanks to a tip from a Washington's Most Wanted viewer. Bailey is WMW Capture #799.

KING COUNTY -- Department of Corrections Officers in King County are asking for the public's help to find High Violent Level 1 Sex Offender Michael Ray Bailey aka 'Dallas Bailey' aka 'Dallas Colson'. He is wanted for Failure to Register as a Felony Sex Offender.

Bailey was convicted in 1992 when he was 18 years old of Attempted Rape 2.  Official records show he tried to remove a 16-year-old girl's clothing outside a party at a home and when she said no, he grabbed her by the throat and started squeezing, demanding to know if she was going to have sex with him. She almost lost consciousness but he let go when other people came outside. The victim went to a pay phone and called police. While she was waiting for officers to arrive, he walked by and threatened to kill her.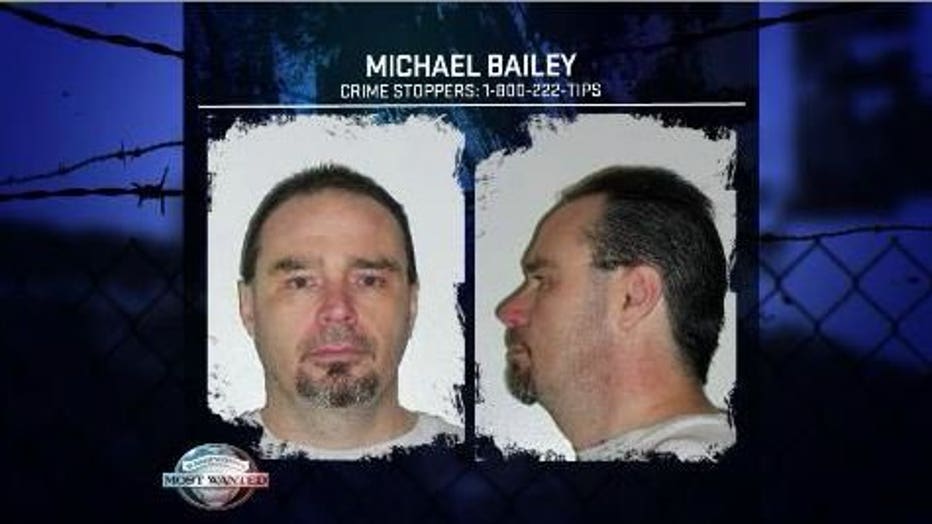 Then, in 2001 when Bailey was 27-years-old, he was convicted of Assault 2 of a 50-year-old woman.  "He asked an acquaintance if he could stay at her apartment while he waited for a ride, she agreed. She ended up dosing off and when she woke up he was choking her, he pulled a knife on her and held it to her back. She ended up getting cuts on her back from it. He tried to rob her. This is an individual who knew her. He knew her husband's schedule, knew that he would be gone. We need to find him, you know. He's on the run. He's violent. He's a sexual predator. We need your help to find him, now," said DOC Officer Emily Isaacs.

Bailey is 43-years-old with brown hair and green eyes. He is 6'0, 213 lbs.  If you can tell officers where to find him, Crime Stoppers of Puget Sound will pay you a cash reward of up to $1,000.  Call an anonymous tip to 1-800-222-8477 or submit the information online at www.crimestoppers.com .