Help Seattle police identify pair of destructive serial vending machine crooks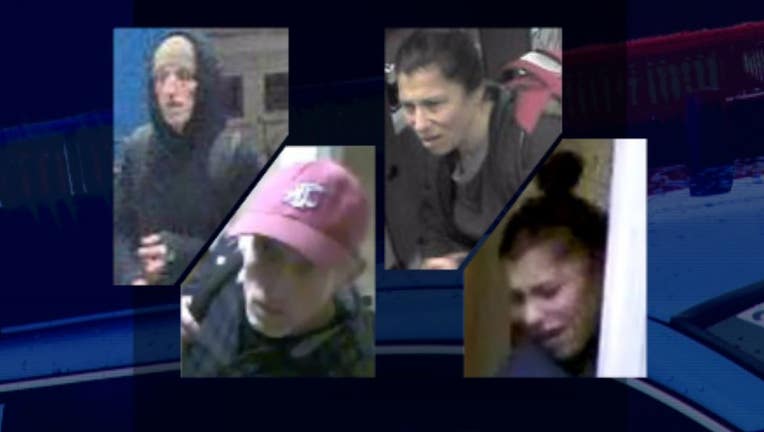 WANTED IN SEATTLE -- A pair of bold, unidentified vending machine crooks we've featured once before -- have struck again -- this time at Virginia Mason Hospital and Medical Center in Seattle. Ret. Det. Myrle Carner with Crime Stoppers of Puget Sound explains the case. "It was obviously a prearranged location. You can see on the video she waits outside. You'll see her waving the guy in. He'll come running in with his backpack. They enter the hospital. They go to one of the floors and you will see video of her actually putting a backpack on the floor that's meant for him. So, he comes up, he immediately goes to a tool taken from his pocket or the backpack and next thing you know he's working on the vending machine where there's a cash and change drawer. You have to look close, but as he pries really hard all of a sudden you will see the cash machine come apart. He grabs the money and he puts it in his pocket. You know people watching this might say 'Well, they're nothing but petty thieves.' Well, that's true, but when you take a petty thief that hits five, six, seven places a day, that's a pretty good living. If you look at the amount of loss in this one case alone it's pretty substantial, plus the damage it takes to repair that. All of those raise the prices. But, you magnify this, who knows. We have a case pending from last year on Washington's Most Wanted where they were in Edmonds, so they're doing it all over probably, but if we don't catch them you can bet they're going to continue to do it."
Take a good look at photos of the two from both this latest hit at Virginia Mason Hospital and Medical Center, and the one they pulled at the Edmonds Harbor Inn around last Thanksgiving. If you can tell detectives their names, call an anonymous tip into: CRIME STOPPERS: 1-800-222-TIPS You must call the Crime Stoppers hotline with your tip to be eligible to receive a cash reward for information leading to a fugitive's arrest. CLICK HERE for information on how to TEXT A TIP to Crime Stoppers.