Help ID armed robbery suspect who hit hotel, nearby store back-to-back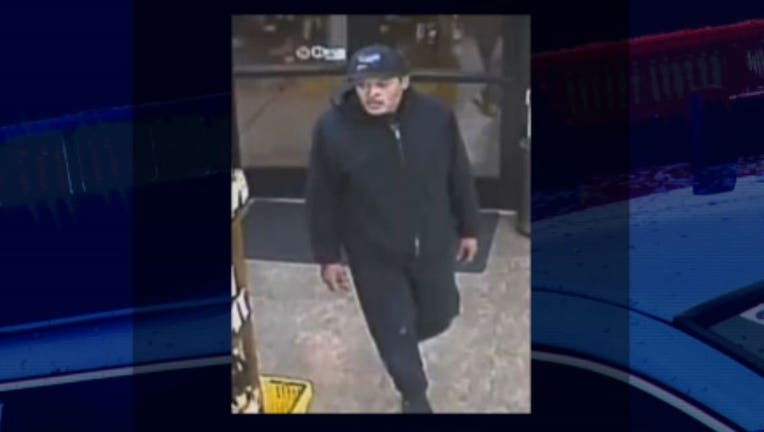 article
WANTED IN SEATTLE --
Seattle Police say the man you see above asked a downtown hotel desk clerk if she'd ever seen 'America's Most Wanted?' When she said no, detectives say he took off after taking some complimentary cookies – but returned to rob her after he went to a nearby convenience store where he was caught on camera in a second robbery.

You're going to see in the video where the suspect enters the store. You're going to get a real good look at his face, his clothing," said Ret. Det. Myrle Carner with Crime Stoppers of Puget Sound. "He walks over to a wine rack and grabs one bottle of wine, he then walks over to where the clerk on duty is and says, 'I want your money, I have a knife,' and actually shows a knife. The clerk on duty somewhat panics and just takes off running. Suspect reaches over and tries to open the till, he's not successful, so he just grabs the wine bottle and leaves. It's still an armed robbery. He goes back to the hotel, where he was earlier, walks in, approaches the same clerk on duty, walks up and says, 'I want your money!' The clerk's standing pretty close and hears a 'thump' underneath the counter. She assumes that he has a gun, so she opens the till, gives him the money, he takes the money and just walks out very casually. It tells me that this guy may be a homeless guy he may be a guy that lives in the area.  He seems to be familiar. Both of the robberies, the mini mart and the hotel are fairly close and so somebody down there probably saw this guy. You look at him, you go, 'Oh, that's such and such, that's the information we need."




This happened on November 26th at the Homewood Suites on the corner of 2nd and Western in downtown Seattle. Stella Deli and Market is just a block north on 2nd and Thomas.

Detectives think the suspect is black or Hispanic, in his 20's, around 5'9", with a medium build and thin mustache.

If you know who he is, call Crime Stoppers at 1-800-222-TIPS, or use the P3 Tips App to submit your information and get the cash reward if your tip leads to his arrest.