Heartless cemetery car prowler: Mother's purse stolen as she visits son's grave in SeaTac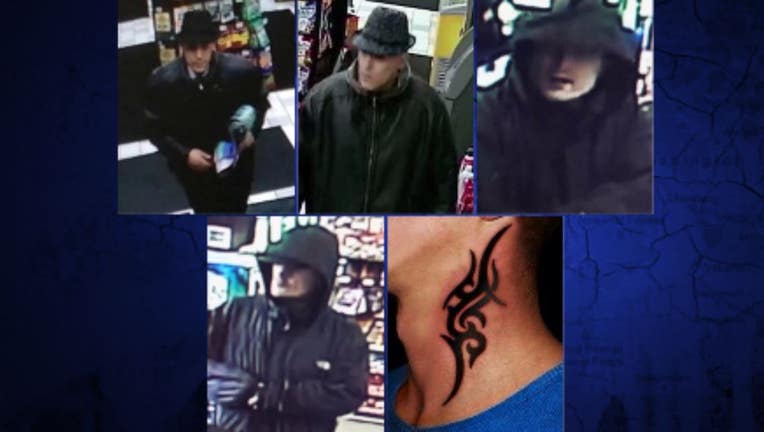 WANTED IN SEATAC  --   King County Sheriff's Deputies are hoping you can help identify a man suspected of stealing from a mother visiting her son's grave. "I promised to my son I would be here to visit him everyday and have fresh flowers on his grave site," says Sandy. The day before Christmas Eve was no different.  As sandy knelt before her son's grave in Seatac, detectives say a man stole her purse. When Sandy got to her car, her purse was gone and Sheriff's Deputies say the suspect (in surveillance video) used Sandy's card to make some strange purchases. "The first credit card he used was at a 7/11.  He got a movie out of the Redbox and he rented 'Mission Impossible.  Also an empty gas can, duct tape and a whole bunch of goodies trying to charge 56 dollars and change," says Sandy.
He was caught on video wearing a distinctive fedora. Deputies believe the same suspect violently robbed a convenience store just after midnight on the 22nd. "We have a picture of a tattoo similar to what the clerk said the guy has on his neck. Somebody's gotta know this guy. He's well dressed, wears this hat and he's got a distinctive tattoo on his neck." "I want to get this guy because you don`t know what he`s gonna do the next time," says Sandy. If you have any information, call an anonymous tip into: CRIME STOPPERS: 1-800-222-TIPS You must call the Crime Stoppers hotline with your tip to be eligible to receive a cash reward for information leading to a fugitive's arrest. CLICK HERE for information on how to TEXT A TIP to Crime Stoppers.