Gregory Wesley: WMW viewer tips help identify, capture crew of accused bolt-cutting beer burglars -- but one suspect still wanted


WAPATO, Wash. - Thanks to tips from Washington's Most Wanted Facebook followers, a crew of crooks accused of stealing beer from a Wapato store by breaking in with bolt-cutters have all been identified.

Three of the suspects have been caught:


But, a fourth suspect -- Gregory Wesley -- still needs to be found.




Wapato detectives say the video shows Wesley standing outside the La Barata Market late last year. Sticking out of his backpack: are a pair of bolt cutters.

The video was shot just before six in the morning. The store's closed and the front gate has a huge padlock on it.

Wesley takes the bolt cutters to it, but he's just way too weak to snap it off. He even tries pulling at the lock, but hurts his hand doing it.

That's when his buddy - detectives say it's Jamie Gamboa - comes bicycling in wielding a baseball bat.

The two take off to regroup, then come back about 10 minutes later. Wesley takes another crack at it, but fails again, so Gamboa grabs the bolt cutters, gets some good leverage and "snap" - off comes the lock and the gate swings open.

Wesley goes inside. Gamboa stands guard with the bolt cutters in his hand and a third suspect in red shorts, who detectives say is Stanley Barney, goes running inside to case the place with Wesley.

They all leave again for several minutes, but then they swarm in for the final strike. Detectives say a fourth suspect, Damien Shippentower, joins in and you see three of them come sprinting out, all with cases of beer in both hands.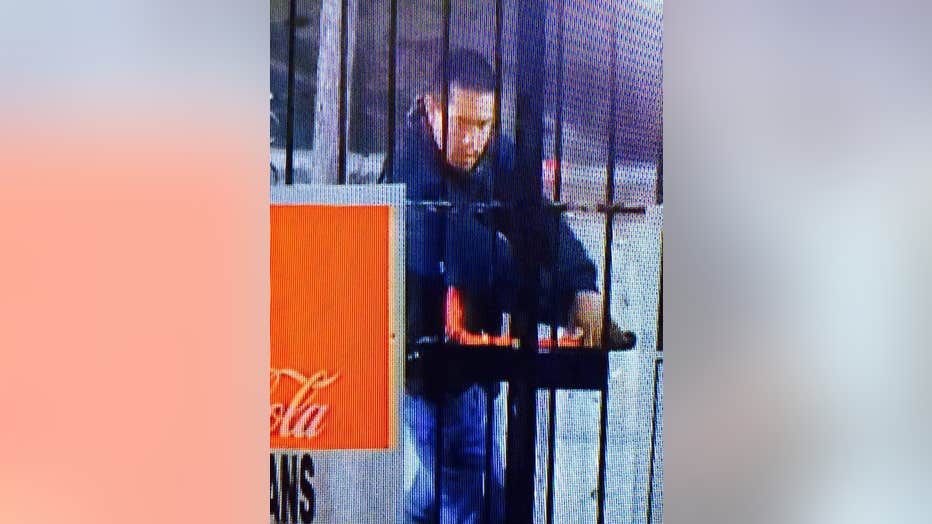 I put the above photo of Gamboa using the bolt cutters to break in on the WMW Facebook page just before Christmas and detectives say it led to viewers telling them all four of the suspect's names.

Gregory Wesley is 29 years old, 5-foot-8 and weighs 160 pounds.

If you can tell Wapato police where he's hiding tonight, call an anonymous tip into:
CRIME STOPPERS: 1-800-222-TIPS

You must call the Crime Stoppers hotline with your tip to be eligible to receive a cash reward for information leading to a fugitive's arrest.