Gig Harbor gas station robbed by crook with sawed-off shotgun; reward for ID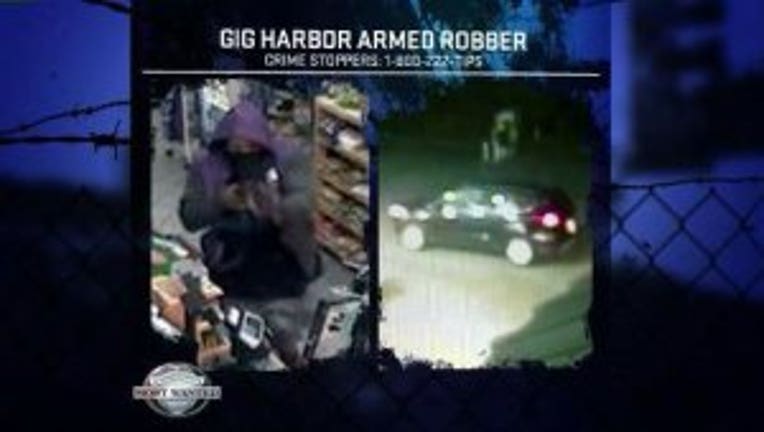 PIERCE COUNTY  -- Gig Harbor Police are asking for the public's help to identify an armed robber and the woman who drove the getaway vehicle.

At 5:15 a.m. on Thursday August 18th, 2016, the gunman robbed a Chevron gas station located at Stinson Ave. and Wollochet Dr. NW.  "He walked into the Chevron with a sawed-off shotgun with a blue nylon strap on it and confronted the clerk who was just coming out of the back room and demanded all the money out of the till," said Lt. Fred Douglas with Gig Harbor Police.

During the robbery, he was seen wearing a purple and black hooded University of Washington jacket, gloves, and had a scarf covering his nose and mouth.  The suspect is described as a Hispanic male, 25 to 30 years old, and approximately 5'5" tall.  "We don't have a lot of violent crime in Gig Harbor so we definitely want to catch this guy,' said Lt Douglas.




Police say he didn't just want the cash. He also asked for four packs of cigarettes in two different brands, maybe for the getaway driver who is described as a female, 20 to 25 years old, brown hair, and wearing a white t-shirt.  "As he exited, an uninvolved witness saw him and also described him as possibly Hispanic or white male but did say he had a Spanish accent and said the word 'sir' to him as he was leaving the store."  They fled in a dark-colored 2-door SUV, possibly a Kia or Hyundai.

The robbery is similar to one near Auburn at the Arco station on S. 320th street on August 7th at 2:30 am. The suspect in that case was armed with a pistol grip shotgun. He also appears to be Hispanic or white, approximately 5/10" with a heavy build and took off on foot after getting the cash.  "To go into a business with a shotgun, first of all you have to hide it to get it in there and then to just point something like in the face of a clerk is pretty outrageous," said Sgt. Cindi West with the King County Sheriff's Office.

Whether it's the same suspect or two different gunmen, officers in both jurisdictions want to stop these robberies before someone gets hurt. "When a firearm is involved it raises the stakes tremendously," said Lt. Douglas.  Crime Stoppers is offering a cash reward of up to $1,000 for any information that can solve these crimes. Call the hotline anonymously at 1-800-222-TIPS (8477) if you can identify the gunmen.