Fugitive caught through WMW viewer tips given longest sentence in state history for metal theft
SENTENCING UPDATE: June 16, 2014 -- Donald Turpin, who stole 4.3 miles of copper wire from the Sound Transit light rail system between November 2012 and August 2011, was sentenced to 12 and a half years in prison. It's the longest sentence in state history for metal theft. His co-defendant, Lee Skelly pleaded guilty to theft and got 45 days of work release.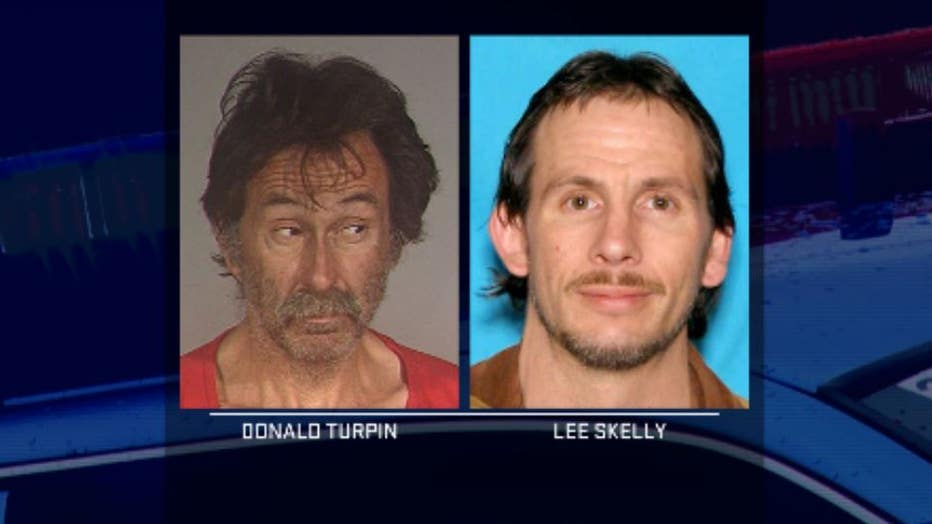 FUGITIVES CAPTURED July 29, 2013 --King County Sheriff's Detectives arrested Donald Turpin and Lee Skelly on Monday night.   The two are charged with stealing 4.3 miles of copper wire from the underside of the elevated light rail tracks. They were featured on Washington's Most Wanted this past weekend.Detectives say Skelly agreed to turn himself in, and was taken into custody at the South Park public library. Acting on an anonymous tip to Crime Stoppers of Puget sound from a Washington's Most Wanted viewer,  King County Detectives arrested Donald Turpin when he stopped at a Chevron station at S. 144th and Tukwila International Boulevard. He was booked into the King County Jail. He told detectives everyone had been telling him he was on Washington's Most Wanted. Turpin and Skelly are the 441st and 442nd fugitives caught since WMW started in November of 2008. [trib_ndn vid=24976966] FUGITIVES WANTED IN KING COUNTY July 26, 2013 -- Donald Turpin and Lee Skelly are accused of being metal scrappers -- stealing whatever they can find to sell and these days, copper is cash to these thieves. King County detectives need your help finding these two accused crooks who pulled off the biggest metal theft in state history. "They were up in this V section -- it's all hollow and that's where the copper is," detective Paula Bates said. Bates said Turpin and Skelly spent night after night inside a cramped space in order to steal more than 4 miles of copper wire. "They would spool it up on the inside and then drop it from expansion gaps that are between each of these tall stanchions. It had bird netting, so they would tear out the bird netting and then drop it down the expansion gaps," Bates said. After that, they would then come along and pick up the wire to sell to recyclers -- making thousands of dollars in the end. "That's got to be really hot work inside there. It's very hot work and it took them many months to accomplish this," Bates said. But all that hard work left Turpin and Skelly thirsty -- Gatorade bottles left behind gave detectives DNA that helped identify them. Sound Transit has since replaced all of the wire copper along miles of the elevated section of the light rail and they've installed new security measures to make sure it issn't get stolen again. Detectives worked for a year to build their case against Turpin and Skelly and now they are hoping you'll give them the help they need to take these guys into custody. "In the beginning, i'm pretty sure they probably believed they got away with the perfect crime. They hocked all their copper and got rid of it. We still came after you and we found you," Bates said. Donald Turpin's criminal history stretches back to 1988. He's been arrested multiple times and has convictions for drugs and attempting to elude police. He has a $50,000 warrant for his arrest for burglary, theft and trafficking in stolen property. Detectives said he knows he is wanted and is hiding. There is a good chance he's hiding in the Burien or Seattle area. If you know where Turpin or his alleged partner in crime Lee Skelly can be found, Crime Stoppers will pay you cash for information leading to their arrest. Call 800-222-TIPS to help get these accused copper thieves into custody. You can also text a tip here.