FUGITIVE ALERT: Police search for 'violent' offender with long criminal record in 5 states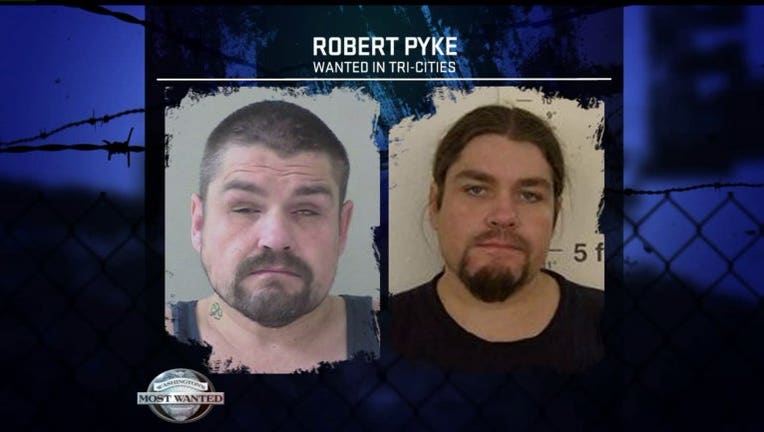 TRI-CITIES, Wash. -- Robert Pyke is wanted in the Tri-Cities after getting shot in the face last year and partially blinded when he decided to "beat up" someone instead of killing them.

Officers say the victim was able to reach a mini-shotgun loaded with rock salt and fired in self-defense causing Pyke's facial injuries.

He has pending charges for Felony Unlawful Possession of a Firearm 2nd Degree and a count of Assault 2nd Degree with a Deadly Weapon.

Pyke is a high violent offender with a long criminal history in Washington, Idaho, Colorado, Utah, and Arizona. He has convictions for domestic violence assault, assault 4th degree, theft, theft 3rd degree, bail jumping, escape, criminal trespass, possession of a stolen vehicle and harassment.

Officers say he thinks he is a master of deception but in truth is a hardcore felon.

He even lied to the State of Arizona Jail in Maricopa County and managed to get booked on a new felony under his brother's name. Pyke's DOC Officer in Washington found out though and put a stop to his scheme.

"Over the course of three weeks, Pyke was in custody in the Maricopa County Jail in Arizona. He had the courts, the prosecutor's office, the attorneys, the sheriff's department, everyone convinced that it was not him, that he was his brother in an effort to try and get released," said Ofc. Emily Isaacs with the Department of Corrections. "Obviously, it didn't work to his favor. They ended up finding out who he was."

If you know where Pyke is, Crime Stoppers will pay you a cash reward of up to $1,000. Call the hotline anonymously at 1-800-222-TIPS.