FBI and gambling agents seek ID of suspect who robbed casino and bingo hall


FIFE -- The FBI and the Washington State Gambling Commission are asking for the public's help to identify the suspect responsible for two armed robberies.

At 7:45 p.m. on Wednesday, July 25th, 2018, he robbed BJ's Bingo & Gaming located in the 4400 block of Pacific Highway S. in Fife.  The unidentified suspect entered the casino and approached the cash counter.   He showed the teller a note demanding cash and threatening to shoot the victim if his demands were not met. The suspect implied he had a gun, then he placed the cash in an envelope and fled the bingo hall.   "He appears to be a mixed race male, possibly wearing a wig and some type of disguise," said Pierce County Sheriff's Det. Ed Troyer.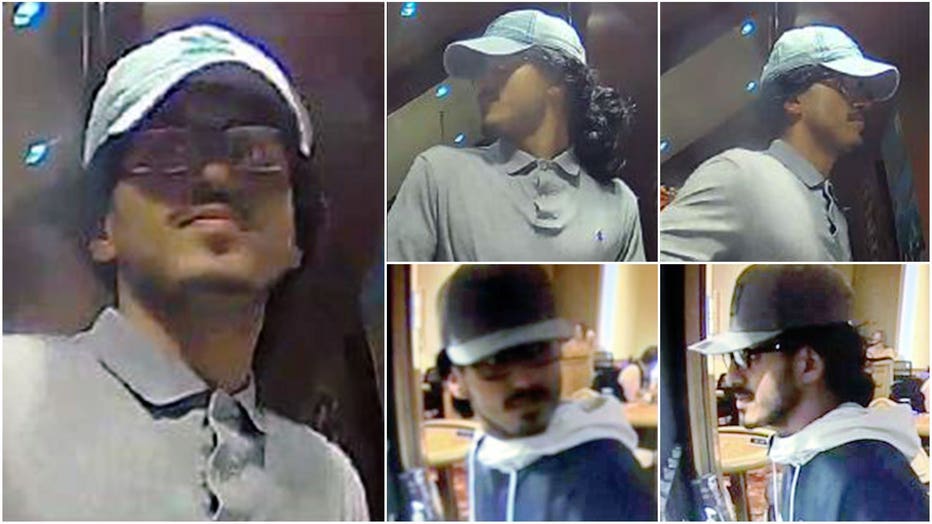 The suspect is in his early 20's, with a slender build, a thin mustache and goatee.  He was seen wearing a tan long sleeved polo shirt, light blue jeans, a white baseball hat, eyeglasses, latex gloves, and possibly a long black curly wig worn in a ponytail.

Three weeks later on Thurs., August 16, 2018, the same suspect walked into the Great American Casino in Des Moines and handed the cashier a demand note, which read, "Give me the money or I will shoot people." He kept his hand in his pocket, implying he had a weapon. This suspect fled with over $6,000 cash.

"Casinos have great surveillance cameras. If you rob a casino in Washington State, you are going to be caught on video and we are going to put your face on Washington's Most Wanted," said Heather Songer with the Washington State Gambling Commission.

Crime Stoppers of Puget Sound is offering reward of up to $1,000 for information that leads to an arrest in the case.   Submit an anonymous tip via the P3Tips App on your phone or call 1-800-222-TIPS (8477).  You can also go to http://www.P3Tips.com.