'Crypt Keeper Crook': Can you name man behind monster mask?
WANTED IN KING COUNTY --
All bank robbers are scary -- but not like this guy we're calling the 'Crypt Keeper Crook' -- sportin' that creepy Halloween mask for his hit. King County detectives say that's what the mask is called that's sold online through a bunch of stores -- resembling the 90's television horror icon.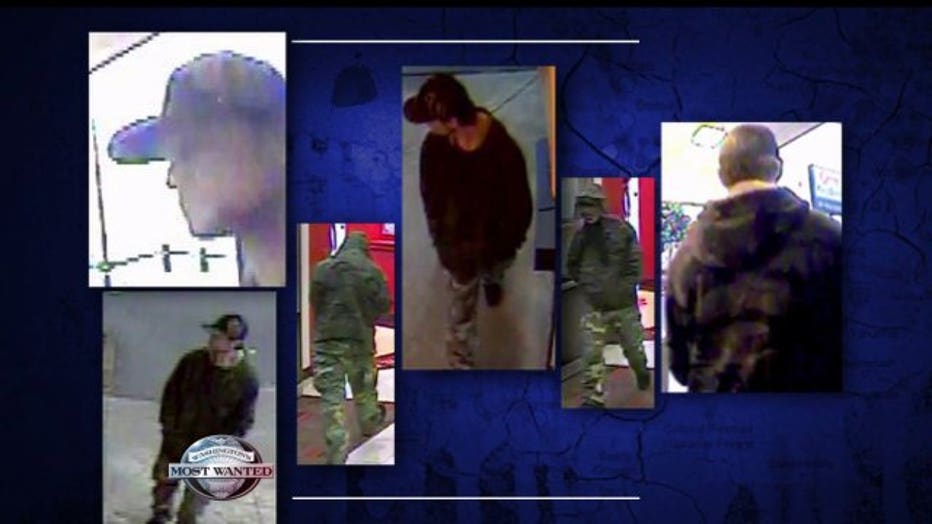 But, look at all of  the unmasked surveillance photos snapped of the guy away from the bank. They're not great, but King County detectives hope they're enough for you to recognize him -- maybe it's the camouflage jacket and pants he's wearing that does the trick? He wore that ghoulish-looking mask with that long, gray, yarn-like hair, when he robbed the Key Bank in Burien, the day before Valentine's Day. The teller says he threatened to have a gun, but never showed one. Like all bank robbers we feature, you're guaranteed a $1,000 cash reward if your tip leads to his arrest! So, whether it's the creepy mask, or the surveillance photos of him -- if you know how King County detectives can catch this 'Crypt Keeper Crook", call an anonymous tip into: CRIME STOPPERS: 1-800-222-TIPS You must call the Crime Stoppers hotline with your tip to be eligible to receive a cash reward for information leading to a fugitive's arrest. CLICK HERE for information on how to TEXT A TIP to Crime Stoppers