Owners say both dogs stolen by car thief in Shoreline have been found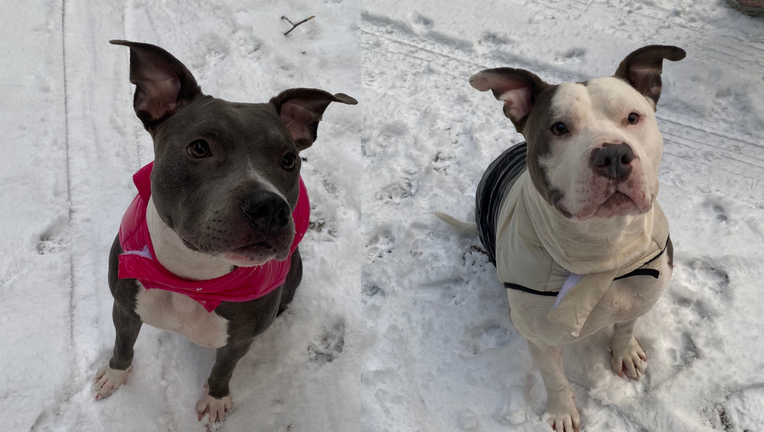 SEATTLE - Nayla and Dakotah Burkes say Bella was returned to them this morning.   She taken to the vet to be checked out and is now home. 
The person who returned her says he found her walking around south Seattle.  The Burkes say they are thrilled to have their family back together.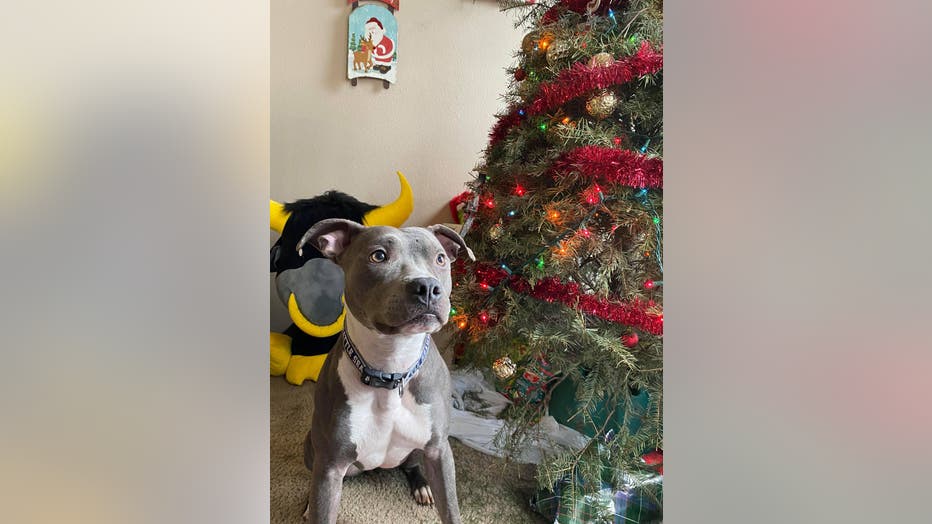 Bella at home after being found in South Seattle
ORIGINAL STORY 
It's been a terrible, emotional roller coaster for Nayla and Dakotah Burkes ever since both of their service dogs along with their SUV were stolen on December 22, 2020.    Bella, a 1-year-old blue and white female pit bull, is still missing. They've recovered Red, a 3-year-old white and brown male pit bull.  "These are my service animals. They are trained to help me with my seizures," said Nayla Burkes. 
When she stopped to run in and drop off lunch for her husband who works at Midnight Window Tint at 15205 Aurora Ave N, a thief stole their silver 2008 Ford Escape with their two dogs inside. 
"A guy comes from around the corner out of nowhere basically and just hops right into the vehicle, speeds out into Aurora in front of moving traffic, almost hitting people. We come running out the door to chase after him. He almost runs us over and just speeds off," said Dakotah Burkes. 
The Burkes say they saw their SUV again on Dec. 23 near 143rd and Dayton Ave. N where they saw a man and woman get out of the car and walk the two dogs. They called Seattle Police and were told not to approach the vehicle. The suspects then fled the scene and police conducted a short pursuit but lost the vehicle and the pursuit was called off. 
A week later, the SUV was abandoned in Burien.   "It was left in front of a home. The crook is observed on a doorbell camera, dumping the stolen car and then just walking straight across the street and stealing another," said King County Sheriff's Sgt. Tim Meyer. 
Detectives are asking for the public's help to identify the suspect and to find Bella and bring her home. 
"We have one of our best detectives out of the SW precinct working on this case and they are just endearing folks and we need the help of the viewership to help us get Bella, find her and get her back with her family," said Sgt. Meyer. 
The Burkes posted reward flyers all over social media which helped them re-unite with Red in the University District but Bella has not been seen. They say she has a goofy personality and is friendly. 
Their dogs served as their bridesmaid and groomsmen in their wedding.  "They're my best friends. I've trained both of them since they were babies," said Nayla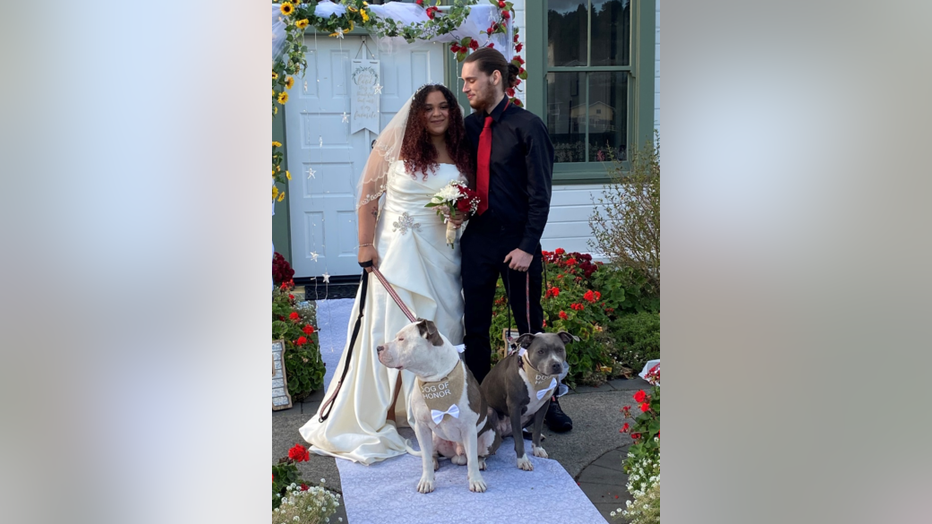 The Burkes are offering a $1,000 reward for her safe return. The King County Sheriff's Office is handling the investigation.
Anyone with information can call Crime Stoppers of Puget Sound at 1-800-222-TIPS or text a tip through the P3 Tips App on your cell phone. It is anonymous. You can also submit tips at www.P3Tips.com.