CAPTURED: WMW tips help Western District of Washington Fugitive Task Force arrest shooting suspect
FUGITIVE CAPTURED May 8, 2018 --
One of the U.S. Marshals Western District of Washington Top Ten Most Wanted is behind bars, thanks to Washington's Most Wanted Viewer tips.

Karl Redmond was wanted in King County after Federal Way Police say he fired a gun at a neighbor in anger and violated a domestic violence no contact order.

The task force, including King County Sheriff's detectives arrested him on Tuesday in Federal Way. "I would like to thank the viewers for bringing justice, for helping us bring justice home," said Acting U.S. Marshal Jacob Green. "This individual, Mr. Redmond, is a prime example of what we are here to do which is to bring justice and the more people we can take off the streets for firearms, illegal firearms and violence, the safer we make our communities."

Redmond is being held on $60,000 bail charged with assault 3rd degree and felony violation of a no-contact order.

He is WMW Capture #985.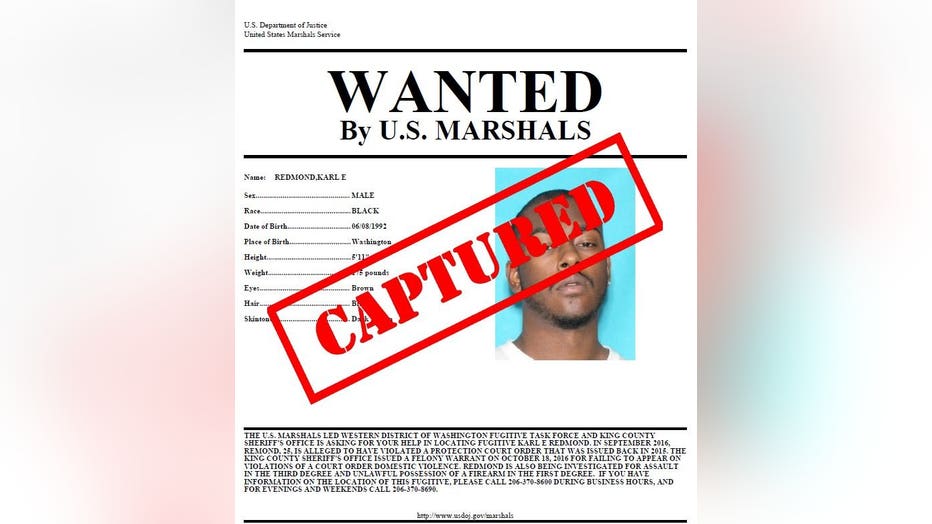 FUGITIVE WANTED IN KING COUNTY February 23, 2018 --
The U.S. Marshals led Western District of Washington Fugitive Task Force is asking for your help to locate Karl E. Redmond.  The 25-year-old is accused of violating a domestic violence protection order issued in 2015. He has a felony arrest warrant after failing to appear in court. Federal Way Police are also investigating him for  Assault in the 3rd Degree and Unlawful Possession of a Firearm in the First Degree.

Police say Redmond fired a shot that ricocheted and hit his neighbor.

"He said that he was in the apartment walkway, on the stairway, when Karl and his girlfriend walked by," said Cathy Schrock with Federal Way Police. "The victim reported that he moved out of the way as they walked down, Karl went into the apartment, came back out, he had a gun in his pocket, exchanged some words with the victim and an altercation verbally occurred and then Redmond's believed to have shot into the side of the building, right next to where this gentleman was standing and the shrapnel, basically, from the building, injured the victim's legs and feet."

Redmond has been on the run ever since the early November shooting.

Police think he's hiding in King County and say he has a disturbing history of putting his kids in harm's way. "His children were in the car. He had just put them in the car minutes before the shooting and in other cases that he had been involved with, with us, his children were also present during assaults and things like that, so he's not afraid to commit crimes in front of children, or recklessly, so we definitely would like to bring him into custody. We think he's a danger to any society, whatever city he might be in. If he's willing to shoot at someone for just maybe not getting out his way as he's walking up and down a stairwell, then he's willing to hurt anyone," said Schrock.

Karl Redmond is 5'11 and weighs 200 pounds. He has tattoos on both forearms.

If you have any information on his whereabouts, call Crime Stoppers at 1-800-222-TIPS or use the P3 Tips App on your smart phone.

You can also call the U.S. Marshals at (206) 370-8600 during business hours. On evenings and weekends, call (206) 370-8690.

It's anonymous -- you never have to give your name -- and you'll get a cash reward of up to $1,000 if your tip leads to his arrest.