CAPTURED: WMW fugitive Jaszamare Blake arrested in Auburn driving stolen car


CAPTURED -- DOC officers say Jaszamare Blake was arrested on Thursday, October 18 in Auburn.  An Auburn PD officer ran the plates on a vehicle in an apartment complex and discovered it was reported stolen in Spokane.   Blake was arrested following a traffic stop.   He was booked into the Regional Justice Center where he is being held without bail.

WANTED BY DOC IN SNOHOMISH COUNTY --
October is Domestic Violence Awareness Month -- putting a spotlight on the fight against convicted woman abuser's like Jaszamare Blake -- a man convicted of beating his girlfriend while babysitting his sister's kids.

The violence he made the children witness in a motel room is horrible: Pushing the victim to floor several times, choking her nearly unconscious. When she was able to get away long enough to lock herself in the bathroom, Blake threatened her from the other side of the door while pouring coffee through the door jamb. She came out to call 911 -- and the horror happened again -- still with the two young children watching it all. The victim escaped into the bathroom again. This time Blake took off with the kids -- and the victims ID and credit cards.

He was convicted of assault in 2015 for it and is now breaking probation on it Snohomish County. He's also wanted in King County for an auto theft charge that's also a domestic violence crime, since the vehicle belonged to an ex-girlfriend -- a perfect example of how Blake's Department of Corrections Officer says he's known to 'date women and take advantage of them.'

His rap sheet shows several assaults, protection order violations, drugs, hit and run, lying to police and possession of a dangerous weapon.

He's 33 years old, 6'1", weighs 167 pounds and is known to hangout in the Kent and Auburn areas of King County.

He's got a ton of tattoos all over his body, including the ones you see below on his neck, chest and behind his ear.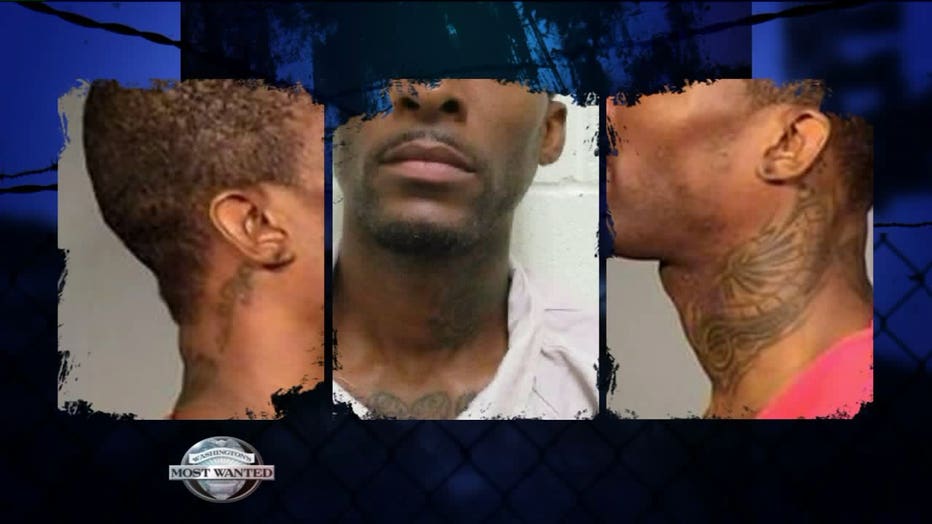 If you know where he's hiding, use the P3 Tips App on your smart phone or call the hot line at 1-800-222-TIPS(8477). It's anonymous and you'll get a cash reward of up to $1,000 if your tip helps lead to his arrest.