CAPTURED: U.S. Marshals Task Force arrests accused child molester at Tacoma Costco


CAPTURED --June 22, 2018

The U.S. Marshals led Western District of Washington Fugitive Task Force arrested Douglas Cronn today.  Deputies located him at a Costco store in Tacoma.  He was booked into the King County jail where he is being held on $500,000 bail.

WANTED BY U.S. MARSHALS IN KING COUNTY --
Convicted rapist and accused child molester, Douglas Cronn, is one of the U.S. Marshals-led Western District of Washington Fugitive Task Force's top ten most wanted.

He was convicted of rape in 1987, now he's wanted after failing to appear in King County court on first degree child molestation charges that he fondled a young victim numerous times.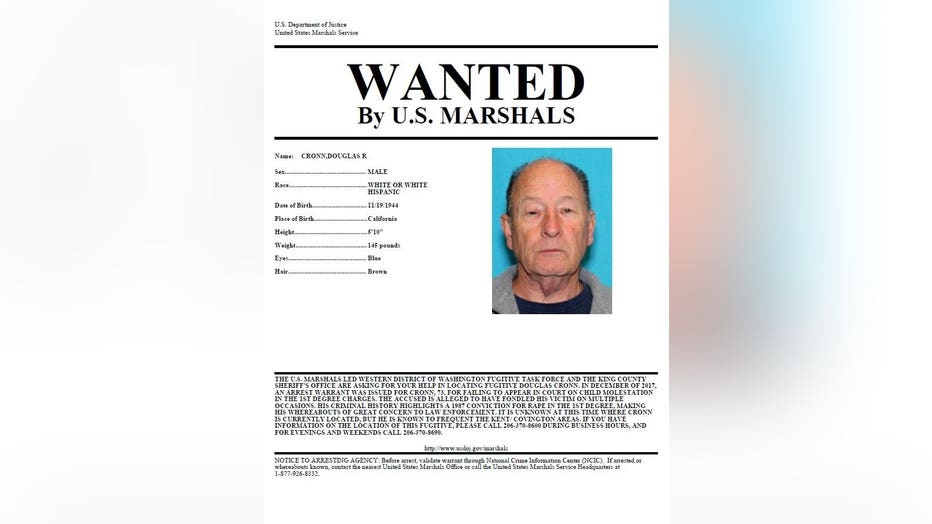 "He has a history of this and our goal is to make sure that no one else becomes a victim of his, so we need to track him down as soon as possible. He`s become a top priority for our task force, so that`s why it`s really important that if anyone has tips out there, that they provide to Washington's Most Wanted as quickly as possible. It could save somebody`s life," said Acting U.S. Marshal Jacob Green.

Cronn is 73 years old, 5'10" and weighs 145 pounds.

He could be hiding in the Kent or Covington areas of south King County.

If you know where he's hiding, use the P3 Tips App to submit your information to Crime Stoppers, or call the hot line at 1-800-222-TIPS(8477).

It is anonymous -- you never have to give your name -- and you'll get a cash reward of up to $1,000 if your tip helps lead to his arrest.