CAPTURED: Tacoma Police arrest dangerous car theft suspect Dominique Reyes


CAPTURED -- Dec. 8, 2017

Tacoma Police say Dominique Reyes was a passenger in a vehicle during a traffic stop on Dec. 5th at 11th  and Court A.  She refused to give her name but officers pulled up a recent photo of her and she was arrested on her outstanding warrants in King County.  Reyes is charged with Possession of a Firearm and Theft of a Motor Vehicle.  She is being held in the Regional Justice Center in Kent where he bail is set at $160,000.

WANTED IN KING COUNTY --
Detectives say Dominique Reyes is accused of a crime spree that started in February with a homeowner waking up to her stealing his car from his driveway with a shaved key. "Our victim actually heard his car being stolen," said King County Sgt. Cindi West. "He jumped into a vehicle with a friend and they followed her and her accomplice, until police got there. When police got there, they attempted to stop her and she took off on a high-speed pursuit. She eventually crashed the car and then she tried to run into a creek to elude capture. Unfortunately for her, but fortunately for the police, the creek swept her downstream and she had to be rescued by the officers that were chasing her."

She was arrested and bailed out of jail, but detectives say Dominique wasn't done committing crimes -- getting busted with a gun and a bunch of meth in July after Kent Police answered a call about threats being made at a mobile home park. "She was in possession of a firearm and because she's a convicted felon she's not allowed to possess a firearm. She has a warrant out for that case too and we want to get her off the street before she continues to commit crimes, whether it's possession of a weapon, or theft of vehicle," said Sgt. West.

She never showed up for court and is now wanted on a $100,000 warrant in King County.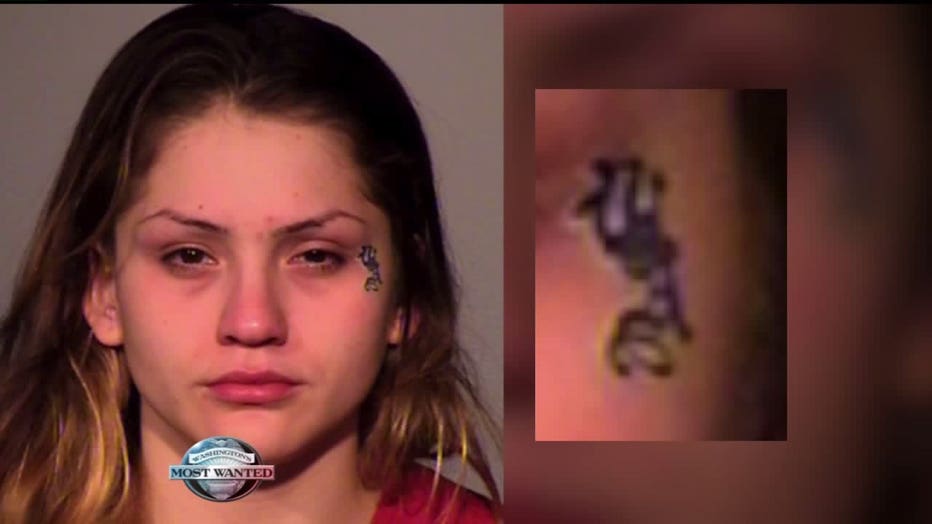 That tattoo on her face should really make her stand out on the street. "The significant thing about Reyes is she has a tattoo on her left eye," said Sgt. West. "She may attempt to conceal it, or hide it with something else, but regardless of what she does, it's going to be a sore thumb sticking out. If she puts a Band-Aid on it, it's going to be noticeable. If she tries to cover it up with makeup it's still going to be noticeable, so you know, if you spot this gal, give Crime Stoppers a call, so we can get her off the street."

Dominique Reyes is 22 years old, 5'5" and weighs 140 pounds.

She has convictions for prior car thefts and attempting to elude police.

If you know where she's hiding -- or spot her on the street -- call Crime Stoppers anonymously at 1-800-222-8477(TIPS), or use the P3 Tips App to submit your information.

CLICK HERE for step-by-step instructions on how to submit an anonymous tip to the P3 Tips App.