CAPTURED: Serial robbery suspects Camron Gaunt and Monique Koenig arrested


KIRKLAND -- The U.S. Marshals led Western District of Washington Fugitive Task Force arrested Camron Gaunt in Kirkland over the weekend.  He is being held in federal custody.   Detectives say charges are forthcoming in numerous bank robbery cases.

King County prosecutors charged his suspected partner in crime with two counts of Robbery 1st Degree and one county of Robbery 2nd Degree. Monique Koenig is being held on $225,000 bail and is scheduled to be formally arraigned on November 15th.

Koenig is accused of three robberies in a span of 8 days. After her arrest on October 30th in Seward Park, court documents show Koenig confessed to all three robberies saying that she and Camron Gaunt used all the money to rent a motel room and use drugs.  Gaunt was arrested on Saturday in Kirkland.

The first robbery occurred at the Heritage Bank at 1250 NW Mall St in Issaquah on September 24th where detectives say she the teller a note that said, "Give me $10,000 cash as fast as possible, don't alarm anyone, give me the top and bottom drawers, I need the money to save my kid's life." Four days later, detectives say she robbed Frankie's Pizza in North Bend by giving employees a note that said there was a man outside with a gun and to giver her all the cash. The victims could see a man outside with his face concealed with a hoodie so complied with her request. Investigators say Koenig robbed the Wells Fargo bank in Sammamish three days after that on October 2nd by handing the teller a note that said 'cash only, no dye packs and no tracers."

Her criminal history includes Falsification of Insurance ID in 2014 and Forgery in 2011.

The U.S. Marshals led Western District of Washington Fugitive Task Force and Crime Stoppers of Puget Sound say Koenig was caught thanks to anonymous viewer tip.  She is WMW Capture #1027.

SEATTLE --  The U.S. Marshals led Western District of Washington Fugitive Task Force and King County Sheriff's detectives arrested Monique Koenig on Tuesday.  She was located at a home near Seward Park in Seattle and booked into the King County jail for investigation of Robbery.   "They are going to be putting charges forward today for a bank robbery in Issaquah at the Heritage Bank,  a bank robbery that happened in Klahanie at Wells Fargo as well as a Frankie's Pizza in North Bend that was robbed. She's responsible for all three of those," said Sgt. Ryan Abbott.

Deputies say Camron Gaunt who is also a suspect in numerous robberies was not with her at the time of the arrest.   "We're really glad to get her off the street. We're really glad that's she's in jail. We're not going to have anymore of these robberies from her at least and we gotta try to focus on finding her boyfriend now."

Gaunt may be in the Chelan or Wenatchee area where he is originally from. If you have any information on the whereabouts of Camron Gaunt, Crime Stoppers of Puget Sound will pay you a $1,000 cash reward.   If you know where to find  him, use the P3 Tips App that you can download to your phone for free or call the Crime Stoppers hot line at 1-800-222-TIPS (8477).

 

WANTED IN MOUNTLAKE TERRACE --
An unusual robbery in Mountlake Terrace: Detectives say 10-time convicted felon, Camron Gaunt, is accused of robbing a barista at gunpoint. It's not unusual to see a guy robbing a coffee stand, but they usually do it alone. This time, police say, Gaunt had an accomplice -- his girlfriend -- Monique Koenig.

Detectives are hoping you can help find this criminal couple who are both wanted in Mountlake Terrace.

"In our area we don't get a lot of armed robberies with handguns, especially at the coffee stands," said Mountlake Terrace Police Det. Carl Cronk. "On September 13th, about 7am, our suspect, Camron Gaunt pulled up to the Roosters Espresso stand at 70th and 220th and pointed a handgun at our victim, who's the barista and demanded cash. After receiving the cash from the barista he fled the scene in a car. In the car, with him, was a female, who we believe is his girlfriend, Monique. The barista, the victim, she was alert enough to grab the license plate of the vehicle as it drove away and our investigation led us to find the vehicle and get an identification on Camron through that. It's important to get Camron in custody. He's pointing guns at innocent victims. It's startling to the victims. My fear is that if he isn't apprehended and placed into custody that he'll continue to escalate and someone will eventually get hurt."

The victim said Gaunt got away with more than the cash -- she says he stole her sense of security. "He looked at me and said, 'Today is gonna be a bad day for you' and then held the gun up to me and asked me to give him all the money in the stand, so I just gave it to him right away he said thanks and left."




Gaunt has more than 10 felony convictions -- including Possession of a Dangerous Weapon and three bank robberies he just got out of prison for.

He's got multiple warrants for his arrest.

He's 35 years old. Monique Koenig is 36.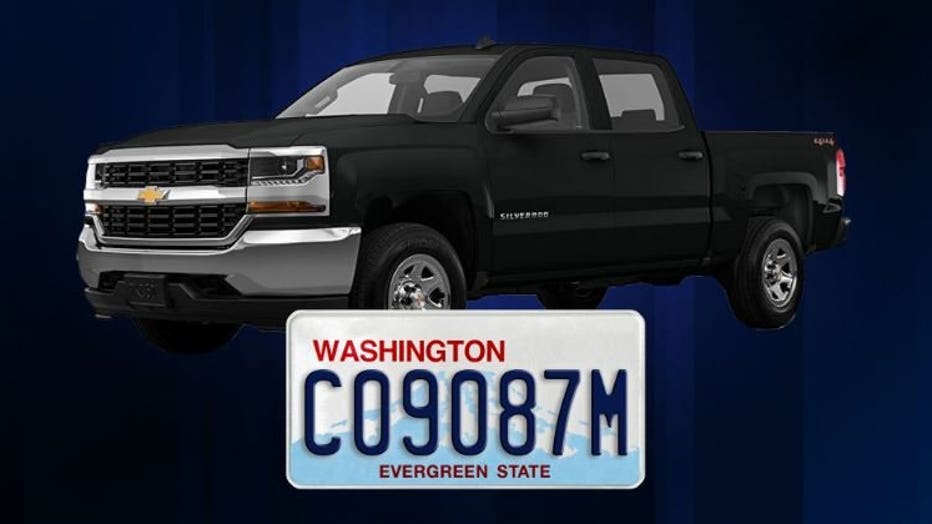 Detectives think they could be driving a black 2016 Chevy Silverado with Washington state license plates C09087M.

Detectives think they could be hiding in the North Bend or Chelan area.

If you know where to find them, use the P3 Tips App on your phone, or call the Crime Stoppers hot line at 1-800-222-TIPS (8477).