CAPTURED: King County home burglary suspect Tyler Obrien arrested by Lynnwood Police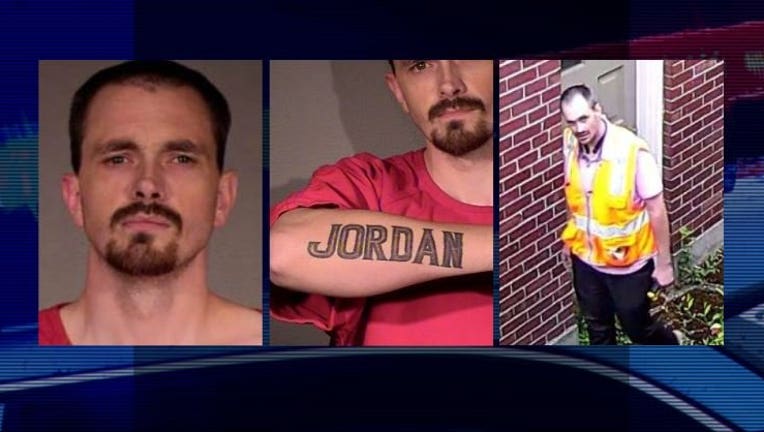 article


CAPTURED --  Lynnwood Police arrested accused home burglary Tyler Obrien on October 25th near the 17000 block of 44th Ave W.  Officers say they located him after responding to  a tip.   Obrien was transferred to the King County Jail on October 31st.  He is charged with Residential Burglary, Vehicle Prowling 2nd Degree in Mercer Island and had a Dept. of Corrections warrant for violating his supervision on a conviction for Identity Theft 2nd Degree.  He is being held on $77,500 bail.

WANTED IN KING COUNTY -- Take a look at the video showing who King County detectives say is Tyler Obrien burglarizing a home in Des Moines -- stealing three firearms.

Obrien is charged with burglary in that case, but King County Sheriff's detectives are also searching for him after he was caught on surveillance camera checking the doors to a home on Rainier Ave. S. in Skyway while wearing a safety vest. That video is from the morning of May 18th. The following afternoon, the victims came home to find their place burglarized.

"If you ever see anybody with a vest on, I would be highly suspicious. That seems to be a newer tactic that we're seeing lately. I've seen multiple burglaries where the people are wearing these vests, because they're trying to look like they're workers," said King County Sgt. Ryan Abbott.




Deputies say Obrien used to live in Tacoma and frequents the Renton and Skyway areas.

He's got a tattoo on his right forearm that reads "JORDAN" in large letters.

Detectives say he should be considered 'armed and dangerous' and they expect him to have one of the stolen guns on him.

His criminal history includes convictions for multiple stolen vehicles, stolen property, attempting to elude police, identity theft and residential burglary.

"Besides the vest, you can tell from the video that he knows what he`s doing. He`s wearing gloves, which a lot of people will wear in hopes that they won`t leave their fingerprints behind. He`s got multiple bags with him, meaning that he`s expecting to take a lot of items, so he knows what he`s doing, this is most likely, not the first or second burglary he`s done. He`s probably a repeat offender, which is why we got to get him off the street and get him behind bars, right away," said Sgt. Abbott.

He's 6'3" and weighs 255 pounds.

If you can tell deputies where to find him, Crime Stoppers will pay you a cash reward of up to $1,000. Just call the hotline at 1-800-222-TIPS(8477), or use the P3 Tips App on your smart phone. It is anonymous.