CAPTURED: DOC officers arrest prolific offender David Hablewitz in Magnolia


CAPTURED -- Department of Corrections officers arrested David Hablewitz today at a home in Magnolia.  He was booked into SCORE jail on his DOC warrant for Escape Community Custody.

Hablewitz was wanted for violating the terms of his supervision after convictions for Vehicular Assault and Unlawful Imprisonment.  He also had warrants for Failure to Appear in Snohomish County court for two counts of Identity Theft, one count of Possession of Stolen Property and one count of Possession of a Controlled Substance.

WANTED IN SNOHOMISH COUNTY February 7, 2020 --
A fugitive you helped catch in Billings, Montana last year is on the run again.

In court in Everett last May, David Hablewitz -- a.k.a. 'Gee Gravey' -- pleaded 'not guilty' to two counts of identity theft, one count of possession of stolen property and one count of possession of a controlled substance.

He's accused of opening accounts in his ex-girlfriend's name and running-up thousands of dollars in charges.

He was released from custody on September 30th last year and did not show up for a hearing in December. His trial was supposed to start in January.

He's also wanted by the Department of Corrections for breaking probation on his 2013 convictions for Vehicular Assault and Unlawful Imprisonment. In that case, Hablewitz had to be tasered to be taken into custody after a reckless high speed chase. A woman in his car had broken ribs from Hablewitz crashing the vehicle into a ditch. She told troopers she had been begging Hablewitz to let her out and thought she was going to die.

He also has convictions for burglary and thefts.

He's 56 years old, 6'2" and weighs 196 pounds.

He was caught in Montana in January of 2019 and police had been on the lookout for him in Tacoma before that. DOC officers say he could be anywhere from Lynnwood to Roseburg, Oregon.

The photo above on the right is the most recent.

If you know where he's hiding, use the P3 Tips App on your smart phone to submit the information to Crime Stoppers, or call the hot line at 1-800-222-TIPS(8477). There is a cash reward of up to $1,000 for any tip that leads to his arrest.




CAPTURE UPDATE May 23, 2019
David Hablewitz pleaded not guilty in Snohomish County court to two counts of Identity Theft, Possession of Stolen Property and Possession of Controlled Substance.  He is currently in prison in Shelton until August serving time after violating the terms of his release on a  prior conviction.

Trial on the new charges has been set for July 12th.
CAPTURED January 18, 2019 --
Billings Police arrested David Hablewitz and booked him into jail in Yellowstone County, Montana.  Officers say they received a tip that he was at an AA meeting.   He was arrested without incident.  Officers says he appeared to be 'down and out' and was grateful that he was finally caught.

Hablewitz is being held without bail on his fugitive from justice warrants.

He is WMW Capture #1049 thanks to tips from our viewers.




----ORIGINAL CASE-----
WANTED IN SNOHOMISH COUNTY October 12, 2018 --
Fugitive, David Hablewitz -- a.k.a. 'Gravy' -- is a convicted felon who knows how to change his look.

He's wanted in Snohomish County, where he's charged with first and second degree identity theft along with trafficking in stolen property.

The victim in the case says she feels betrayed and angry -- and hopes you will help Snohomish County Sheriff's deputies lock him up. "He's a predator, he's an opportunist and what he does is premeditated." We're hiding the victim's identity for her safety after Snohomish County Sheriff's deputies say she was victimized by Hablewitz.

"I filed for a protection order shortly after I discovered the crimes." She says they were in a relationship for about a year. When it was over, she learned he had started stealing from her within weeks of their first date. "I am not his first and I am not going to be his last."

After they broke up, she discovered two accounts opened in her name including one credit card with a $12,000 balance. "What he explained to me was that he was going to prison anyway so he might as well have made it a good one," she said.

"Transactions occurred in Snohomish, King and Pierce County," said Courtney O'Keefe with the Snohomish County Sheriff's Office.

Officers think he could be hiding in Tacoma.

Hablewitz has a long criminal history in King and Pierce county that includes burglary, vehicular assault, eluding police and unlawful imprisonment. He is most likely driving the green Caravan pictured below with Washington state license plates AQN3398 -- and may even be living in it.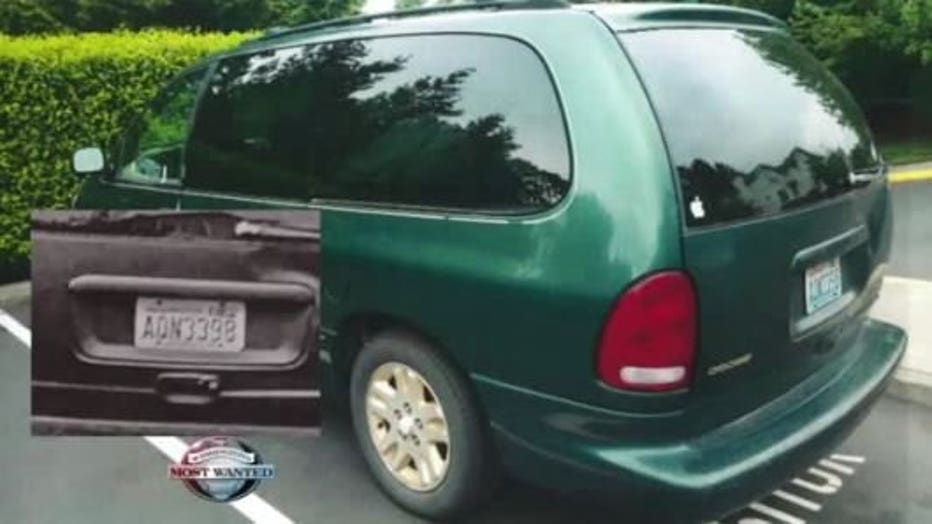 "We do want him off the streets. He didn't show up for his arraignment in September. He has two warrants for Identity Theft, one for stolen property and also a DOC felony warrant," said O'Keefe.

Fortunately, the victim was able to repair her credit with help from Victim Support Services in Everett. "I wasn't able to sleep and there are only so many hours in a day and they were able to review my credit reports with me."

She believes Hablewitz is a public threat. "I want him caught very badly, not only for what he had done to me but I am absolutely sure there has got to be other victims out there. I feel that you have stabbed me a million times, but you have not killed me yet.

David Hablewitz is 55 years old, 6'3" and weighs 190 pounds.

He has bad teeth, tattoos on both shoulders and a small scar next to his nose on his lower right cheek.

He's known to work 'fix-it' type jobs, so beware of your paperwork and belongings if he's done work around your home.

He could be in Seattle's Magnolia neighborhood, Green Lake, or in the Tacoma or Spanaway areas of Pierce County.

If you know where to find him, use the P3 Tips app on your phone, or call Crime Stoppers at 1-800-222-TIPS(8477). It's anonymous and a cash reward is yours if the information you give helps lead to his arrest.