Can you ID this thief who stole revolver at Spanaway gun show?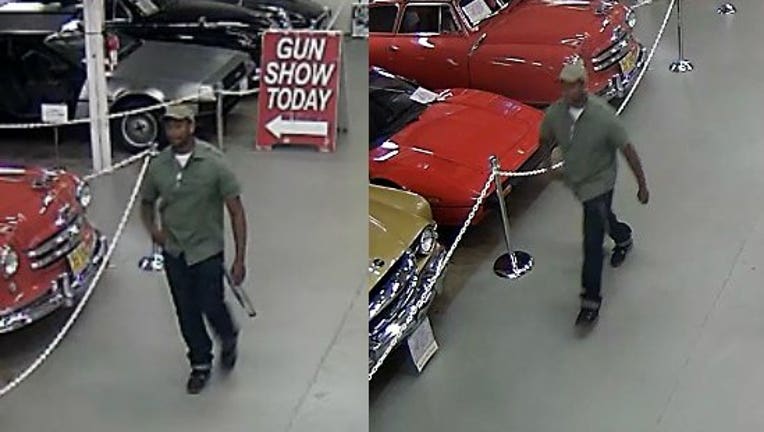 article


WANTED IN SPANAWAY -- 

Why would a thief steal a revolver from a gun show in Spanaway? That's what Pierce County Sheriff's detectives in the Property Crime Unit want to know.

"There's a reason he has that gun and we want to know what it is. Hopefully, he's not going to do something bad with it," said Pierce County Sheriff's Det. Ed Troyer.

The stolen firearm is a North American Arms 22 magnum stainless steel revolver. The thief was caught on surveillance video stealing it from a vendor at 12:15 p.m. on Saturday, July 29th.




"You can tell that he spends some time looking around and as soon as the person at the gun show is not paying attention, he just grabs the gun and runs. He gets on a black bicycle and takes off," said Det. Troyer.

Deputies describe the suspect as black, in his late 20's to mid-30's with an average height and build. He was wearing an olive green short sleeve button up shirt, dark-colored pants, and an olive green baseball hat.

"We have video of him. We know what he looks like but we don't know who he is or why he needs a gun so bad that he would just grab one and run off with it," said Det. Troyer.

Crime Stoppers of Tacoma-Pierce County is offering a cash reward of up to $1,000 for any information that can identify the suspect and leads to his arrest. Call the hotline anonymously at 1-800-222-TIPS (8477) if you know his name.

This is one of several Pierce County cases being featured this weekend on Washington's Most Wanted airing at Friday at 11 pm on Q13 FOX and Saturday at 9:30 pm on JOE tv and 10:30 pm on Q13 FOX.