Bold garage burglar: $6,000 reward being offered for information leading to Seattle suspect's arrest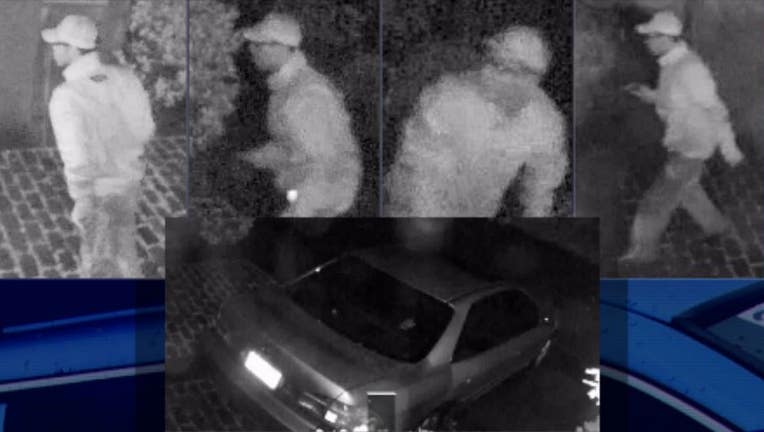 WANTED IN SEATTLE -- There is a $6,000 reward for the tip that leads to the arrest of this suspect. The case serves as an important reminder to never leave your garage door opener in your car, because crooks are cruising through neighborhoods looking to break into your house. Take a look at the surveillance image of a thief in a baseball cap at a home in the Madison Park neighborhood of Seattle. This was at 4:15am last Sunday morning. "The victim recently installed a pretty good security system, good for her," says Ret. Det. Myrle Carner with Crime Stoppers of Puget Sound. But it was so new, it wasn't hooked into the 911 system yet. It did get good video of the thief that Seattle Police are trying to identify.
Watch how he operates in the video: You see him slowly drive up in a 1990's era Honda 4-door Accord and stop, then get out and walk up the driveway, he sort of peers into the garage, takes a step back and then walks right inside. A few seconds later he comes out carrying a case, hustles over to his car and then drives forward -- but he's not done yet -- 15 seconds later he backs down the street and this time actually pulls right into the driveway and turns off his lights. Unfortunately, we can't see the license plate number because of the reflection but he gets out of the car with a flashlight and goes back into the garage, he comes out carrying a bunch of stolen stuff and then goes back inside again two more times before finally running out, jumping in his Honda and driving away. It turns out, he was able to get into the garage because the opener was in a second vehicle parked outside. "Take your garage door opener out of your vehicle," adds Carner. "Take it with you. Do not leave it in the vehicle, because frankly, what good is it to have a locked up house when you have the opener right in your hand." Fortunately, we do have the surveillance video and that's where you come in. Take a close look at the suspect: Detectives think he's white, about 30 years old, clean shaven with dark-colored hair, wearing a light colored baseball cap, black framed glasses, light-colored rain jacket and cargo paints. If you know a crook that resembles this guy who drives a Honda Accord, call an anonymous tip into: CRIME STOPPERS: 1-800-222-TIPS You must call the Crime Stoppers hotline with your tip to be eligible to receive the $6,000 cash reward for information leading to his arrest. CLICK HERE for information on how to TEXT A TIP to Crime Stoppers.