Bad Santa robs Parkland gas station at gunpoint; needs more than a lump of coal as punishment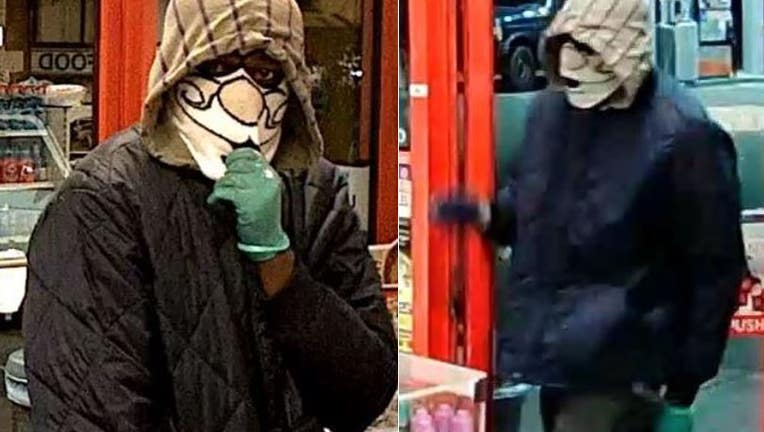 WANTED IN PIERCE COUNTY -- Any crook who's willing to sully Santa's good name to commit a crime deserves more than just being on the naughty list. He needs to be locked up in jail. Pierce County Sheriff's detectives are hoping you can identify an armed robber who wore a ski mask with the image of a Santa beard and a mustache on the face when he held up the Union 76 gas station in the 10500 block of S. Steele St. S. in Parkland on Nov. 12th. The bad Santa, armed with a black handgun, ordered the customers and an employee to put their cell phones on the counter, then demanded cash from the register at gunpoint.  He took the money and fled the gas station on foot without even a Ho, Ho, Ho Merry Christmas to anyone. Detectives say he is black, approximately 5'8" and 180 lbs., wearing a black quilted jacket, dark blue jeans, gloves, and the Santa ski mask.
It's one of numerous recent armed robberies detectives are trying to solve. "It's that time of the year, the holiday season and when these times of year come around, unfortunately thefts, robberies pick up and that's why we want to try and stop these particular robberies, because together there's about 25 of them and these people are armed and they have guns and a lot of them are just young girls that are victims, so we want to make sure these guys get caught before somebody gets hurt," said Pierce County Sheriff's Det. Ed Troyer. If you have any information on the identity of the bad Santa armed robber, call Crime Stoppers of Tacoma-Pierce County at 1-800-222-TIPS. All calls are anonymous and there is a cash reward of up to $1,000 for information leading to an arrest.