Armed AM/PM robbers: Pair of frightening crooks didn't just empty the tills -- they took them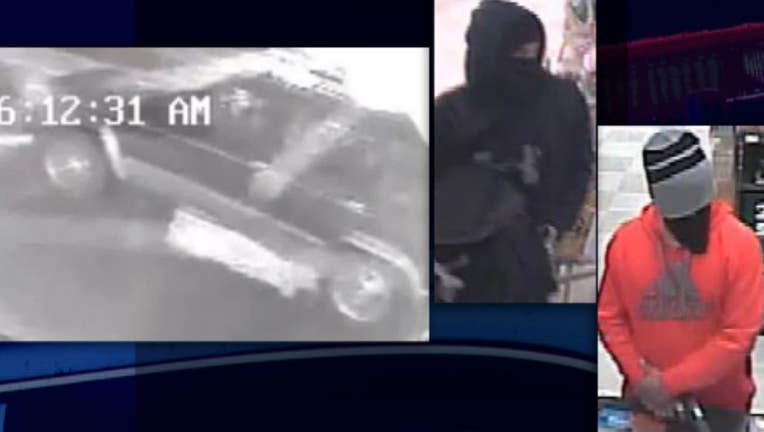 WANTED IN SEATTLE -- The scariest thing about this armed robbery is how calm the crooks were. Watch the surveillance video as they come strolling into an AM/PM mini mart on Greenwood Avenue N. armed with handgun. The Adidas hoodie the robber with the gun was wearing looks red in the video but police say it's actually orange. He stayed right in front of the counter while the other suspect in the black Under Armor sweatshirt walked behind the counter, yanked out the tills and dumped them into a backpack.
The clerk didn't stick around and quickly took off. In the video you can see him running outside and even falling down to get away – that's how frightening these armed robbers were. "Now keep in mind we think there was a third guy right outside the store who was acting as a lookout and there was obviously a 4th guy who was the driver of the getaway car," says Ret. Det. Myrle Carner with Crime Stoppers of Puget Sound. The suspects took off in what is believed to be a Jeep Laredo or Cherokee. If you know who these armed robbers are, call an anonymous tip into: CRIME STOPPERS: 1-800-222-TIPS You must call the crime stoppers hotline with your tip to be eligible to receive a cash reward for information leading to a fugitive's arrest. Click here for information on how to text a tip to Crime Stoppers.