Andrew Genders: Convicted sex offender wanted in Pierce County
FUGITIVE WANTED IN PIERCE COUNTY December 6, 2019 --
The hunt is on again for a wanted sex offender who continues to flaunt his disregard for the justice system.

Andrew Genders has 4 warrants for his arrest: Two are for failing to register as a sex offender in pierce county, another's for bail jumping and he has a Department of Corrections warrant for Escape.

This case makes me want to grind my teeth, because you've helped catch him once before. Your tips led the U.S. Marshals to him in Rialto, California back in 2015.

"He was actually the 600th Capture on Washington's Most Wanted, so he's already been on television before, he's already been caught by the public's help and here we are. He knows we're looking for him. He has multiple warrants and it's probably going to take another tip to get him picked up," said Pierce County Sheriff's Det. Ed Troyer.

Genders was convicted in 2009 of 3rd Degree Assault with Sexual Motivation for preying on a 6-year-old boy that he would babysit.

He's 29 years old, 5'5" and weighs 140 pounds.

If you know where he's hiding this time, use the P3 Tips App on your cell phone to submit the information to Crime Stoppers, or call the hot line at 1-800-222-TIPS(8477). It's anonymous and a cash reward of up to $1,000 is yours if your tip helps lead to his arrest.




FUGITIVE CAPTURED March 3, 2015 --
A Pierce County sex offender on the run since 2012 is Washington's Most Wanted's 600th fugitive captured.

Andrew Genders was arrested Tuesday night at 571 Wood Hill St. in Rialto, California by U.S. Marshals.

The 24 year old is currently in the San Bernardino Jail awaiting extradition to Washington state to face charges of Escape from Community Custody and Failure to Register as a Sex Offender.

"I'm often asked how someone ends up as one of Washington's Most Wanted. In this case, the victim's family contacted me concerned that Mr. Genders had disappeared and might hurt another child.  Thanks to our partnerships with law enforcement and Crime Stoppers programs statewide, convicted predators like him truly have nowhere left to hide," said Washington's Most Wanted host David Rose.

He was convicted in 2009 of Assault in the 3rd degree with Sexual Motivation for preying on a young boy he was babysitting.

After being featured on Washington's Most Wanted on February 13,  Crime Stoppers of Tacoma-Pierce County got numerous viewer tips that Genders was living in Rialto. The Pierce County Sheriff's Department worked with the Department of Corrections to modify Genders' warrant so he could be arrested and transferred back to Washington to face his charges.  The sheriff's department also notified law enforcement in Rialto that an unregistered sex offender may be in their area. The Washington State Department of Corrections coordinated efforts with the U.S. Marshals Service to locate and arrest Genders based on addresses provided by Washington's Most Wanted viewers.  The U.S. Marshals were able to verify the addresses and conducted surveillance on the home where they believed Genders was staying.  U.S. Marshals spotted him and took him into custody.

"Thanks to the prosecutor's office for expanding the warrant to a national warrant, we were able to get him picked up and he's going to be brought here and held accountable. Also, now that we know where he's living down in California, we're going to be able to notify those people where he was living of his background to see if there's any other victims," said Pierce County Sheriff's Det. Ed Troyer.

"Credit really goes to the partnership with local law enforcement agencies like Pierce County," said Acting Assistant Chief Raymond Fleck of the U.S. Marshals Service in the Western District of Washington. "Once they get a case like this, our Violent Offender Task Force adopts it and we can immediately take action no matter where a fugitive is hiding.  Our kids live in these communities too so anytime there is a wanted sex offender who has fled to another state, we take finding that fugitive very seriously."

Since its launch in November of 2008, Washington's Most Wanted has profiled many of the most notorious fugitives in the Pacific Northwest and achieved one of its primary missions – to give a voice to victims. The show features a wide range of stories including murder suspects, cold cases, missing persons, sex crimes, bank robberies, cyber-crimes and neighborhood safety issues. The weekly show also continues to work closely with all city, county, state and federal law enforcement agencies within the state of Washington.

Det. Troyer adds, "Congratulations to Washington's Most Wanted on their 600th capture. That's a lot of people that wouldn't be in jail if it wasn't for your viewers and everybody that helps get these bad guys caught. 600 people. That's half the population of the Pierce County jail. That's a lot of bad guys off the streets."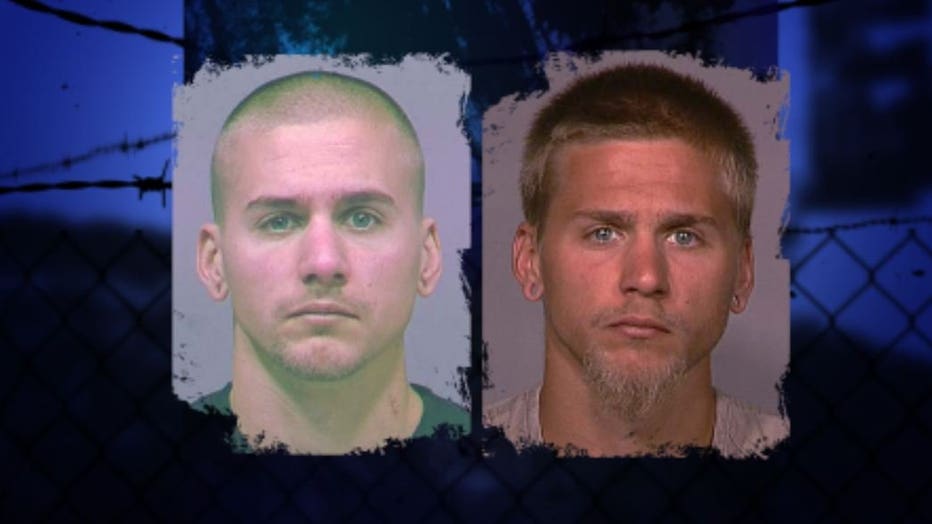 FUGITIVE WANTED BY DOC IN PIERCE COUNTY February 13, 2015 --
Pierce County detectives need your help getting a missing child predator back on the map.

Andrew Genders was convicted of preying on a young boy he was babysitting.

He's failing to register as a sex offender and breaking probation. "He's somebody who's registered as transient and trying to take advantage of the loop hole so that we won't be able to find him when he takes off," says Pierce County Det. Ed Troyer. "Well, he's taken off and he has a warrant for his arrest. We want to get him caught because family members have said that they're probably out there helping him hide and that we're not going to be able to catch him. He was babysitting a four year old when he committed his crimes, so this is definitely somebody that we don't want babysitting children. We need to get him in custody."

Genders is 5'4" and weighs around 140 pounds.

He has a tattoo of a mushroom on his right lower leg and a hornet on his left lower leg.

He has ear gauges, which are the big holes in the lobe that people put large earring-like jewelry in.

Genders has ties to California. After abusing the boy in Graham he moved to Rialto, about an hour and a half east of Los Angeles, where he was later arrested for the sex crimes.

If you know where he's hiding, call an anonymous tip into:
CRIME STOPPERS: 1-800-222-TIPS

You must call the Crime Stoppers hotline with your tip to be eligible to receive a cash reward for information leading to a fugitive's arrest.

CLICK HERE for information on how to TEXT A TIP to Crime Stoppers