Accused skin care crooks: Are thieves using holiday shoppers as cover?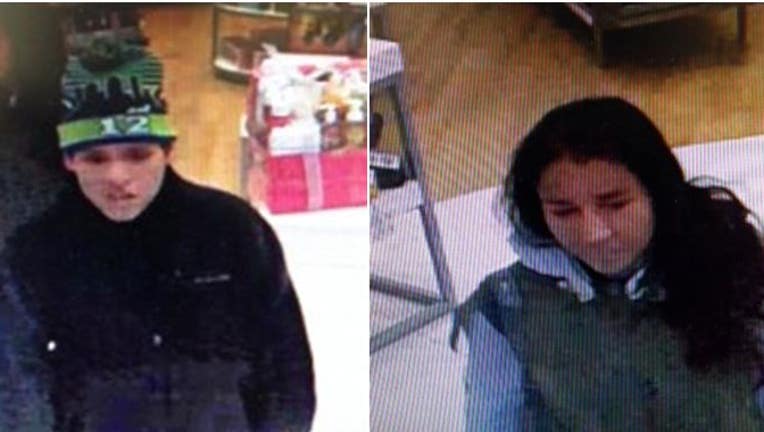 article
WANTED IN BELLEVUE -- Take a look around you the next time you are in a store packed with people this holiday season. One or two of those might be a member of an organized theft retail ring, police say. "We get a lot of thefts at stores from the mall or other locations during the holidays just because there`s so many people walking around that these thieves can blend in with other shoppers and they`re harder to spot," said Officer Seth Tyler with Bellevue Police. A couple pretending to shop recently ripped off Ulta Beauty in Factoria Mall. "You can watch her in the store actually taking the cosmetics off the shelves, looking around to make sure no one is watching and then putting them in the bag," said Tyler.
All told, she and the man with her in a Seahawks beanie stole $2,195 worth of goods. "That brings this from a 3rd degree theft to a 2nd degree theft which is a more serious crime," said Officer Tyler. As the two suspects left the store, they set off the security alarm and a clerk ran after them. The two got away though. "Organized retail theft is a huge problem in the Puget Sound and it raises prices for everyone else. So we'd like to get these suspect's identified and arrested," said Officer Tyler. Both are in their early 20's. The woman is possibly Native American. If you can tell Bellevue Police the names of either of the suspects, call an anonymous tip into: CRIME STOPPERS: 1-800-222-TIPS You must call the Crime Stoppers hotline with your tip to be eligible to receive a cash reward for information leading to a fugitive's arrest. Click here for information on how to text a tip to Crime Stoppers.