Accused home burglar tries to flee; gets tased and arrested by Shoreline PD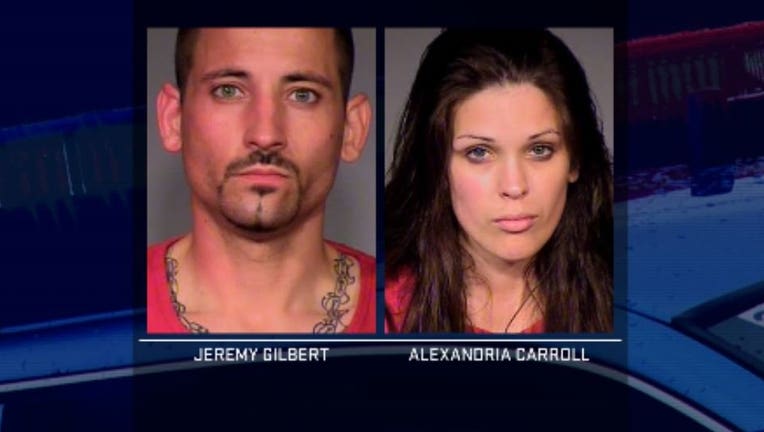 SHORELINE -- Shoreline Police detectives say accused home burglar and car thief Jeremy Gilbert tried to run after they located him thanks to some information from anonymous WMW viewers. Officers tased him and took him into custody. He was booked into the King County jail early where he is being held on $43,425.00 bail for Residential Burglary and other charges. Gilbert is WMW Capture #815.

KING COUNTY - King County deputies arrested Alexandria Carroll and booked her into jail for Possession of a Stolen Vehicle.  Detectives called her and told her to come get a phone that they found in a stolen car.  She showed up at the precinct. and was taken into custody. She's being held on $10,000 bail. Jeremy Gilbert is still wanted.

WANTED IN KING COUNTY --
King County detectives say accused criminal couple, Jeremy Gilbert and Alexandria Carroll, are prolific thieves -- stealing from houses, mailboxes and cars. And now -- add auto theft -- after deputies linked them to two stolen vehicles earlier this month.

"Not only did we find two cars that were stolen, with multiple stolen license plates, but there was lots of property in the vehicles that had been reported in different car prowls and mail thefts," says King County Sgt. Cindi West.

Both are wanted for boosting the cars.

Gilbert also has a warrant for residential burglary.

He's inked with a neck chain tattoo.

If you know where they're hiding, call an anonymous tip into:
CRIME STOPPERS: 1-800-222-TIPS

You must call the Crime Stoppers hotline with your tip to be eligible to receive a cash reward for information leading to a fugitive's arrest.