What to watch for in tonight's Seahawks vs. Broncos game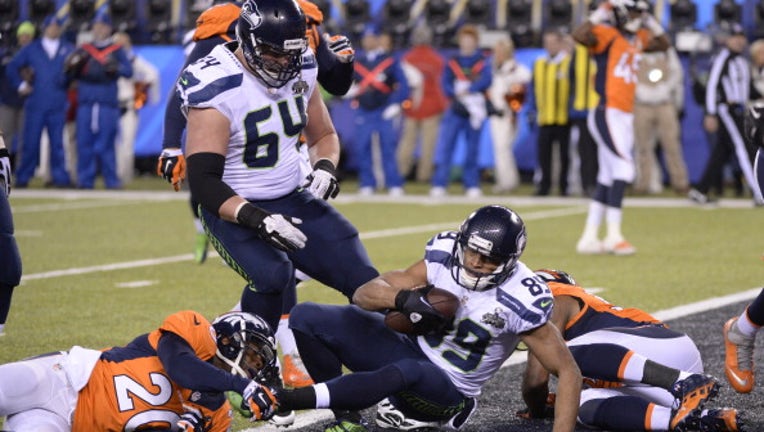 DENVER -- Well here we go. Seahawks and Broncos – again. It's funny though, the last time they met, we were talking about entirely different circumstances, with everything on the line in East Rutherford, NJ.

LIVE BLOG: Seahawks kick off preseason against Denver Broncos on Q13 FOX

Fittingly, I think there are many more important things to focus on tonight – more than its billing as a "Super Bowl Rematch." That headline is great – for the first five minutes of the game or so.

The majority of this game will be played by a number of guys who had little or no role in Super Bowl 48 and are fighting for a spot on the final 53-man roster. Sure, it's not as glamorous as watching Russell Wilson, Percy Harvin or Marshawn Lynch. But barring injury, I'm not concerned about the first-team offense or defense at the start of August. I'm more concerned about who can earn their way onto this team.

PHOTOS: 12s share some awesome Seahawks spirit

It's something Seahawks defensive coordinator Dan Quinn stressed as a focus this year's team: It's not about 'every man for himself,' it's simply about earning your teammates' trust with your performance on the field. It's about players proving to their teammates that "You Can Count On Me." It's about holding every man accountable. Fresh off contract extensions, Earl Thomas and Richard Sherman are leading the way in that regard with their consistent work ethic and leadership in the locker room.

But back to the young guys. I'm most intrigued with rookie linebacker Brock Coyle, who will be starting at middle linebacker today. Coyle said that three months ago, he never thought he'd be starting for the defending Super Bowl champions – against Peyton Manning, no less! But this is a huge opportunity for a guy who led Montana in tackles the past two seasons, and has risen to every challenge since rookie minicamp in May. Coyle was disappointed after not being drafted, but he still chose Seattle because of a comfort level with GM John Schneider and the opportunity to compete against some of the best young linebackers in the NFL. Now, because of Bobby Wagner's injury, he faces the most daunting task of all. I loved his line that he's just trying to do "his 1/11th" tonight – to do his job by setting the defense. It should be very exciting to watch Coyle tonight. Sir – welcome to the NFL, you're no longer in the Big Sky Conference.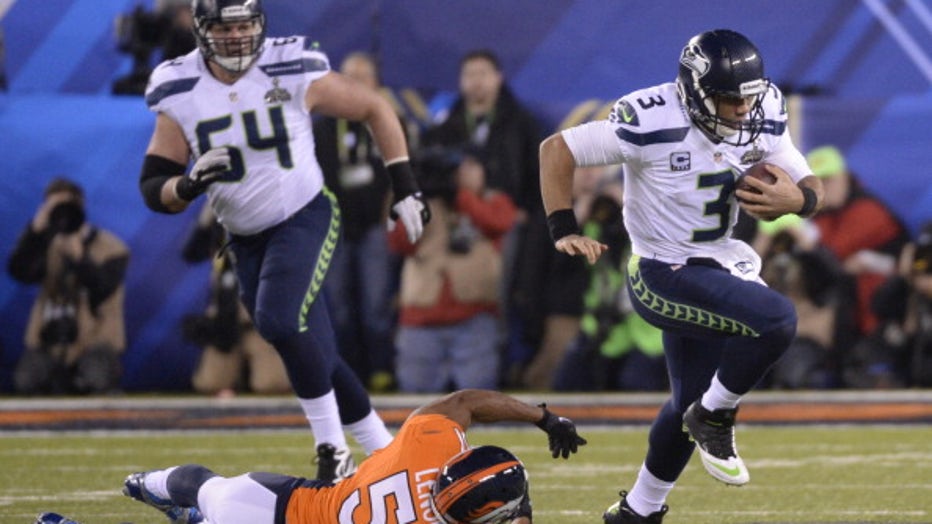 Russell Wilson (R) of the Seattle Seahawks carries the ball against the Denver Broncos during Super Bowl 48 at MetLife Stadium in East Rutherford, New Jersey, on February 2, 2014.


Other young players I'm excited to watch: Justin Britt, Benson Mayowa, Christine Michael, Tharold Simon, Greg Scruggs, Cassius Marsh, Phil Bates and Paul Richardson. Yes, a mix of offensive and defensive players and completely different positions.

Let's start with Britt, who will be starting at right tackle. He's competing for a starting role with nine-year veteran Eric Winston, whose 119 consecutive starts is the second-best active streak in the NFL. Britt will often be going up against Von Miller, one of the best pass rushers in the NFL. We've seen early on in camp that pass protection is where Britt needs the most work, so keep an eye on how the second-round pick from Missouri handles that role. It could go a long way in determining who the Seahawks starting right tackle will be on September 4.

Benson Mayowa was talented enough to keep on the 53-man roster last year, even though he barely played. He was the star of last year's preseason, going from a tryout at the Seahawks regional combine to a spot on the final roster. That's pretty amazing. Now is his time to shine – to show why the Hawks kept him around last season. You either get to the opposing QB or not. He needs to show flashes this August to stay around this year.

Christine Michael is more mature. He says it, the coaches say it, everyone says it. Now, it's a matter of him showing it in the preseason. Sure, he showed flashes last preseason by leading the NFL in rushing yards. But even Michael admits that he didn't have an understanding of who to block in the passing game at this time last year. He says that he's a better overall player now because he understand the concepts of the game – even Robert Turbin has noticed the extra time Michael has been putting in in the film room. And with Marshawn Lynch playing sparingly this preseason, it's Michael's turn to once again shine.

Don't let the 310-pound Scruggs fool you. He is pretty fast for a big guy. And he's versatile – the one thing Quinn says he likes best about Scruggs. This is a huge preseason for Scruggs, who missed all of last season, and is fighting for a role not only at defensive end, but for an inside rushing job next to Michael Bennett in nickel formations with rookie Cassius Marsh. Scruggs had a knack for finding the opposing quarterback when he was healthy two seasons ago – and this preseason shouldn't be any different. Marsh isn't as big as Scruggs, but he's quicker, and his hand speed is impressive, and used to get off of blocks. He's also pretty mean  and nasty – just watch film from him at UCLA, and you'll find out why.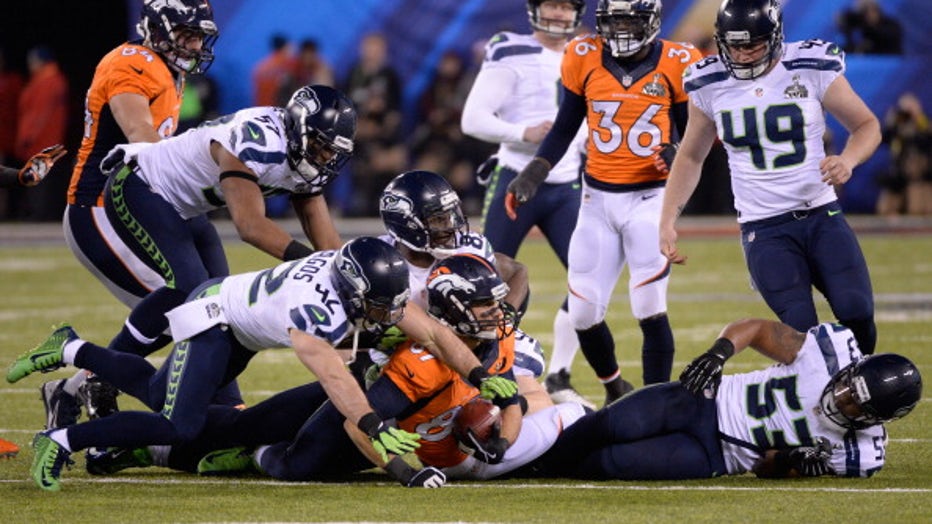 Denver Broncos wide reciever Eric Decker(C-bottom)#87 is tackled several Seatttle Seahawks players in Super Bowl XLVIII at MetLife Stadium in East Rutherford, New Jersey, on February 2, 2014.


Tharold Simon also missed last season with two foot surgeries, and has been chomping at the bit to get playing time. He's now battling for a backup cornerback job behind Richard Sherman and Byron Maxwell, and he fits the prototype of a cornerback that John Schneider loves: tall, long, physical at the line of scrimmage. Simon has opened a lot of eyes during off-season OTAs and minicamps, and this is an excellent chance to showcase what everyone believes he can be. Even Sherman had been singing Simon's praises, and taken him under his wing in a mentor role this preseason.

Wide receiver has to be one of the most competitive battles for the final roster. Rookie Paul Richardson is pretty much a lock, but I'm still excited to see how fast he really is in a game. This game has a little extra juice for him, coming back to Colorado, where he played for the Buffs. Then again, because of his size, I worry about his health out there, especially during the preseason. There would be nothing better than to start the season healthy with two speed threats in Richardson and Percy Harvin, together on the field.

Finally – Phil Bates. Really a make-or-break year for Bates, who has now been on the team for a full two seasons and has been on-and-off the practice squad. He's shown up big time in Training Camp so far this year, and is really on the verge of having a breakout preseason. He could be this year's Jermaine Kearse, in terms of a guy coming out of nowhere and making an impact on this team. I'll never forget Bates and Sherman locking up in a team fight last month, and Sherman yelling "Let's see if you even make the team." I think that fired Bates up big time. He's playing with a purpose now, and I expect him to show it in Denver tonight.

So there you go – a plethora of players who had nothing to do with the Super Bowl outcome in February, and yet, all of their stories are intriguing as they fight for playing time and a roster spot against Denver and the rest of the preseason. Should be a great game tonight – just don't get caught up in all the Super Bowl rematch hype. Keep an eye on some of the other guys too.