Upbringing taught Rasheem Green to fully appreciate life as a Seahawks rookie


SEATTLE – Seattle Seahawks rookie defensive end Rasheem Green is expected to return to action this Sunday, after missing the last four games with hip and ankle injuries.

The 21-year old showed his potential during the preseason, recording 18 tackles and three sacks. It got the Seahawks coaches and fans excited that Green could become a high-end pass rusher, something every team in the NFL desperately needs.

His journey to the NFL is one of drawing inspiration from every aspect of his life.

For most of Green's early years, his father was in prison. His mother was doing everything she had to do to raise him.

"She tried to do the best that she could with the stuff that my dad wasn't able to do," Green said. "And I really appreciate her for that."

Green still recalls every detail of the day in sixth grade when his dad was released.

"I remember that first day he came home," Green said. "I was so excited that whole day at school because I was waiting for him to come home. My mom and dad pulled up in the car and we went home. It was real fun. One of the best days of my life."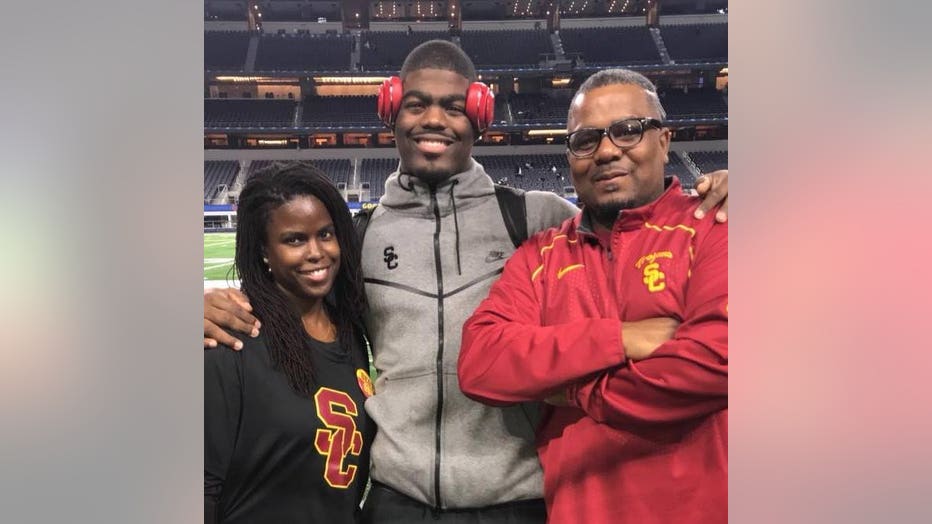 Rasheem Green and his parents. Photo courtesy of Rasheem Green.
Gaining a love of the game

Green's football story began playing for Junipero Serra High School, a Catholic high school 14 miles southwest of dowtown Los Angeles. His coaches saw his massive frame and made him an offensive lineman. It wasn't until he moved to defense that he discovered his true love for the game.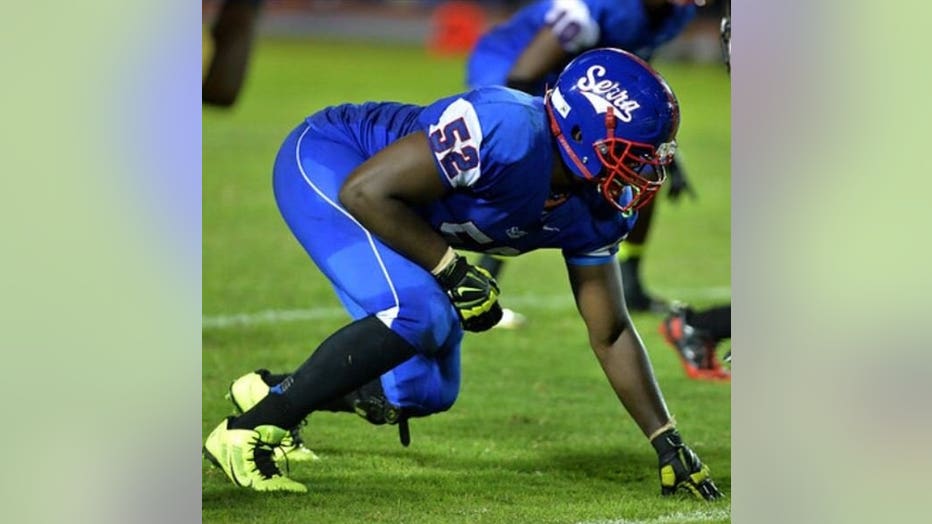 Rasheem Green playing for Junípero Serra High School in Gardena, California. Photo courtesy of Rasheem Green.


"You get to shed blocks. Make tackles. Make sacks," Green said. "It's just real fun doing that sort of stuff. When you're an O-lineman, in my opinion, you're told to be the fat boy. That's just not what I want to be. So, I went to the gym, started working out at home so I could be more fit and be a better D-lineman"

It worked. He became an All-American, traveling to high school football competitions as one of the country's top recruits. The elite college programs all recruited him.

Green selects USC and creates valuable relationship

At a news conference on national signing day with his parents by his side, Green announced he was going to stay in Los Angeles with his hometown USC Trojans.  There, he would meet defensive line coach Kenechi Udeze, who would forever change his perspective.

"He had to retire early from the NFL because he had cancer," Green said.

Udeze played Green's position at USC and was drafted in the first round by the Minnesota Vikings, but had his football dreams and career cut short by leukemia.

Green says, it gave him new respect for his own opportunity.

"It just makes you appreciate the things you have more in life, that might be taken from you," he said. "You just never know when it might be your last day."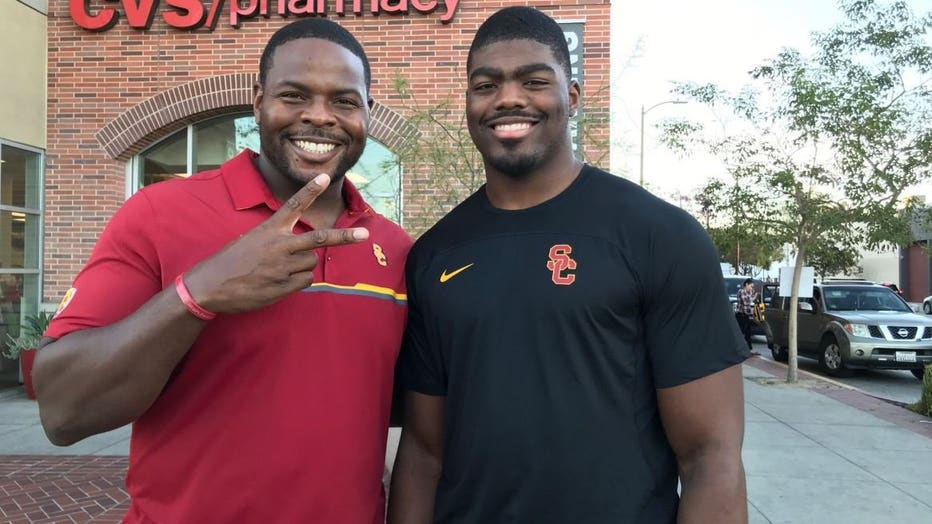 USC defensive line coach Kenechi Udeze (left) and Rasheem Green (right). Photo courtesy Kenechi Udeze.


That's how Green viewed his time at USC. He collected 10 sacks his junior year, became first-team All-Pac-12 and decided to forgo his senior season and enter the NFL draft.

The Seahawks selected him in the third round.

Life as a rookie

Green says he's still getting accustomed to life as a rookie. Getting paid is nice, he said, but rookies also have to pick up the tab for teammates.

"You got to buy all this stuff," Green said. "Before we go on away games, I have to get Cheesecake Factory for the entire defensive line."

Some would see it as a bit of friendly hazing, paying your rookie dues. Green is less forgiving.

"I get it, but at the same time, I don't think there's one person who says they like to spend money like that," he said.

Green knows if he's going to become a Seahawks legend, he needs to deliver on the field. On social media, he posted that his idol growing up was Texans All-Pro defensive end J.J. Watt, who Green got to meet when he was in college.

He plans to use the lessons he's learned along the way from his mother, father, Coach Udeze and Watt to seize this opportunity with the Seahawks and inspire the next generation of upcoming players.

"That's like a dream for me," Green said. "That would be awesome if that happens."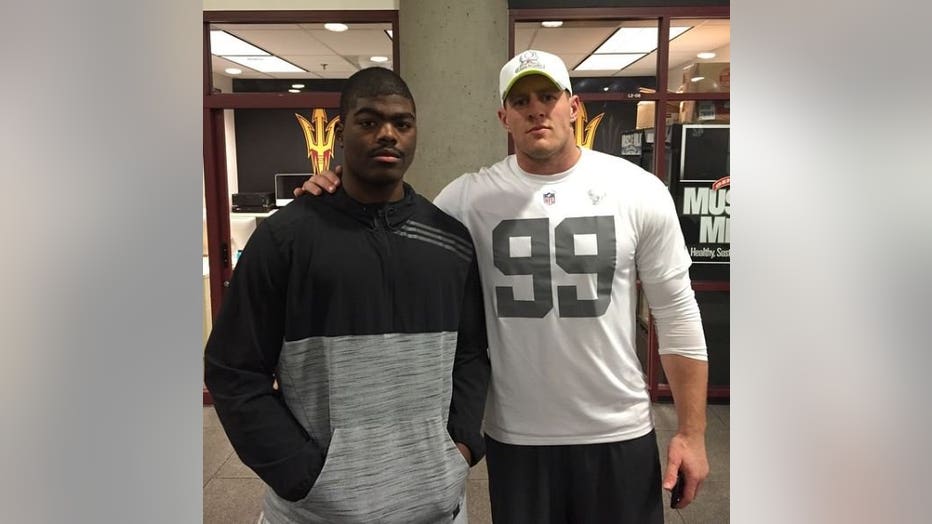 Rasheem Green (left) and Houston Texans defensive end J.J. Watt. Photo taken when Green was in college at USC. Photo courtesy of Rasheem Green.